Jefferson Parish Strong

We at the Jefferson Convention & Visitors Bureau are standing alongside our hospitality and tourism community as we navigate these unprecedented times. We aim to champion our businesses, support our community and continue to foster the spirit of Jefferson Parish.
We have created this page especially for the community and residents we love and serve. We appreciate all of you. We know that our creative community is innovative and resilient. We encourage everyone to share your story using #JeffersonParishStrong and tag @VisitJeffersonParish on social so we can share.
---
Take this time to plan something fun close to home and rediscover your own backyard all while supporting local businesses who need us right now. Treat yourself to a little staycation. We have compiled resources and activities to entertain as well as support our local businesses below.
---
Things To Do
Social distancing? We've got you covered with a list of our top activities.
Open Restaurants
Restaurants are OPEN and ready to service! Check out our list of open restaurants HERE.
Explore Outdoors
Our winding trails and green spaces provide the perfect backdrop for social distancing.
Retail Therapy
On Tuesday, March 3, Gov. John Bel Edwards moved Louisiana into a modified version of Phase 3. Under the new rules, retailers will move to 75%. Shopping centers, boutiques and retailers are taking the necessary steps to ensure a safe and healthy exchange in hopes of providing a bit of "retail therapy."
Make Learning Fun
With all this time at home, why don't we learn something new along with our kids?
Jefferson Parish Library
All people who live in Jefferson Parish now have access to Jefferson Parish Library's online resources, even if they do not possess a library card. Some of the resources do not require a card but others do. If patrons do not possess cards, they can go to our website, www.jplibrary.net and sign up for a temporary card which will be active for 30 days. At the end of that time, patrons can sign up again.
Jefferson Parish Trivia
How much do you know about Jefferson Parish? Test your skills by taking our Jefferson Parish Trivia.
Jefferson Parish Coloring Book
Let's get in touch with our creative side! Visit Jefferson Parish has created a coloring book of all of our favorite hot spots! You can print it right at home!
Jigsaw Puzzles
Pass the time with our Jefferson Parish jigsaw puzzles.
Zoom Backgrounds
Missing the great outdoors of Louisiana? Add some beautiful scenes of our wetlands and beaches to your next Zoom meeting or your child's virtual class session with one of our custom photo backgrounds.
Jefferson Parish Crossword Puzzle
Use the clues and solve our crossword puzzle!
Jefferson Parish Historical Society
Learn about the history of Jefferson Parish in the Jefferson Parish Historical Society's virtual archives.
Historic Districts
Jefferson Parish contains three certified historic districts. Learn about them HERE.
#ChalkYourWalk
Take art class outside to the sidewalk. Create art that will inspire our community! Take pictures and tag us on social #JeffersonParishStrong. We've had such incredible pics shared with us. Click HERE to see!
Share Your Favorite Travel Memories
Since most of us are stuck inside, practicing social distancing, and cannot travel right now, the team at Visit Jefferson Parish decided to share some of our favorite travel memories on our blog and ask YOU to share yours. We hope that reminiscing will not only make you smile during these tough times, but also get you inspired and excited about future travel. Share your favorite travel memories with us! Tag us in your social posts and use #VisitJeffersonParish and #JeffersonParishStrong.
You can also check out our blog for great local tips!
What is Visit Jefferson Parish?
Visit Jefferson Parish is the Parish's official Convention & Visitors Bureau, or CVB for short. We are a destination marketing organization responsible for promoting Jefferson Parish as a travel destination and a dynamic place to live and work. Through travel, we strengthen our economic position and provide opportunities for the people of the parish.
Take a look at Jefferson Parish's Tourism by the Numbers.

Read our Insider Blog for even more inspiration!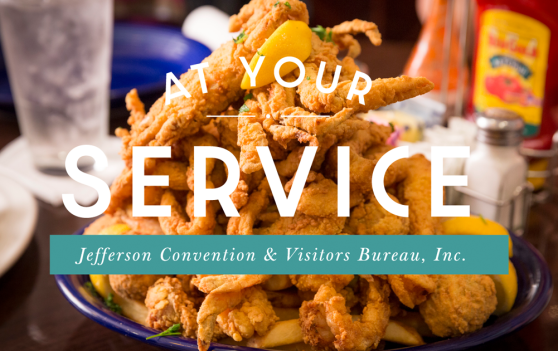 Find Jefferson Parish restaurants offering seafood, burgers, comfort food and...
See More
BACK TO MAP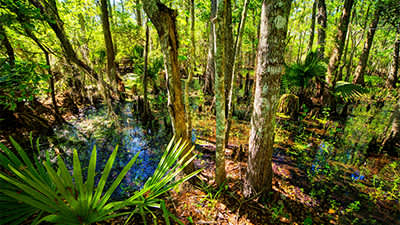 The Beautiful Bayou
Location: Jean Lafitte
Discover the natural wonders of the Jean Lafitte National Historical Park and Preserve. With a unique ecosystem the preserve is a representative example of the delta's environment, containing natural... See More
BACK TO MAP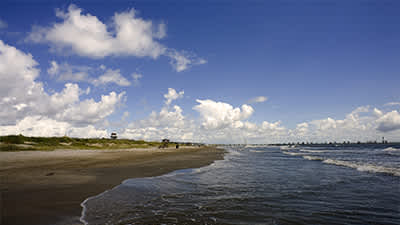 Louisiana's Only Inhabited Barrier Island
Location: Grand Isle
The State of Louisiana maintains a mile of beach front at Grand Isle State Park on the easternmost staying e park looks out toward nearby Grand Terre island, once the lair of the legendary pirate (or... See More
BACK TO MAP