It's officially Carnival season, y'all! And we all know what that means... Well, this year, it may not mean parades, beads, etc... but it does still mean King Cakes! Chocolate King Cakes, Pecan King Cakes, Strawberries and Cream King Cakes, Cream Cheese King Cakes, and we can't forget the traditional King Cake. That gleaming purple, green and gold icing and the smell of cinnamon just does my heart good.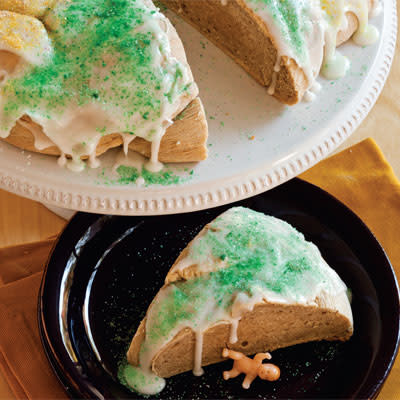 The tradition of the King Cake is believed to have been brought to our area from France in 1870. The colors of purple, green and gold represent Justice, Faith and Power. These colors were chosen to represent a jeweled crown honoring the Wise Men who visited the Baby Jesus on Epiphany. A tiny plastic baby, symbolizing Baby Jesus, is often found hidden in the King Cake. If you find the plastic baby, you are named "King of the Day" and it is your job to provide the next King Cake.
Even though I love to buy king cakes from a variety of bakeries throughout the area, I also try to make one of my own every year. I tried to do a fancy strawberries and cream cheesecake one year, but that ended in disaster. So now I stick with the traditional version. It's a classic for a reason, right? Check out the recipe below and try it for yourself!
Ingredients
    ½ cup warm water (110 to 115°)
    1 tablespoon active dry yeast
    ½ cup plus 2 teaspoons sugar, divided
    4½ to 5½ cups all-purpose flour, divided
    ½ teaspoon grated nutmeg
    1 tablespoon ground cinnamon
    2 teaspoons salt
    1 teaspoon lemon zest
    ½ cup warm whole milk (110 to 115°)
    3 large eggs
    4 large egg yolks
    ½ cup plus 2 tablespoons unsalted butter, softened, divided
    1 king cake baby, metal doubloon, dried bean, or pecan (see note)
    Vanilla Icing, recipe follows
    Colored Sugars, recipe follows
Instructions
In a small bowl, stir together ½ cup warm water, yeast, and 2 teaspoons sugar; let stand for 10 minutes.
In a large bowl, stir together 4½ cups flour, remaining ½ cup sugar, nutmeg, cinnamon, salt, and lemon zest. Make a well in center of flour mixture, and add yeast mixture. Add eggs and egg yolks; gradually stir until combined.
Using a pastry cutter, cut in ½ cup butter into flour mixture 1 tablespoon at a time. Place dough on a lightly floured surface, and knead until it forms a soft ball. Continue kneading, adding additional flour as needed, until a firm, elastic dough is formed. Brush a large bowl with 1 tablespoon softened butter, and place dough into bowl, turning to grease top of dough. Cover bowl, and let rise in a warm, draft-free place for 1½ hours or until dough doubles in size.
Brush a large baking sheet with remaining 1 tablespoon butter. Turn out dough onto a lightly floured surface, and punch down dough. Knead for 10 turns. Cut dough into three equal pieces. Roll each piece into a long rope. Pinch ropes together at one end; braid ropes, and bring ends together to form a circle, pinching to seal. Place on prepared pan, and let rise 30 minutes.
Preheat oven to 375°. Bake on a rack placed in the middle of the oven until golden brown, about 25 to 30 minutes. Let cool to room temperature in pan on a wire rack. Place baby, coin, bean, or nut, in cake. Top with Vanilla Icing, and decorate with Colored Sugars.
Recipe and image from Louisiana Cookin'.