Artscapes

Artscapes is a public art program created to bring art in the form of sculptures to the masses of Jefferson Parish. With sculptures located on major thoroughfares, public parks and other public spaces, this program provides individuals with an opportunity to view and appreciate art in an informal setting.
Sculptures have been donated by local and regional philanthropists, or are on loan through museums and private collections.
"Wind in my Sails" Artist: Aaron P. Hussey Location: Veterans at Independence.
Baton Rouge artist, Hussey, was born in New Orleans' Ninth Ward and says his angular design is based on his childhood memory of Lake Pontchartrain.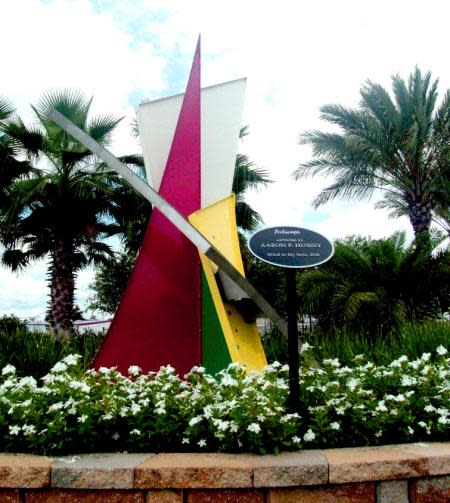 "Blue Dog" Artist: George Rodrigue Location: Veterans at Severn Ave
Rodrigue brilliantly preserves the 2-D punch of his Blue Dog icon while creating a compelling 3-D shape.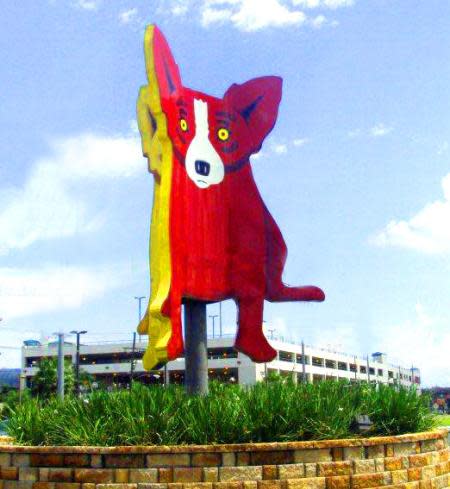 "Rise" Artist: Elijah T. Sproles Location: Veterans at Club Drive
This vertical abstract sculpture not only implies climbing, but its wavy edges, bubbly central cylinders and glinting blue also exemplifies the waters of South Louisiana.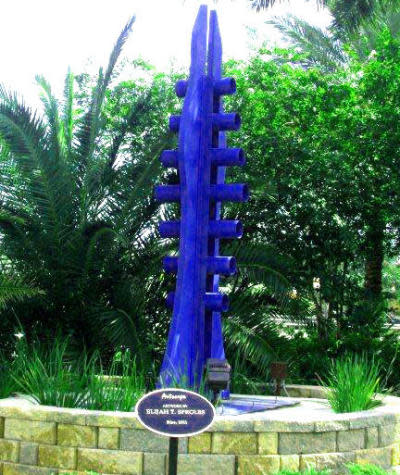 "Guitar with Jazz Aura" Artist: Abby Cantrell Location: Veterans at Clearview Parkway
Abby Cantrell was inspired by an acoustic guitar belonging to a friend. She chose the color red to represent the aura of jazz music which was influential to her growing up in New Orleans. The balancing shapes and interconnected strings show how music is intertwined into one's life.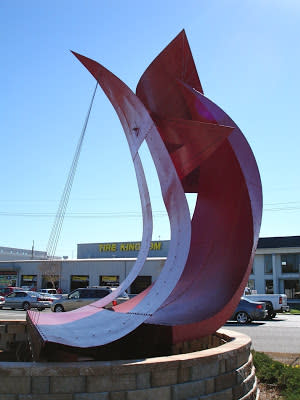 "We, the People" Artist: Jordan Ivanov & Laxman Kewalramani Location: Manhatten Blvd Near 9th
Ivanov and Kewelramani said the 10-foot tall 2,750 pound steel construction required 850 feet of welding. It is coated with an abstract pattern of colors that include hints of beads, masks and human figures.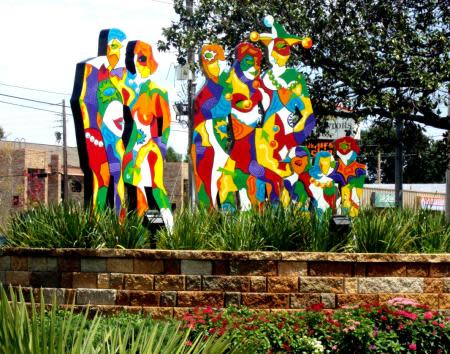 "Monumental Holistic" Artist: Betty Gold Location: Veterans at Bonnabel Blvd.
Betty Gold's undecorated abstraction is pure and simple like black coffee.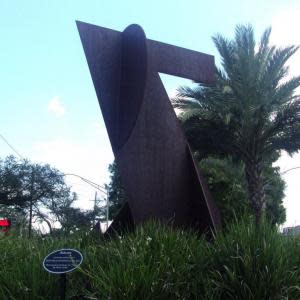 "Eagle" Artist: Frank Ledbetter: Terry Parkway b/t Harvard Ave. & Guardian Ave.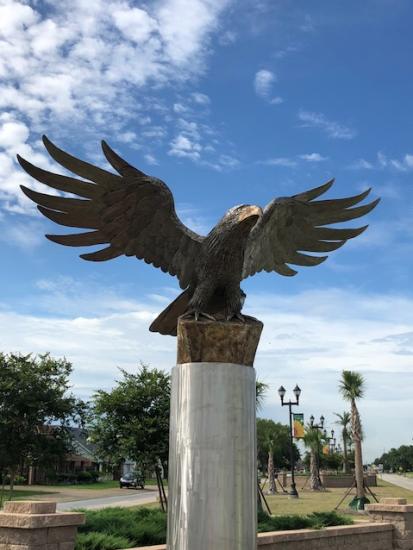 Artist: Carl Joe Williams Location: Veterans at Houma Boulevard
Williams, a teacher at L.E Rabouin Career Magnet High School in New Orleans, designed moving aluminum fronds to be placed above trunks made from recycled light posts.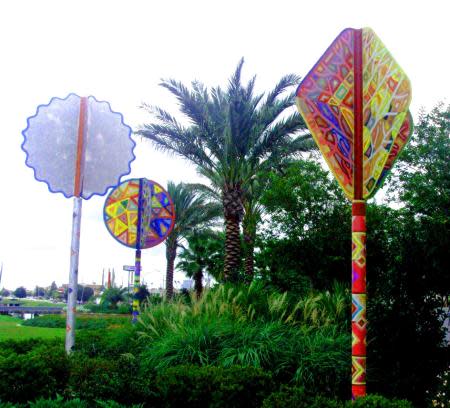 "Trace" Artist: Carl Joe Williams Artist: Alexander Liberman Location: Veterans at Club Drive
The New York artist, who died in 1999, created this three-dimensional haiku sculpture in 1967.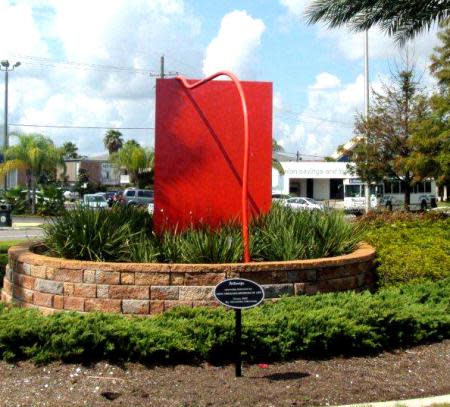 "Comedy and Tragedy" Artist: Steve Martin Location: Terry Parkway at Friedrichs
This pair of 2-ton, 9-foot steel sculptures by local New Orleans artist, Steve Martin, bring Comedy and Tragedy to the Westbank.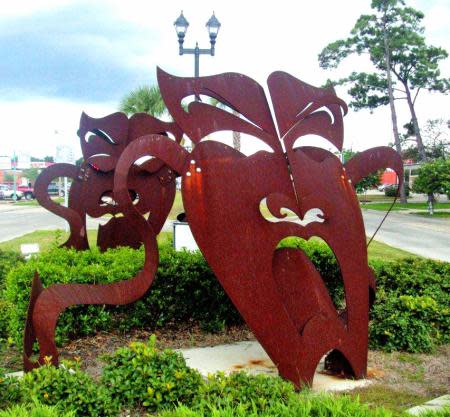 "Dream Walk" Artist: Michael Cain Location: Power Boulevard
Dream Walk is a sculpture meant to symbolize a dream in which vague ideas can be recalled but the details seem to slip away.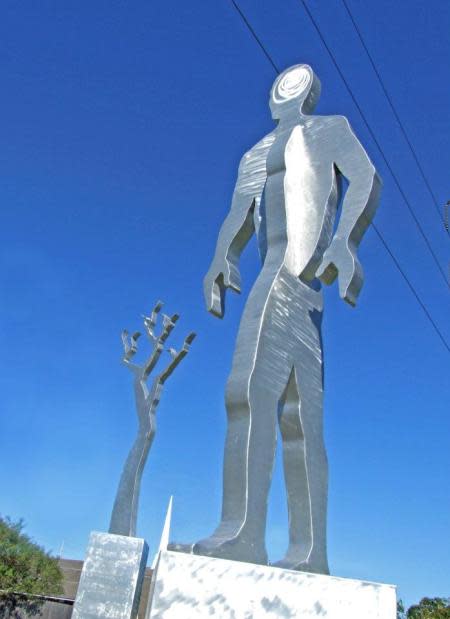 "Odyssey Boat" Artis: Raine Bedsole Location: Lafreniere Park
This sculpture is meant to symbolize the struggle the New Orleans area faced before, during and after Hurricane Katrina.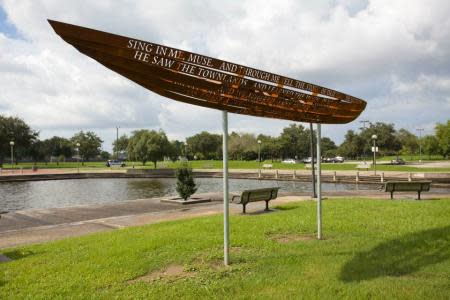 "Waduwach" No Image Artist: David Borgerding Location: Westbank Regional Library
Resembling an archway, "Waduwach" is meant to symbolize a relationship between two brothers, both figures standing stoic yet proud.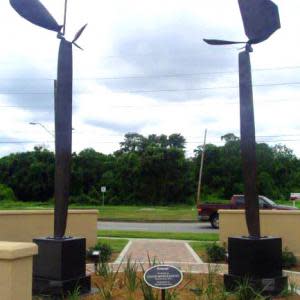 "Taking Flight" Artist: Nathan T. Logsdon Location: Veterans at Brockenbraugh Court
Logsdon, who lives in Baton Rouge, intends for the steel wing, which will remain in a natural rusted state, to communicate "pride, ascension, taking that big leap, putting yourself out there."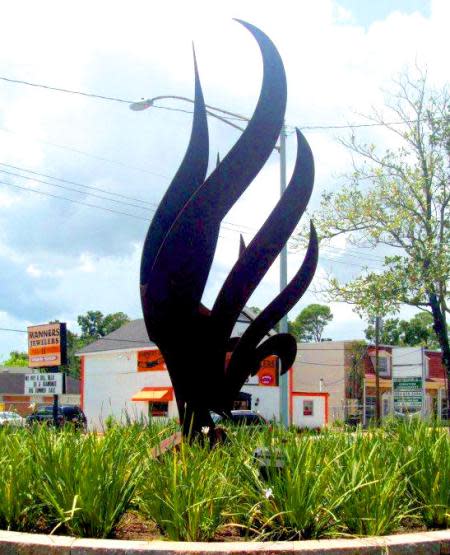 "Jammin' Jazz" Artist: Madeleine Faust Location: Veterans at Sena Drive
Faust, who lives in New Orleans, says she created this musical, geometric abstraction in 1997-98 while "trying to teach myself to play the piano, ragtime." The meaning of the piece took on an unintentional hurricane recovery theme when it was damaged by a falling tree and soaked in floodwater in 2005.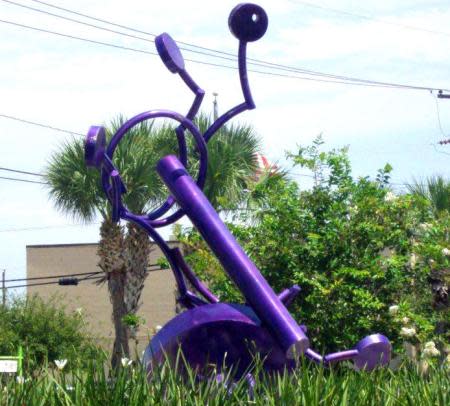 "Mother Cluster" Artist: James Michalopoulas Location: Veterans at Severn
This is a celebration of color and form that has become an inspiring focal point along Veterans Blvd. Towering and dancing towards the sky, this group of five spirited sculptures evoke a sense of wonder and playfulness.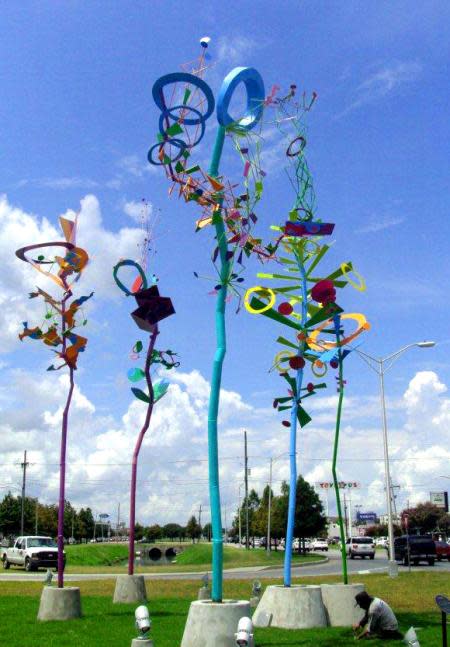 "Toucans" Artist: Hunt Slonem Location: Veterans at Clearview Parkway
Slonam is known for his charming paintings of historical figures, landscapes and birds.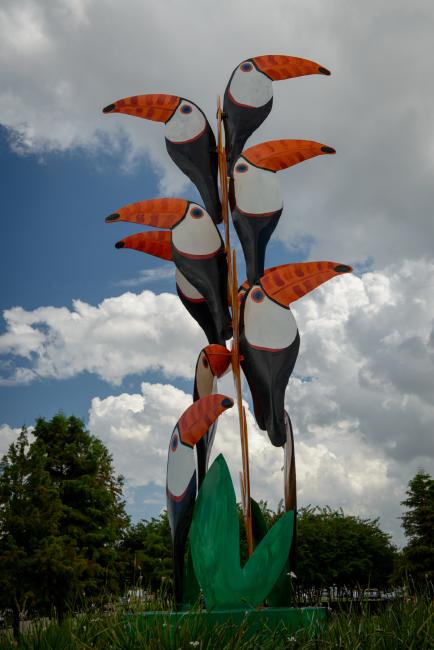 "Family" Artist: John Zeringue Location: Gretna Blvd.
"Family" is a contemporary abstract in marine grade aluminum. The sculpture represents family members leaning and bonding toward a common point of strength.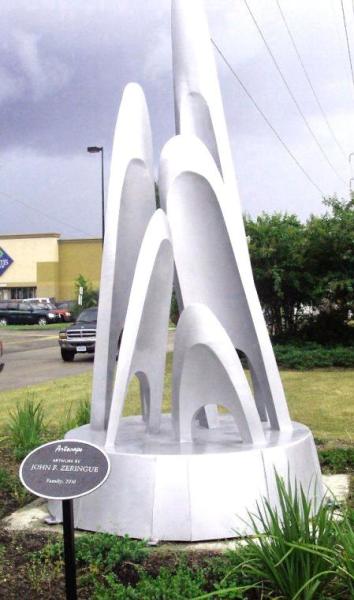 "Proverb Cord" Artist: Deedee Morrison : West Esplanade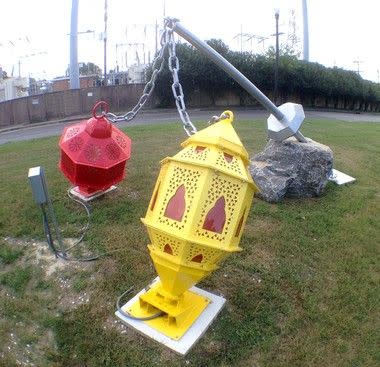 "Pipe Dreams" Artist: Frank Ledbetter : Loyola/Oakland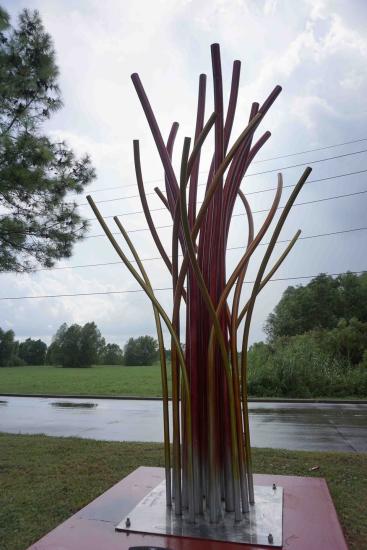 "Dying and Dreaming" Artist: Frank Ledbetter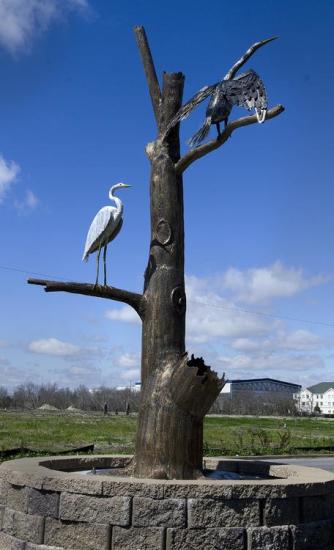 "Swallowtail" Artist: Hunt Slonem : Power/Vintage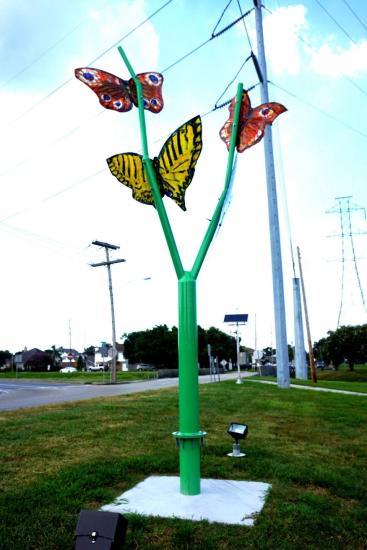 "First Spelling Lesson" Artist: Henry Shane :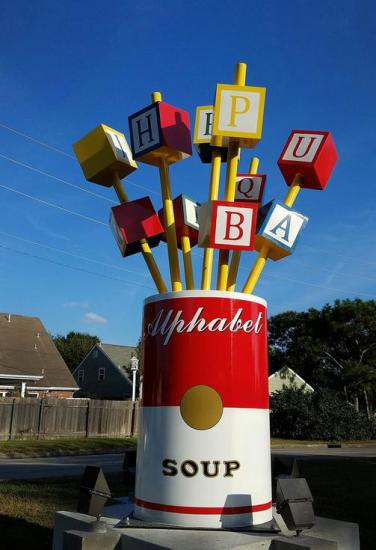 "Hop" Artist: Hunt Slonem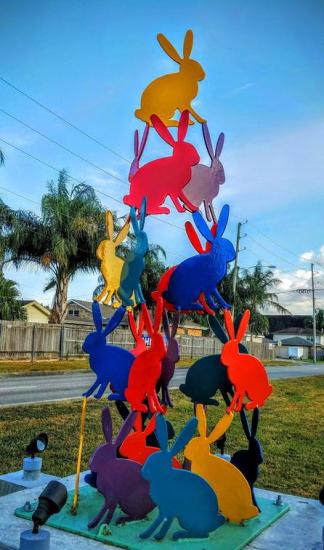 "Devine Assembly" Artist: Hunt Slonem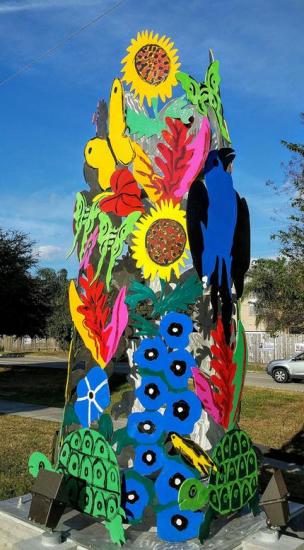 "Hi" Artist: Darrin Butler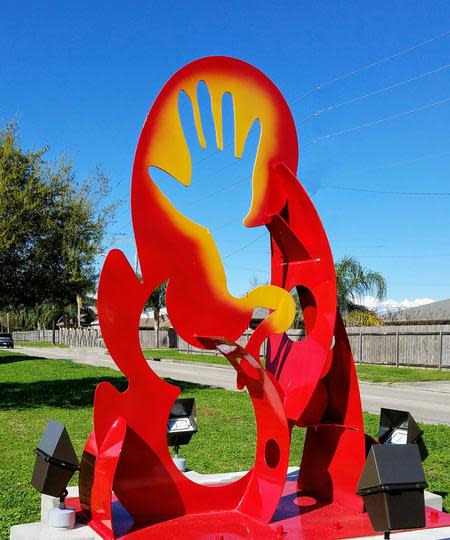 "Apple Pi" Artist: Paul Leaman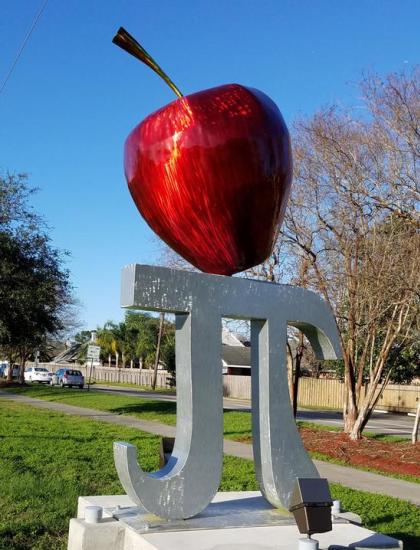 "Inner Urge" Artist: James Davis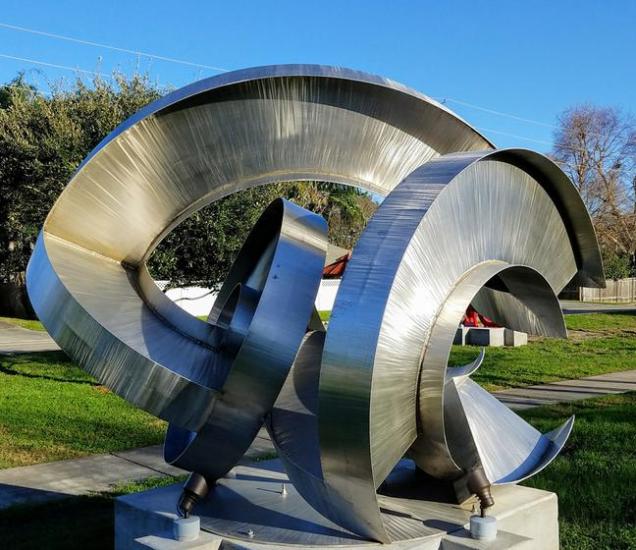 "Duck Crossing" Artist: Frank Ledbetter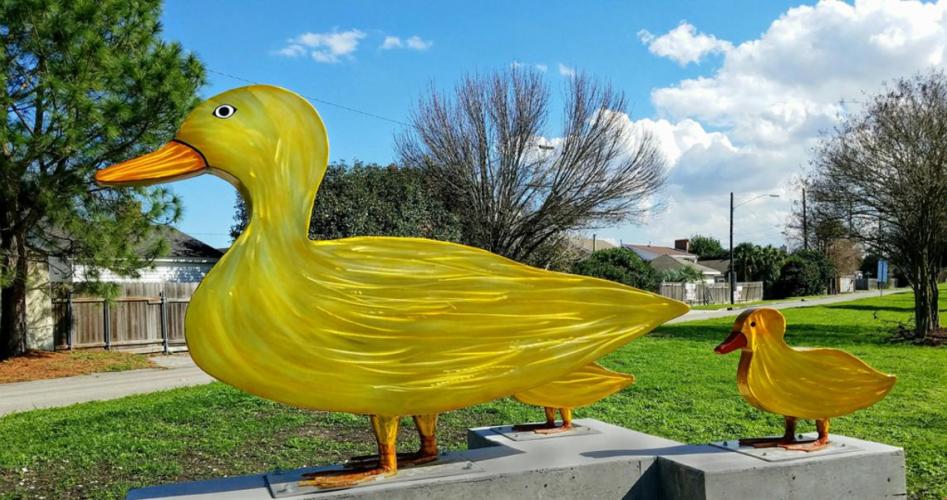 "The Genesis of All Things" Artist: James Gorman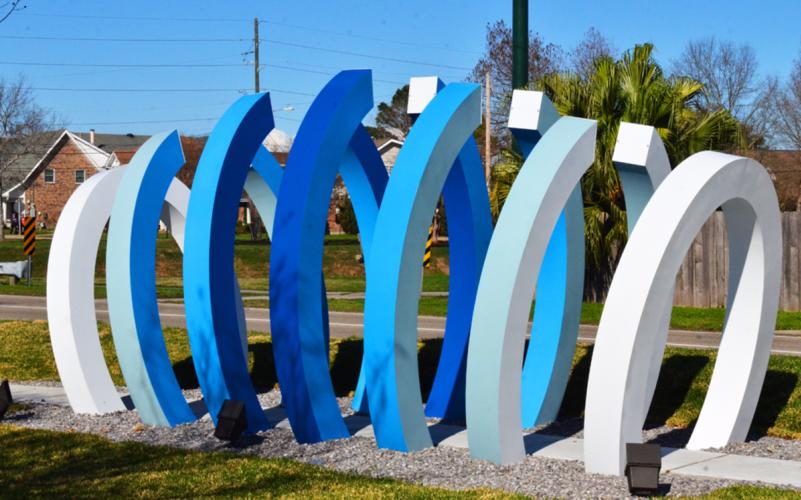 "Kenner Farmer" Artist: H. Grace Boyle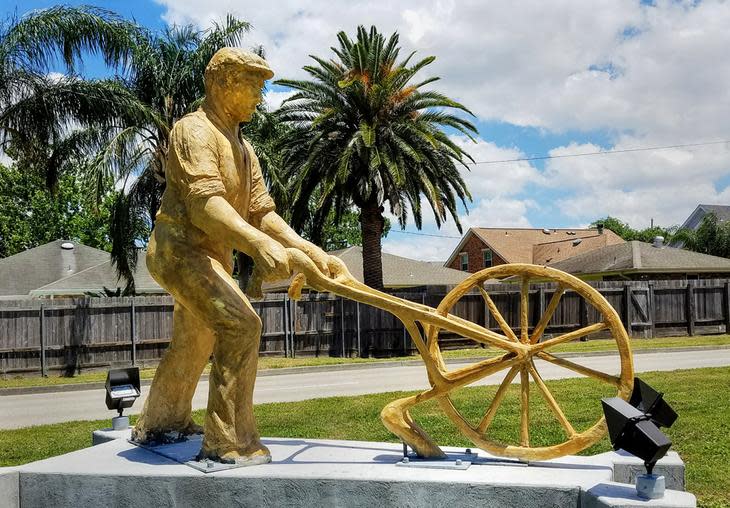 "Category 5 Tree" Artist: Luis Colmenares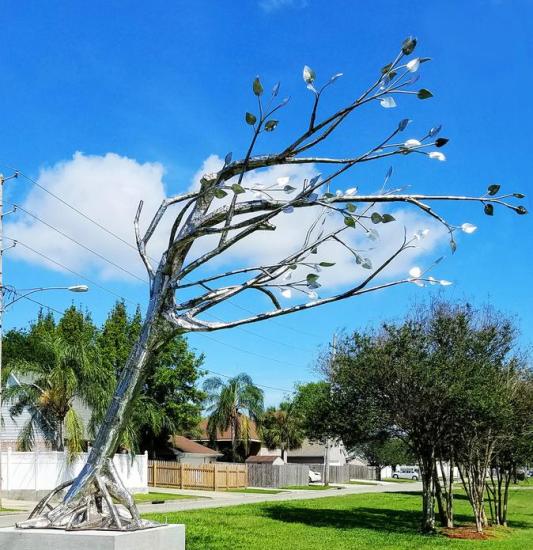 "High Seas" Artist: Ed Wilson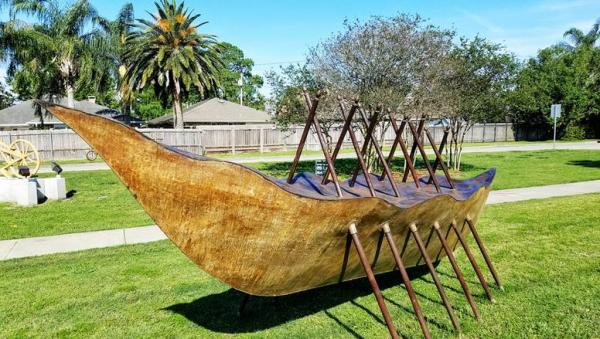 "Quantum Leap" Artist: Hunt Slonem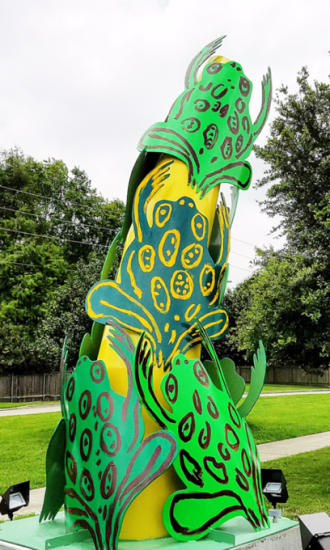 "Profile Canto" Artist: Ernest Trova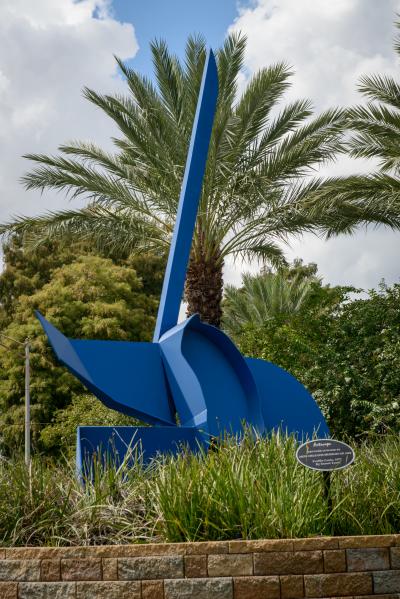 "Freedom Forever" Artist: Frank Ledbetter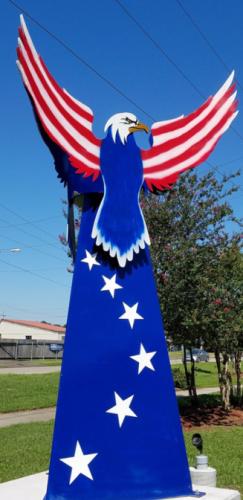 "Froebel's Gifts Energized Cube" Artist: Vivien Abrams Collens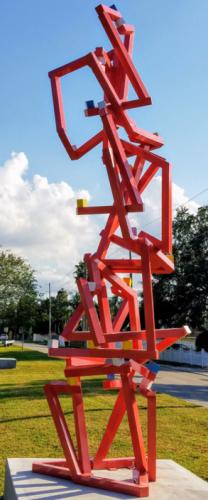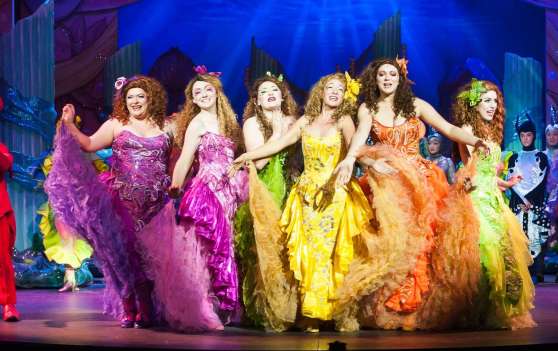 Delight in Jefferson's local talent showcasing comedies, dramas, musicals...
See More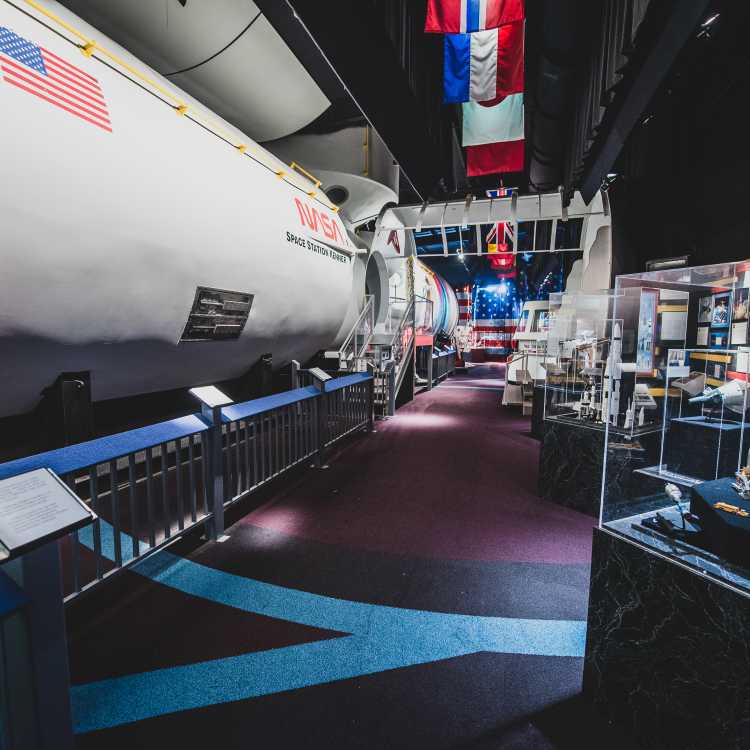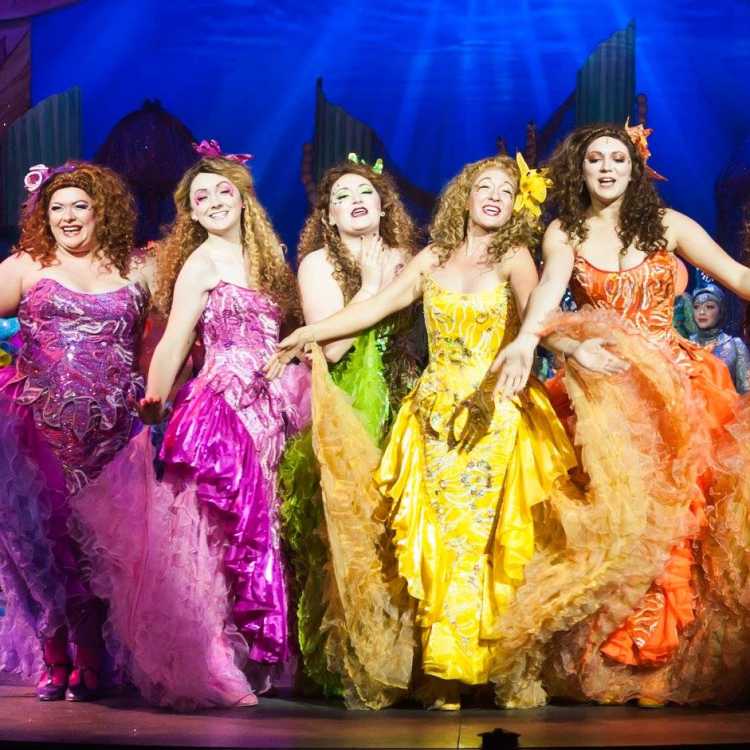 Delight in Jefferson's local talent showcasing comedies, dramas, musicals...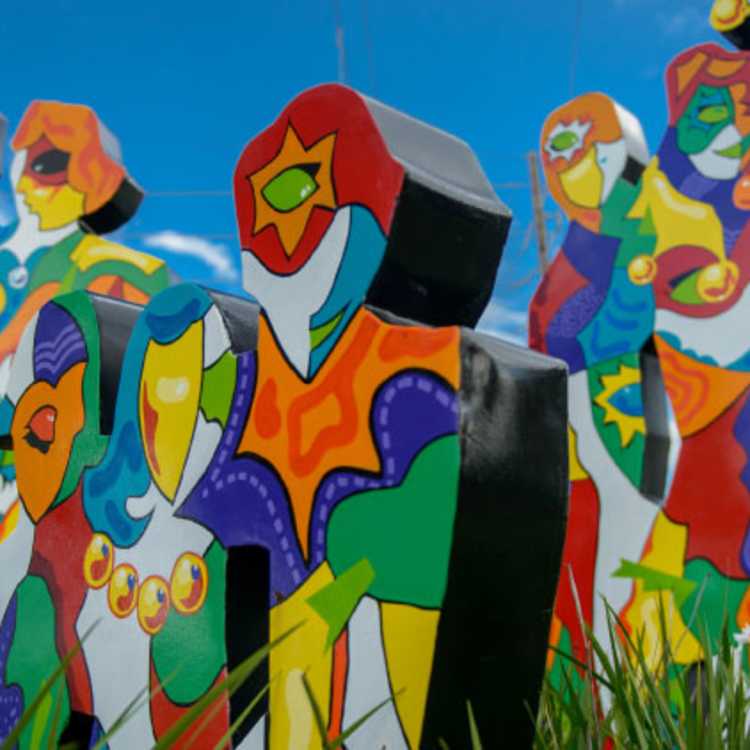 Let us entertain you! Jefferson Parish diverse in its people and culture...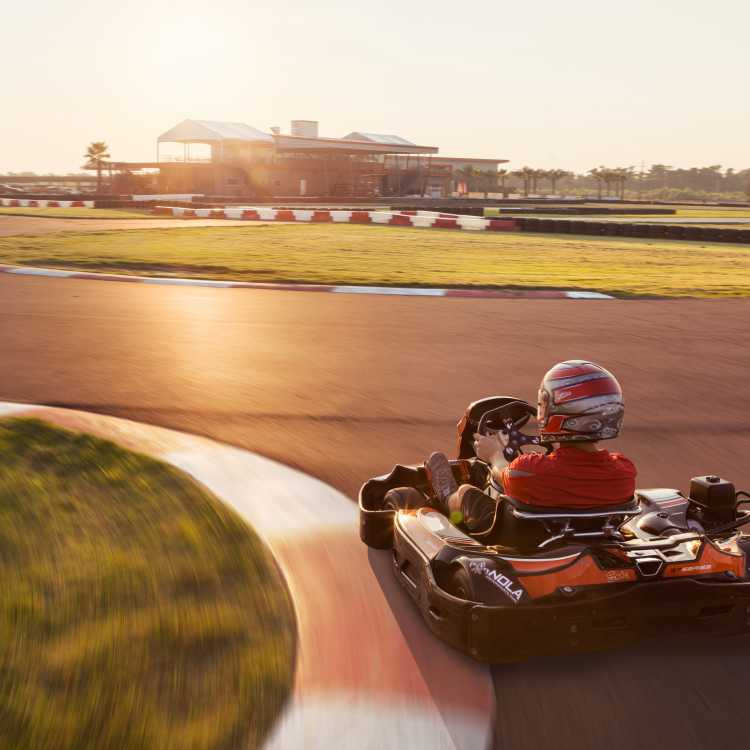 Whether it's a family vacation or a romantic weekend for two, there's...
BACK TO MAP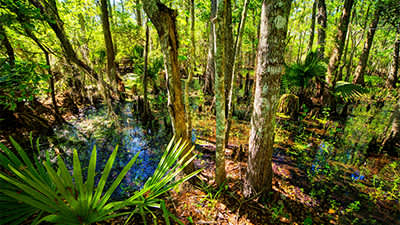 The Beautiful Bayou
Location: Jean Lafitte
Discover the natural wonders of the Jean Lafitte National Historical Park and Preserve. With a unique ecosystem the preserve is a representative example of the delta's environment, containing natural... See More
BACK TO MAP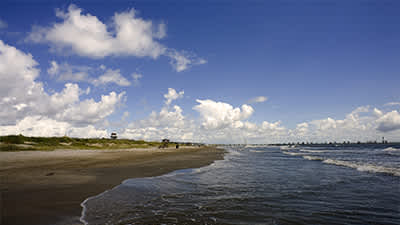 Louisiana's Only Inhabited Barrier Island
Location: Grand Isle
The State of Louisiana maintains a mile of beach front at Grand Isle State Park on the easternmost staying e park looks out toward nearby Grand Terre island, once the lair of the legendary pirate (or... See More
BACK TO MAP