Experience the outdoors with your whole family in Jefferson Parish. We have so many easy, family-friendly hikes, picking where to go first won't be easy. But don't worry, we've broken our favorites down for you below!
Barataria Preserve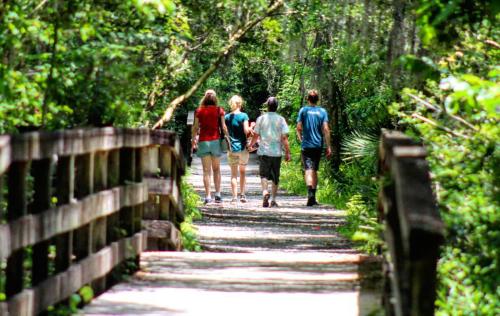 The Barataria Preserve is one of six sites comprising Jean Lafitte National Historical Park and Preserve. This 23,000-acre Louisiana Wetland Preserve is a representative example of the delta's environment, containing natural levee forests, bayous, swamps, and marshes. The Preserve features beautiful nature, birding trails, and a visitor center featuring a kids' activity station, Junior Ranger program, bookstore, and more. Trying to save money? No problem. Admission to the park is free! All of the trails are easy to hike and there is very little elevation. 

Kids can earn a Junior Ranger badge at any of the park's six sites. Explore the park through scavenger hunts, activities, puzzles, and more. Invent your own national park. Plot a course for the pirate, Jean Lafitte. Depending on which park site you visit, you can play along with Cajun musicians, travel through history, hunt for spider webs, pack your gear for an 1815 battle, or learn about the foods that made Louisiana cooking famous. Ask at the visitor center information desk for a Junior Ranger booklet and join the Jean Lafitte ranger team. 
Wetland Trace
Just right down the road from the Barataria Preserve is the Wetland Trace Boardwalk. Stroll boardwalks that cover 41 acres of beautiful moss-covered wetlands. The many trails include covered pavilions, scenic overlooks and benches. It is a popular place to see various wetland wildlife like alligators, turtles and herons as well as marsh plants like lilies and orchids. Dogs are allowed, just be sure and keep them on leashes.
While you are here, don't miss the Lafitte-Barataria Museum, adjacent to the boardwalk. It tells the 200-year old story of life in the fishing communities along Bayou Barataria. Exhibits explore the people and industries of the region, including the notorious pirate Jean Lafitte, who operated in the Gulf of Mexico in the early 1800s. Louisiana's heritage is on display at this fun and informative attraction.
As a little lagniappe, you will find the bridge of The Black Pearl from Pirates of the Caribbean at the start of the trail, right behind the museum!
Bucktown Marsh Boardwalk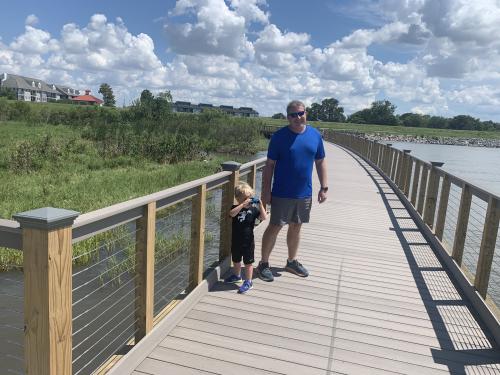 Enjoy a leisurely stroll on the new Bucktown Marsh Boardwalk on Lake Pontchartrain. Along its 1,000 feet, you will be able to stop to learn about coastal issues. The boardwalk also features bird blinds as well as informational signs about plants, wildlife, fisheries and the coast.
Take a break on one of the benches along the boardwalk and watch a glorious sunset. Make a day out of it and pack a picnic lunch and sit at picnic tables under a covered pavilion. Please note, dogs are not allowed on the boardwalk.
Now these might be our three favorite kid-friendly hikes, but Jefferson Parish offers many more ways for the whole family to get back to nature.
Grand Isle State Park, on Louisiana's only inhabited barrier island, offers scenic beach hiking trails and spectacular sunset views.
Bayou Segnette State Park features nature trails that offer you the chance to spot plants, trees and wildlife from both swamps and marshland.
Lafreniere Park is a 155-acre park in the heart of Metairie featuring jogging trails and hiking.
Be sure and check out our Outdoors page for more!