From gators to bird sanctuaries and disc golf to floating cabins, Jefferson Parish's parks offer a wealth of variety to soak up the great outdoors.
Home to Louis Armstrong New Orleans International Airport and minutes from the French Quarter in New Orleans, Jefferson Parish overflows with green space where you can take in the region's prolific wildlife, nature trails, and sporting fields. From city parks to state parks and even a national park, there's something here to appeal to every outdoor enthusiast—and even those who are not.
LAFRENIERE PARK
The largest park on Jefferson Parish's East Bank (east of the Mississippi River), Lafreniere Park covers 155 acres with so many amenities you could spend your entire visit exploring a new corner of the park to see them all. If you are staying in one of the nearby hotels, skip the fitness center and head to the 2-mile jogging trail for your daily workout. Along the way, you'll find two workout stations to get in your strength training along with your cardio. If your furry best friend is traveling with you, bring him to the park as well, which contains a dog park where he can get his own workout in.
Families visiting Lafreniere Park will find more than enough to keep the kids entertained, whether for an hour or the day. The park contains a carousel, a splash pad (open seasonally), two playgrounds, and more than enough green space for chasing Frisbees, flying kites, and running off all that excess energy they always have. On the horizon is a new mini-golf course and paddleboats on the 20-acre lagoon.
Speaking of golf, Lafreniere Park will challenge the best athletes with its 18-hole disc golf course. This, in addition to several multi-use sports fields plus two brand-new, FIFA-certified, lighted synthetic turf fields. These fields are ideal for your team's next travel tournament.
Perhaps the best asset of Lafreniere Park is its many pockets of green space where you can just wander, taking in the sights and sounds around you. For instance, on a breezy day, head over to the Singing Oaks, where you can listen to the tinkle of wind chimes hanging from the tree's boughs. Or stroll through the bird sanctuary, and see how many different species you can spot. You can even search for wildlife along the boardwalk in the park's manmade ecological marsh environment.
No matter what you choose to do at Lafreniere Park, you can be sure of one thing: The memories you make will be ever-lasting.

PARC DES FAMILLES
At first glance, Parc des Familles appears to be like many other community parks. There are the requisite ball fields, batting cages, and recreation centers that bring in kids of all ages to compete against one another. However, explore a little farther, and you'll find there's much more to this (almost hidden) jewel. Encompassing 610 acres on Jefferson Parish's West Bank (west of the Mississippi River), Parc des Familles also is home to a seasonal splash park and splash pad filled with 14 water features that will have little ones squealing with delight on a hot summer's day.
However, Parc des Familles also includes a par- 65, 18-hole premier disc golf course by renowned disc golf course designer John Houck that weaves its way through the park's iconic hardwood cypress swamp. Each hole offers three tees to choose from, ranging from amateurs to professionals, so each round on the course could be different depending on your choice. Throw in such challenges as dog legs, tunnel shots, and even throwing across one of the park's swamps, and you'll experience a disc golf course, unlike many others.
Mountain bike enthusiasts also will love the 5-mile trail that traverses the park's cypress swamp and woods for a scenic ride for both beginners and long-time riders. The trail is undergoing further development and expansion to ensure a quality experience for every rider.
Other facilities include two dog parks (separating small and large dogs so everyone has a fun playtime), nature trails, three pavilions, picnic areas, and restrooms. There's even a 2,000-foot elevated boardwalk that will take you through one of the park's cypress swamps, so keep your eyes peeled for local wildlife.
Future enhancements at Parc des Familles include a brand-new visitors center as well as a new fishing pier overlooking the canal, bringing additional opportunities to get outside and play!
BAYOU SEGNETTE STATE PARK
Also located on Jefferson Parish's West Bank, Bayou Segnette State Park welcomes visitors to immerse themselves in the great outdoors just minutes from the Big Easy. Day visitors can set out to explore the park on one of three trails that provide a glimpse of the local wildlife found in the park's lagoons and forests. Avid geocachers also will love that the park is home to A Louisiana State Park Geocache, which encourages people to visit each of Louisiana's State Parks and Historic Sites. Just remember to put on your bug repellant before setting out on a trekking adventure!
If you prefer to explore by water, Bayou Segnette State Park delivers. Bring your own boat, and set it afloat at the park's boat launch. Within minutes you can search for wildlife or try your luck at fishing in both fresh and brackish water in Bayou Segnette. Be sure to take a ride in Marcello Canal to catch a glimpse of the park's floating cabins!
Park visitors also can swim at the park's seasonal 22,000-square-foot wave pool, the perfect spot to spend the day with the kids. A second pool is located in the park's overnight area for guests staying in the campground or floating cabins. Other family-friendly activities include picnicking, a playground, and plenty of green space for flying kites, throwing a Frisbee, or tossing a football. In the late afternoon, birdwatchers will get their fill as the picnic area offers a prime view of birds roosting in the trees across the water of the lagoon.\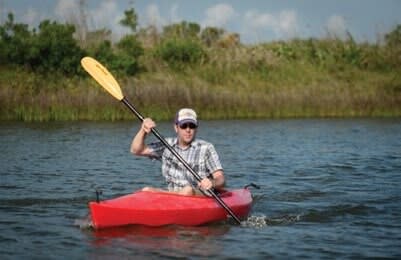 When one day isn't enough, book your stay at Bayou Segnette State Park's campground or in one of the floating cabins. The campground features 98 campsites outfitted with water and electrical hookup, restrooms, and playgrounds. There also are 16 floating cabins on Marcello Canal, and these provide a rare treat indeed. Where else can you stand along the railing and watch the alligators swim by, or fall asleep to the sound of frogs, gators and birds talking in the night? Each comes with two bedrooms, a full kitchen, living area, and screened-in porch with picnic table. It's an adventure you truly won't forget!
BARATARIA PRESERVE, JEAN LAFITTE NATIONAL HISTORIC PARK AND PRESERVE
If your visits to Jefferson Parish's other parks whet your appetite for all things nature and wildlife sightings, Barataria Preserve at Jean Lafitte National Historic Park and Preserve on the West Bank should be your next stop. Hit one of the trails in the park, and you'll find yourself surrounded by majestic live oaks and cypress trees. Keep an eye on the surrounding territory, because you'll be surprised at what you spot lurking among the trees, on fallen logs or in the water. Think turtles, snakes, frogs, alligators, and birds. Just remember to leave them be!
There are five walking trails—think boardwalks and gravel—and four hiking trails made of dirt or gravel (avoid during rainy periods as they may be muddy and impassable). A great place to start is the Visitor Center Trail directly behind the Visitor Center. Once you become acclimated, try some of the other trails, including the Marsh Overlook Trail and Palmetto Trail.
Every Wednesday through Sunday, join a ranger for a guided walk along with one of the trails. These are a wonderful ways to learn more about the park and surrounding area. If you prefer to set out on your own, try the self-guided tour of the Pecan Grove (the guide is available online or at the visitor center). Another option is the cell phone tour along the Bayou Coquille Trail. In addition to informational signs along the way, some stops also feature instructions for the cell phone tour. Just call the number listed, press the stop number where you are, and listen to the narration.
Make a day of it, and bring a picnic lunch. You also can try your hand at fishing or hunting in designated areas of the Barataria Preserve, but you will need the proper permits and licenses.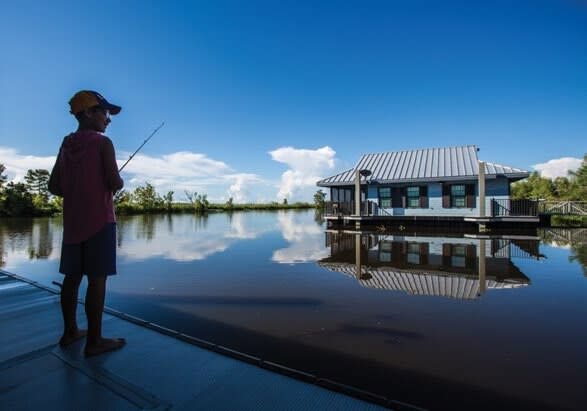 GRAND ISLE STATE PARK
At the edge of Jefferson Parish along the Gulf of Mexico, Grand Isle State Park welcomes visitors to enjoy all a coastal state park has to offer. This includes swimming, birding, fishing, hiking, boating, crabbing, or soaking up the sun. For visitors who want to extend their stay, Grand Isle State Park also offers 14 beach tent campsites and 49 premium campsites with water and electrical hookups. For a luxury camping experience, book a stay at one of the onsite glamping tents.
As you can see, Jefferson Parish's green spaces have much to offer, and can't wait to have you visit.