National & State Parks

Outdoor adventure awaits in Jefferson Parish! We are home to the Barataria Preserve of Jean Lafitte National Historical Park and two state parks, Grand Isle and Bayou Segnette.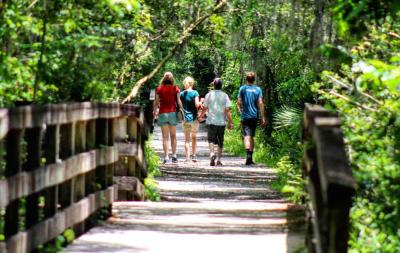 As of Tuesday, March 31, Jean Lafitte has completely closed the park's Barataria Preserve in Marrero. This closure includes preserve trails and boardwalks. The closure is in order to comply with state and local health guidance regarding social distancing
The Barataria Preserve is one of six sites comprising the Jean Lafitte National Historical Park and Preserve. The 23,000 acre Louisiana Wetland Preserve interprets the culture of people, both past and present, who settled the delta and the unique ecosystem which sustained them. The Preserve features beautiful nature trails, birding trails, and a visitor center featuring a kids activity center, Junior Ranger program, bookstore, and more. Guided tours are offered. Great place for hiking, canoeing, enjoying nature!
Bayou Segnette State Park is open from 8:00am to 6:00pm daily for day use, fishing and boating. The pavilions are also available for rental, keeping in mind social distancing recommendations. Keep in mind that if you enter the boat launch through the overnight road, your fees must be paid at the fee station (blue box) next to the LDWF self-clearing station (green box). Please be sure to tear off the portion that goes on the dashboard of your vehicle to avoid from being cited by the law enforcement rangers. The cabins and campgrounds have not reopened as of yet.
Just a thirty-minute drive across the  Mississippi River from New Orleans,  it offers a multitude of recreational opportunities for visitors of all ages -- camping, boating, fishing, canoeing, picnicking, playgrounds and swimming in the wave pool, as well as an ecosystem that offers you the chance to spot plants, trees and wildlife from both swamps and marshland. Bayou Segnette opened 16 new floating cabins in October of 2016. The floating cabins, situated on the canal adjacent to Bayou Segnette, include two bedrooms, a full kitchen, living/dining area, and a screened-in porch overlooking the canal. Aluminum walkways surrounding each cabin provide opportunity for casual fishing, complete with an attached cleaning station. Great place for a weekend getaway!
Grand Isle State Park features two miles of beaches, including the last wild beach in Louisiana, along with great local fishing. The pier is the only pier in Louisiana that extends into the Gulf - a 900-foot long public fishing pier with a nearby fish-cleaning station. State officials say that over 280 species of fish are known to live in the waters around this sandy spur. The camping area features 49 campsites with a nearby bathhouse with running water and an adjacent dump station. There are 3 miles of hiking trails with prime bird watching! Tent camping is also available on the beach!

Ready to get back to nature? Browse our listings below!