Uncle Sam Jam

July 3, 2019
Celebrate Independence Day at beautiful Lafreniere Park in Metairie at Uncle Sam Jam! Each year, fest goers look forward to live music, delicious food and great company! This FREE festival features top local and national acts. Then, stick around for the spectacular fireworks show at 9PM!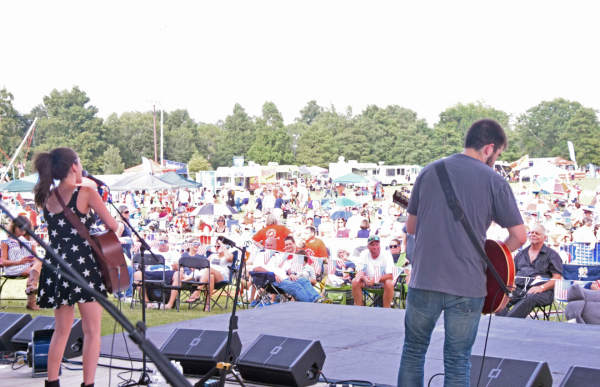 The Patrons of Lafreniere Park along with Jefferson Parish District 4 Councilman Dominick Impastato announced a star-studded lineup to headline Uncle Sam Jam on Wednesday, July 3rd including Amanda Shaw, 10,000 Maniacs, The Orchestra which features former Members of ELO and The Topcats!

Said Impastato, "Uncle Sam Jam attracts between 15,000 and 20,000+ concert goers. It's a great event to help us showcase the beauty and amenities of Lafreniere Park and bring families and friends together. As councilman, I want to introduce new friends of the park to the concert meadows and its sprawling 155-acre green space. Everyone is invited to celebrate our nation's independence and explore the possibilities of Lafreniere Park."

Uncle Sam Jam will open with the music of Amanda Shaw at 4:00PM. She will be followed by 10,000 Maniacs, a rock band that has enjoyed three decades of success. 10,000 Maniacs will rock fans with favorites from their four platinum selling records including their unforgettable 1993 MTV Unplugged live album. A New York band, epic in the 1980s and early 90s, now performs with front artist Mary Ramsey who replaced Natalie Merchant in 1993. Uncle Sam Jam festival goers will enjoy some of the bands top charting hits including "Peace Train", "These Are Days", "Because the Night", "Trouble Me", and "Wonder".

10,000 Maniacs will be followed by the former members of ELO who have been touring for almost two decades. The (ELO) Orchestra, is comprised of violinist Mik Kaminski (formerly of ELO & ELO Part II), orchestral keyboardist Louis Clark (formerly of ELO & ELO Part II), Eric Troyer on keyboards and vocals (formerly of ELO Part II), Parthenon Huxley, guitarist and singer (formerly of ELO Part II), drummer Gordon Townsend (formerly of ELO Part II), Glen Burtnik on vocals and bass (formerly of ELO Part II & Styx), and Louis Clark, Jr. who play cello, acoustic guitar & orchestral keyboards (formerly of ELO Part II). The (ELO) Orchestra, an English rock band, dominated the charts in the 1970s and 80s. During ELO's original 14-year period together, the band sold over 50 million records worldwide and had 15 Top 20 songs on the U.S. Billboard chart. Fans of ELO attending Uncle Sam Jam will enjoy standards including "Evil Woman", "Strange Magic", "Livin' Thing", "Telephone Line", "Do Ya", "Turn to Stone", "Sweet Talkin' Woman", and "Mr. Blue Sky".

Flight Plan Jazz Ensemble, a 13-member ensemble from within the Air National Guard Band of the Southwest from Fort Worth, TX, is a summer tour at Uncle Sam Jam touring Arkansas and Louisiana this summer. The band will perform a high-energy show with a wide range of jazz standards, vocal hits, big band classics, and patriotic favorites during the 20-minute fireworks display and beyond.

Uncle Sam Jam will begin at 3:00 PM on Wednesday, July 3 at the Al Copeland Concert & Meadow Stage in Lafreniere Park. This celebration will again feature unique festival food, including a variety of food trucks, a fireworks display that begins at 9:00 p.m. and music from 4:00 p.m. to 11 p.m. The event is free and open to the public, parking is $5.00. The Topcats will follow the fireworks show, closing the event.

For more information, please visit www.unclesamjamjefferson
When: July 3, 2019
Where: Lafreniere Park, Al Copeland Concert Meadow
Time: 3-11PM
Cost: Free
2019 Schedule:

3:00 PM: Doors Open
4:00 PM: Amanda Shaw
5:30 PM: 10,000 Maniacs
7:15 PM: The Orchestra starring former members of Electric Light Orchestra
9:00 PM: Fireworks and Flight Plan Ensemble
9:35 PM: The Topcats

Pets will not be allowed at the concert meadows during the concert hours.
Map of the Festival Grounds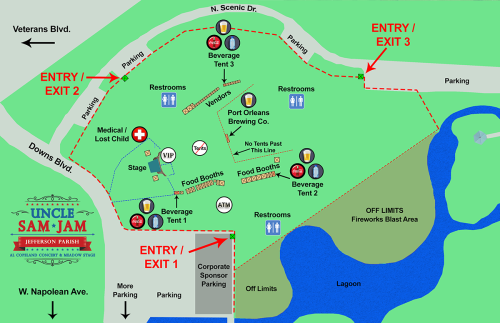 Rules & Regulations
BACK TO MAP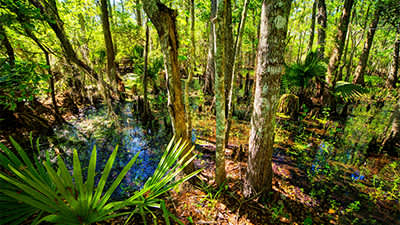 The Beautiful Bayou
Location: Jean Lafitte
Discover the natural wonders of the Jean Lafitte National Historical Park and Preserve. With a unique ecosystem the preserve is a representative example of the delta's environment, containing natural... See More
BACK TO MAP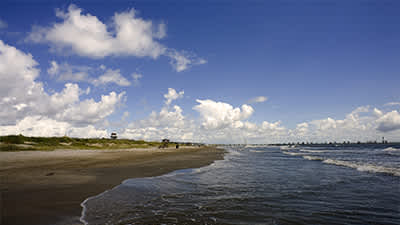 Louisiana's Only Inhabited Barrier Island
Location: Grand Isle
The State of Louisiana maintains a mile of beach front at Grand Isle State Park on the easternmost staying e park looks out toward nearby Grand Terre island, once the lair of the legendary pirate (or... See More
BACK TO MAP