Artists & Sculptures

Celebrate the Louisiana oyster as you dine your way through the Jefferson Parish Louisiana Oyster Trail! It is our pleasure to introduce the artists of each sculpture and provide you with an overview of who they are and the inspiration behind each oyster sculpture.
Artist Name: 
Ramona Guidry
Venue: 
About the Artist: 
Ramona is a self-taught artist that enjoys painting scenes from her past and from everyday occurrences. Her inspiration is found in an array of things that strike her as unique or interesting. The bayous were where she first received her artistic inspiration. These beautiful, natural, and unedited settings gave her the opportunity to view nature and the environment more intimately. Her artistic eye is also heavily attributed to her unique and diverse Cajun heritage.
Theme/Inspiration: 
The Acme oyster displays an array of fresh seafood and the environment found along the bayous of the south.
Artist Name: 
Julie Graff
Venue: 
Andrea's Restaurant
About the Artist: 
Julie is a local artist, born and raised in New Orleans. She works mainly in acrylics, water color and graphite. Julie strives to bring life to her landscape and portrait paintings. Her love of painting still life and animal portraits is what gives her the most pleasure. She is also an experienced potter and an instructor with Sip and Paint where she enjoys teaching the love of painting to guests.
Theme/Inspiration: 
She painted the oyster shell to depict Capri's Blue Grotto and rocky shoreline as a tribute to Chef Andrea's Italian heritage. The bright sunlight casts brilliant blue and emerald reflections on the grotto's water and sea cave walls. Chef Andrea is rowing his boat, the "Blu Capri" toward the opening of the Blue Grotto. The surrounding coastline with crashing waves is painted on the shell's back giving the viewer the perspective of standing on its rocky beach looking out to sea.
Artist Name: 
Stephen Darre'
Venue: 
About the Artist: 
Born and raised in the New Orleans Area, Stephen Darre' is a local architect and artist who inherited his talent from his father, John Darre', another local artist. While Stephen is a self-taught painter from an early age, he went to LSU and studied architecture and continued to expand his creative capabilities. Now, working as a licensed architect and moonlighting as an artist, he likes to combine skills from both fields to create the best buildings and paintings possible.
Theme/Inspiration: 
The idea of painting a king cake onto the oyster came to him, because, as a child, he would watch the Metairie Mardi Gras parades at the location of Boulevard American Bistro, formerly Houston's. When sketching out initial ideas for this piece, he kept going back to a Mardi Gras theme because of it's location on the parade route. The circular shell around the oyster was perfect for a king cake design. The painted baby sits in the center of the king cake just as the pearl sits inside the oyster.
Artist Name: 
Christy Boutte
Venue: 
Cafe 615 Home of Da Wabbit
About the Artist: 
Christy Boutte has been creating art professionally for the past 15 years. A childhood illness led to Christy's profound loss of hearing at the age of one. While innately creative, it wasn't until high school that her passion for fine art was born. Christy then went on to grow her love of and passion for art while attending the world-renowned Ringling College of Art & Design. There she developed a strong artistic style, and in 2000, became the school's first deaf student to receive a Bachelor of Fine Arts degree.
Theme/Inspiration: 
Inspiration for Christy's work comes from her surroundings, especially Louisiana and it's rich culture. As a deaf artist, Christy's intent is to engage the viewer to "see" sounds and "hear" color. She likes to describe her work as "expressionistic, impressionistic and fashionistic."
Artist Name: 
Sherry Francalancia
Venue: 
About the Artist: 
Sherry Alaniz Francalancia, aka She, has been painting on any blank surface she can find since she was 8 years old. Her art has been in various group and solo shows,  including yearly participation in French Quarter Fest. She assisted under Max Bernardi with the House of Blues Mural. She also works at David Art and teaches painting at Sip and Paint and volunteer teaches at Angel's Place.
Theme/Inspiration: 
A pelican enjoys the view of a shrimping boat and lighthouse while crawfish and a crab play on the rocks below. She has so many fond memories of being at Deanie's with her family. Her father passed away during the time she was painting the sculpture. Afterward, she became focused on painting a perfect place for her father to fish. Chandra, one of Deanie's owners, asked Sherry to add her father's name to the boat which made it even more about family.
Artist Name: 
Karen Reynolds
Venue: 
About the Artist: 
Karen Reynolds has lived in the New Orleans area all of her life. She is a self taught artist specializing in acrylics and faux painting. Her family and the city have been her inspiration and passion for her art.
Theme/Inspiration: 
Since this project was not on the typical plain white canvas, the possibilities seemed endless. She had many different ideas and inspirations for the oyster at Don's Seafood Hut. The most intriguing approach was the pearl. She saw the extra dimension from the pearl as a great opportunity for creativity. She decided to represent it as a moon. Her use of cool colors and loose paint brush strokes were to keep the viewer's eyes moving while staying centered on the moon. The goal was to create intrigue of our great bayous and their mysteries.
Artist Name: 
Veronica Ali
Venue: 
About the Artist: 
Veronica Ali was born and raised in Louisiana. She went to high school at Mount Carmel Academy and is a graduate of UNO. She has been an artist her entire life and hopes to continue. She eventually hopes to get a masters in Fine Arts.
Theme/Inspiration: 
The piece she did for Drago's is a piece suggested by Tommy Cvitanovich. She painted an oyster grill with Drago's signature charbroiled oysters on the back. On the face of the oyster, an oyster lugger, an oyster camp, and the eye, "pearl", of the oyster are the dominant features. This oyster is representative of what it takes to make a Drago's charbroiled oyster, all you need now is Drago's famous butter!
Artist Name: 
Shannon Kelley
Venue: 
About the Artist: 
Shannon Kelley graduated in Visual Arts with a focus in Painting from Loyola University New Orleans in 2009. After selling her work in Jackson Square, she opened The Green Eyed Gator Gallery in August of 2012. The gallery enjoyed three fabulous years in the French Quarter but closed in the summer of 2015 when Shannon took on a new venture, motherhood.
Theme/Inspiration: 
The Galley's oyster features the restaurant, a lively New Orleans scene and the seafood it's so famous for!
Artist Name: 
Keith Eccles
Venue: 
Gattuso's Neighborhood Restaurant
About the Artist: 
Keith Eccles was born and raised in Gretna. He studied art in Memphis, TN where he received his bachelor's degree from the Memphis College of Art. Keith worked in the Jefferson Parish School system for over 12 years where he inspired and touched the lives of countless students. He currently owns and operates Keith Eccles Illustration & Design Studio located in old Gretna. Keith has participated in extensive fundraising and community events. He is honored to be participating as one of the artists in the Jefferson Parish Louisiana Oyster Trail project!
Theme/Inspiration: 
Keith Eccles painted his oyster in a "pop-art" style that encompasses all aspects of people, places and things which are dear to the people of Gretna. Featured in this oyster are very nostalgic places including the St. Joseph Church and the Crockett Fire House. Another item of interest is the badge of B.H. Miller - Chief of Police - for his service as Chief for over 50 years. This oyster was designed specifically for all of the past, present and future residents and visitors of Gretna to stimulate conversation and memories about "days gone by" as well as all of the great things to come.
Artist Name: 
Cyn Guidry
Venue: 
About the Artist: 
Cyn began painting in high school. For a number of years, she taught folk art at her shop in Galliano to all that wanted to sit and learn. She now resides in New Orleans but her heart remains close to the island and the bayou. She is a graduate of the Chef John Folse Culinary Institute and is a personal chef. In her off time, Cyn has dusted off those brushes and has once again began to paint.
Theme/Inspiration: 
In painting her oyster sculpture, she wanted to bring attention to the beautiful sunsets of Grand Isle. Vivid reds, oranges, and yellows gleam across the bay and then diminish into hues of blues and violets as the sun settles into the horizon. Because she is thrilled to see the brown pelicans fly once again in abundance, she wanted to pay homage by including a silhouette of the state bird in her painting.
Artist Name: 
Jessica Normington
Venue: 
New Orleans Marriott Metairie at Lakeway Bistreaux
About the Artist: 
Jessica Normington grew up in Houma, Louisiana. In 2009, she received her BFA in Printmaking at the University of Louisiana at Lafayette and in 2014 received her MFA in Printmaking at the University of Florida. She currently resides in New Orleans where she continues her artistic practice.
Theme/Inspiration: 
The major conceptual theme within Jessica's artwork is her ability to represent the swamp landscape as a metaphor for the mysteries of life: a subconscious realm, a transcendent and boundless terrain filled with complex forms, and multiple tiers of ecology. Naturally, the Louisiana Oyster Trail project hit home. Her inspiration for the oyster was to represent seafood portraying them in their underwater habitat as if one were looking through a fish-eyed lens.
Artist Name: 
Michelle Davenport
Venue: 
About the Artist: 
Michelle Davenport is a proud New Orleans native and draws much of her artistic inspiration from the color, vibrancy and rhythm of the city she loves. She can trace her artistic journey back to childhood drawing, painting and sewing with her mom and building and repairing things with her dad. While painting is her primary passion, she is also a skilled seamstress/designer and loves to make costumes, jewelry, accessories and furniture.
Theme/Inspiration: 
Perino's oyster sculpture looks almost good enough to eat! The inspiration for this sculpture was of course the incredible boiled seafood that Perino's is known for!
Artist Name: 
Rachel Rodriguez
Venue: 
R&O's Restaurant
About the Artist: 
Rachel Rodriguez grew up in Algiers Louisiana on the West Bank of New Orleans. Inspired by her grandparents, she attended Louisiana State University and pursued her passion for the arts. She graduated in 2010 with a Bachelors in Fine Arts with a focus in painting and drawing. After school Rachel became an instructor teaching painting classes at Painting with a Twist in Gretna.
Theme/Inspiration: 
R&O's restaurant made her remember the many Sundays she dined there as a child with her family. She was given the inspiration for the oyster from Roland, Orla and their children who run the restaurant. They wanted to show how much they love their community and family. They wanted to feature their shrimp boat that can be seen at the blessing of the fleet which they founded! They have truly been a New Orleans tradition for Rachel and many others in the New Orleans area.
Artist Name: 
Stephanie Becnel-Hymel
Venue: 
About the Artist: 
Stephanie is a native of Belle Chasse, Louisiana. She received her BFA from The University of Holy Cross with a concentration in Biology and Fine art. She is currently a talented art teacher in her home town, where she fosters a love of art in her students. She continues to paint and is involved in many local festivals and community events.
Theme/Inspiration: 
Her inspiration for The Red Maple oyster stemmed mostly from the overall feel and decor of the restaurant. With lots of warm colors, dark woods, and intricate patterns, she wanted to capture the warm home-like vibe that permeates the atmosphere, like a warm fire and falling leaves.
Artist Name: 
Simon
Venue: 
About the Artist: 
Simon is a French-born artist who moved to Louisiana and became known for his painted bright and colorful signs which can include distinguishing lettering, various animals, and slogans that include an assortment of French, English, and local New Orleans dialect.
Theme/Inspiration: 
His inspiration for the oyster stemmed from his folk art or Haitian style. He uses the term "deja vu art" to describe his work. His shop today resides in New Orleans on Magazine Street.
Artist Name: 
Lizzie Uddo Randol
Venue: 
Riccobono's Peppermill
About the Artist: 
Born and raised in New Orleans, Lizzie Uddo Randol appreciates Modern art. Her keen taste in both art and design led her to begin painting. Her inspiration comes from her late mother, who had a penchant for interior design, art and gourmet cooking. Lizzie loves working with color and gravitates toward golds, creams & iridescents. She is married with three children and is one of the owners of Riccobono's Peppermill alongside her sister and cousin.
Theme/Inspiration: 
One of her favorite spins on color in all of her artwork is iridescence, so the oyster allows for abstract painting to mimic the true colors of a true Louisiana oyster shell. Upon studying a shell, you will see all of the stunning colors that show as the light hits it from different directions, blues, whites, creams, purple, green and reds...absolutely breathtaking.
Artist Name: 
Allison Boudreaux
Venue: 
About the Artist: 
At the age of twenty-two, Alison was diagnosed with Narcolepsy. As a result of her illness she became home bound and unable to work. She decided to pursue her passions in art. After exploring the work of several Aborigines artists, she began to establish a style of her own. Although her disease has created limits, she has learned to use her affliction when creating imagery design, and techniques. She loves experimenting with mixed media, texture, and vivacious colors.
Theme/Inspiration: 
While still capturing the character of a real oyster, she wanted to give a shout out to our beloved New Orleans teams. She was inspired by the Fleur-de-lis version of our home teams.
Artist Name: 
Claudette Perrin
Venue: 
Town of Jean Lafitte Tourist Information Center
About the Artist: 
Claudette is a bayou girl with Cajun heritage. She is a lifelong resident of the Lafitte area. She is employed by the Town of Jean Lafitte as the hostess/coordinator of the Jean Lafitte Tourist Information/Pirate Museum.
Theme/Inspiration: 
Her inspiration for the sculpture is the pirate treasure of Jean Lafitte, as portrayed in the museum's award-winning attraction The Historical Animated Puppet Exhibit - Legend of Jean Lafitte.
Artist Name: 
Nichole Chateau
Venue: 
About the Artist: 
Nichole is an artist with over 20 years of experience. She has painted as well as worked on set design for theatrical plays. She is currently an art teacher in the Jefferson Parish School System.
Theme/Inspiration: 
Her inspiration for Vincent's sculpture was the incredible Italian food they are so well known for, featuring a shrimp in a chef's hat with the Italian flag in the center of the oyster and yummy pasta with meatballs on the base of the sculpture.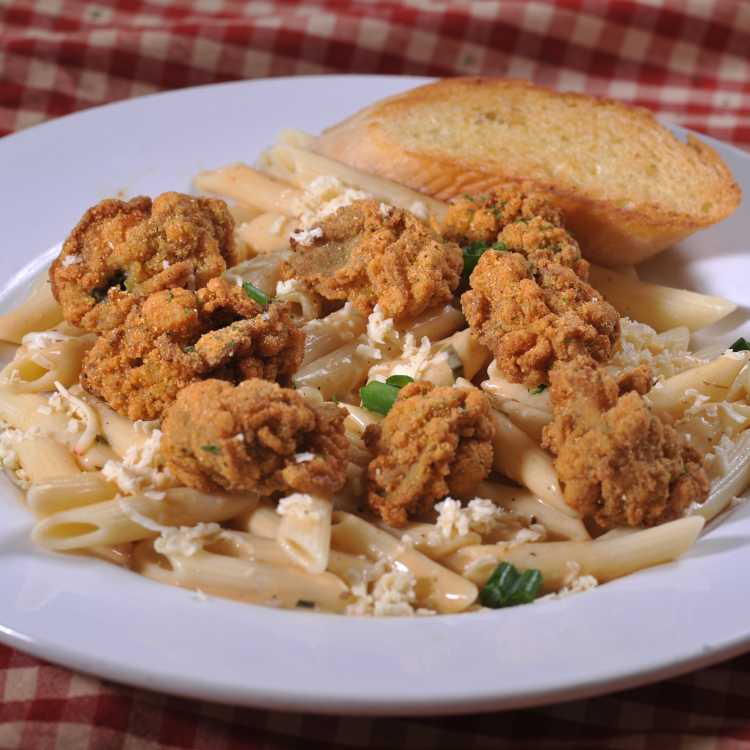 Explore the many restaurants participating in the Jefferson Parish Louisiana...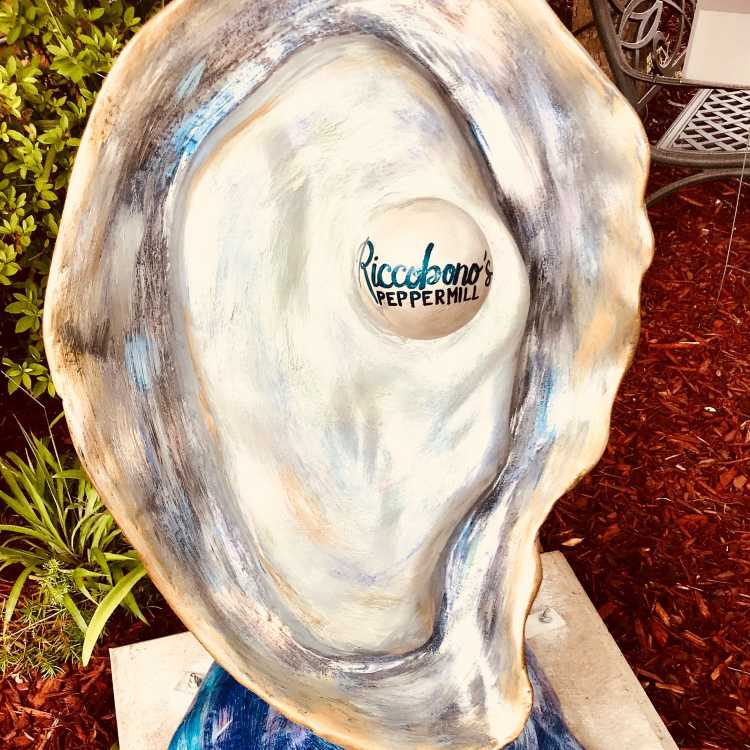 Interested in entering your artwork in the Jefferson Parish Oyster Trail? Fill...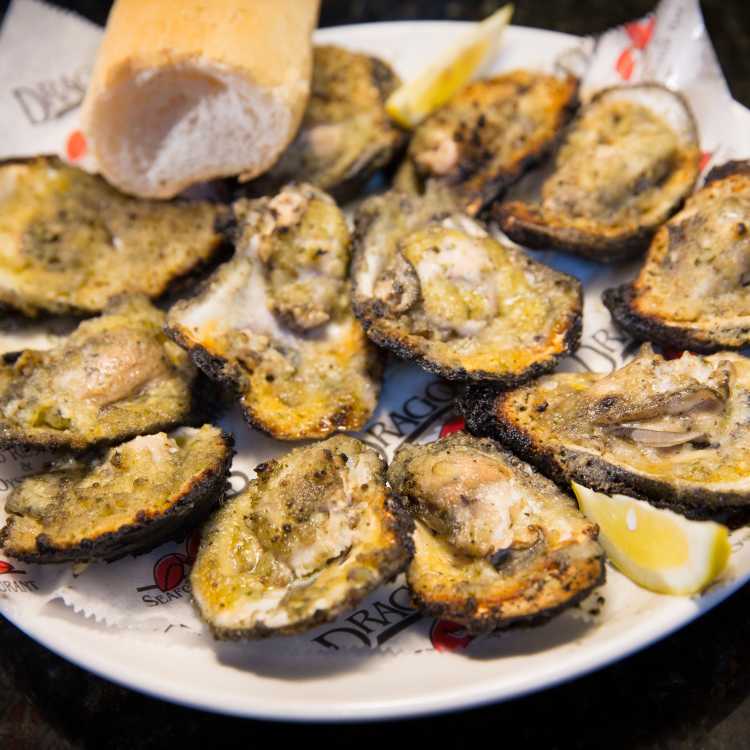 The Louisiana Oyster Trail spans the parish extending from restaurants in the...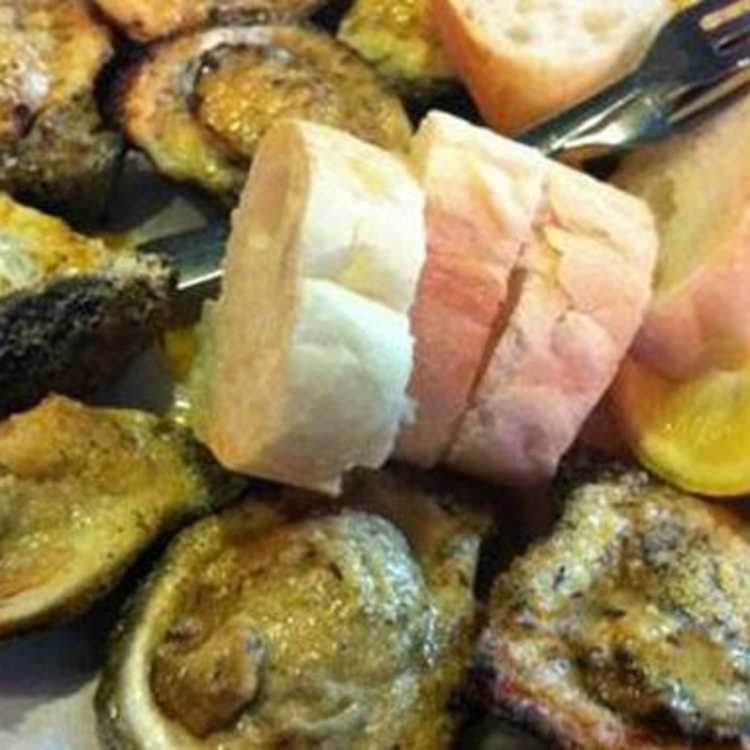 BACK TO MAP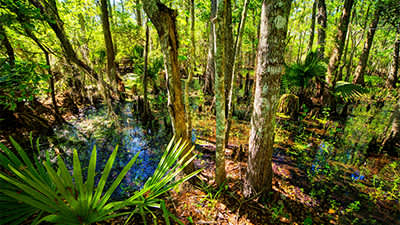 The Beautiful Bayou
Location: Jean Lafitte
Discover the natural wonders of the Jean Lafitte National Historical Park and Preserve. With a unique ecosystem the preserve is a representative example of the delta's environment, containing natural... See More
BACK TO MAP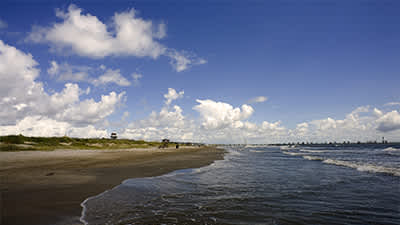 Louisiana's Only Inhabited Barrier Island
Location: Grand Isle
The State of Louisiana maintains a mile of beach front at Grand Isle State Park on the easternmost staying e park looks out toward nearby Grand Terre island, once the lair of the legendary pirate (or... See More
BACK TO MAP