Artists & Sculptures

Celebrate the Louisiana oyster as you dine your way through the Jefferson Parish Louisiana Oyster Trail! It is our pleasure to introduce the artists of each sculpture and provide you with an overview of who they are and the inspiration behind each oyster sculpture.
Artist Name: 
Ramona Guidry
Venue: 
About the Artist: 
Ramona is a self-taught artist that enjoys painting scenes from her past and from everyday occurrences. Her inspiration is found in an array of things that strike her as unique or interesting. The bayous were where she first received her artistic inspiration. These beautiful, natural, and unedited settings gave her the opportunity to view nature and the environment more intimately. Her artistic eye is also heavily attributed to her unique and diverse Cajun heritage.
Theme/Inspiration: 
The Acme oyster displays an array of fresh seafood and the environment found along the bayous of the south.
Artist Name: 
Julie Graff
Venue: 
Andrea's Restaurant
About the Artist: 
Julie is a local artist, born and raised in New Orleans. She works mainly in acrylics, water color and graphite. Julie strives to bring life to her landscape and portrait paintings. Her love of painting still life and animal portraits is what gives her the most pleasure. She is also an experienced potter and an instructor with Sip and Paint where she enjoys teaching the love of painting to guests.
Theme/Inspiration: 
She painted the oyster shell to depict Capri's Blue Grotto and rocky shoreline as a tribute to Chef Andrea's Italian heritage. The bright sunlight casts brilliant blue and emerald reflections on the grotto's water and sea cave walls. Chef Andrea is rowing his boat, the "Blu Capri" toward the opening of the Blue Grotto. The surrounding coastline with crashing waves is painted on the shell's back giving the viewer the perspective of standing on its rocky beach looking out to sea.
Artist Name: 
Stephen Darre'
Venue: 
About the Artist: 
Born and raised in the New Orleans Area, Stephen Darre' is a local architect and artist who inherited his talent from his father, John Darre', another local artist. While Stephen is a self-taught painter from an early age, he went to LSU and studied architecture and continued to expand his creative capabilities. Now, working as a licensed architect and moonlighting as an artist, he likes to combine skills from both fields to create the best buildings and paintings possible.
Theme/Inspiration: 
The idea of painting a king cake onto the oyster came to him, because, as a child, he would watch the Metairie Mardi Gras parades at the location of Boulevard American Bistro, formerly Houston's. When sketching out initial ideas for this piece, he kept going back to a Mardi Gras theme because of it's location on the parade route. The circular shell around the oyster was perfect for a king cake design. The painted baby sits in the center of the king cake just as the pearl sits inside the oyster.
Artist Name: 
Christy Boutte
Venue: 
Cafe 615 Home of Da Wabbit
About the Artist: 
Christy Boutte has been creating art professionally for the past 15 years. A childhood illness led to Christy's profound loss of hearing at the age of one. While innately creative, it wasn't until high school that her passion for fine art was born. Christy then went on to grow her love of and passion for art while attending the world-renowned Ringling College of Art & Design. There she developed a strong artistic style, and in 2000, became the school's first deaf student to receive a Bachelor of Fine Arts degree.
Theme/Inspiration: 
Inspiration for Christy's work comes from her surroundings, especially Louisiana and it's rich culture. As a deaf artist, Christy's intent is to engage the viewer to "see" sounds and "hear" color. She likes to describe her work as "expressionistic, impressionistic and fashionistic."
BACK TO MAP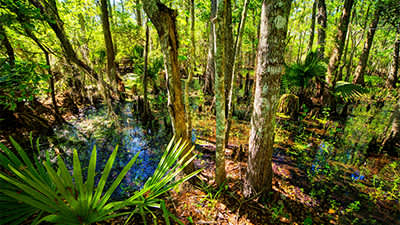 The Beautiful Bayou
Location: Jean Lafitte
Discover the natural wonders of the Jean Lafitte National Historical Park and Preserve. With a unique ecosystem the preserve is a representative example of the delta's environment, containing natural... See More
BACK TO MAP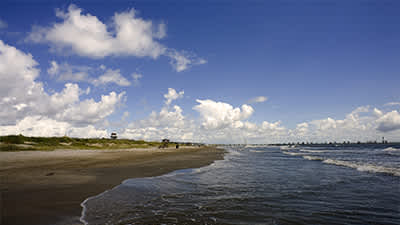 Louisiana's Only Inhabited Barrier Island
Location: Grand Isle
The State of Louisiana maintains a mile of beach front at Grand Isle State Park on the easternmost staying e park looks out toward nearby Grand Terre island, once the lair of the legendary pirate (or... See More
BACK TO MAP