Artists & Sculptures

Celebrate the Louisiana oyster as you dine your way through the Jefferson Parish Louisiana Oyster Trail! It is our pleasure to introduce the artists of each sculpture and provide you with an overview of who they are and the inspiration behind each oyster sculpture.
Artist Name: 
Ramona Guidry
Venue: 
About the Artist: 
Ramona is a self-taught artist that enjoys painting scenes from her past and from everyday occurrences. Her inspiration is found in an array of things that strike her as unique or interesting. The bayous were where she first received her artistic inspiration. These beautiful, natural, and unedited settings gave her the opportunity to view nature and the environment more intimately. Her artistic eye is also heavily attributed to her unique and diverse Cajun heritage.
Theme/Inspiration: 
The Acme oyster displays an array of fresh seafood and the environment found along the bayous of the south.
Artist Name: 
Stephen Darre'
Venue: 
About the Artist: 
Born and raised in the New Orleans Area, Stephen Darre' is a local architect and artist who inherited his talent from his father, John Darre', another local artist. While Stephen is a self-taught painter from an early age, he went to LSU and studied architecture and continued to expand his creative capabilities. Now, working as a licensed architect and moonlighting as an artist, he likes to combine skills from both fields to create the best buildings and paintings possible.
Theme/Inspiration: 
The idea of painting a king cake onto the oyster came to him, because, as a child, he would watch the Metairie Mardi Gras parades at the location of Boulevard American Bistro, formerly Houston's. When sketching out initial ideas for this piece, he kept going back to a Mardi Gras theme because of it's location on the parade route. The circular shell around the oyster was perfect for a king cake design. The painted baby sits in the center of the king cake just as the pearl sits inside the oyster.
BACK TO MAP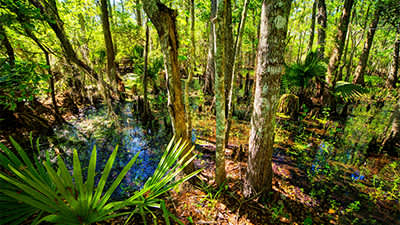 The Beautiful Bayou
Location: Jean Lafitte
Discover the natural wonders of the Jean Lafitte National Historical Park and Preserve. With a unique ecosystem the preserve is a representative example of the delta's environment, containing natural... See More
BACK TO MAP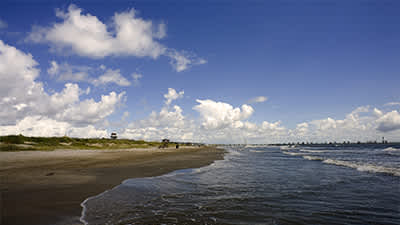 Louisiana's Only Inhabited Barrier Island
Location: Grand Isle
The State of Louisiana maintains a mile of beach front at Grand Isle State Park on the easternmost staying e park looks out toward nearby Grand Terre island, once the lair of the legendary pirate (or... See More
BACK TO MAP