Westwego's Sala Avenue

Westwego's historic district offers a captivating look into this charming city. Step back in time at the Westwego Historical Museum, which houses an early twentieth-century hardware store and living quarters with period furnishings. You'll be entertained at Teatro Wego! Dinner Theatre, where guests can dine and enjoy a performance by the Jefferson Performing Arts Society. The Westwego Farmers & Fisheries Market, an open market providing covered vendor booths featuring fresh local produce, seafood, an outdoor amphitheater and arts and crafts, is sure to delight the whole family.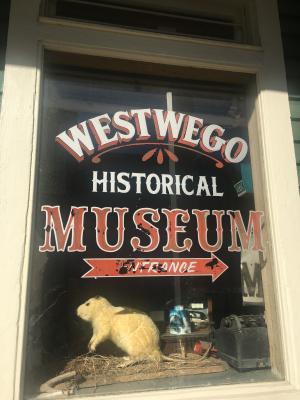 The city developed around the Mississippi River, the railroad, and the Westwego canal that once connected with the river through Bayou Segnette. The swamp and marshes south of the city connected it to the rich wildlife and fishing areas of the Barataria Basin. Westwego was founded in 1870 by the Texas and Pacific Railroad when it placed a railroad yard and docks on the Mississippi River, thus linking the river to Bayou Segnette, Bayou Lafourche and the Gulf of Mexico. It grew to eventually incorporate the village of Salaville, Seven Oaks Plantation, Whitehouse Plantation, and surrounding farmland.
No one is quite sure how the town got its name; though Westwego was the location from which the railroad was compensated by the State to build a railroad to the west. Folklore holds that as travelers departed the station, they heard the conductor yell "west we go". A railroad engineer, G. W. R. Bayley, first publicized the name in 1873 when he wrote, "The construction of the railroad west of New Orleans was commenced at Westwego, opposite the Western boundary of the city (New Orleans), in the latter part of May 1870."
A large portion of the early residents were fishermen, shrimpers, oystermen, and trappers. Westwego was the fastest route for seafood to come in from the Gulf and Barataria Basin then on to the markets of New Orleans. In 1893, a hurricane devastated a small fishing village on Cheniere Caminada, a small barrier island west of Grand Isle, with great loss of life. Many survivors moved their families to Westwego since it was a safer location further from the gulf. The introduction of motorized boats resulted in more residents and further development of marine-related businesses.