My food coma was real after the oyster Rockefeller soup and firecracker oyster salad (we were on the Jefferson Parish Oyster Trail, after all) at landmark restaurant Gattuso's in downtown Gretna. I had been traveling for eight hours by this time, and I admit, the prospect of touring a handful of historical sites at the moment made my mouth go dry and my eyes start to glaze.
That was until I discovered some of the secrets and stories this city tucks away, free of all that we're-so-historic pretense. Instead, I found a heartening warmth and authenticity that slowly burned off my initial fog of inertia. Plus, some incredible tales. What?! A blacksmith who performs weddings? Liquor bottles found buried under the house of the 19th-century town teacher?
Wait, there's more: There was that one parishioner who rowed a church organ across the Mississippi, then carried it on his back the rest of the way to the magnificent St. Joseph Catholic Church. A former slave owner built the area's first desegregated burial ground and more than 30 schools that shattered 19th-century race barriers.
The stories went on: German immigrants tricked into settling these parts; Italian-Americans throwing cabbages, corned beef, and other groceries off parade floats for spectators to make into St. Paddy's Day dinner (I'm not making this stuff up!). And then there's the sweet clutch of women who love to tell the stories that make history in Gretna a living thing. That surprise overcame my skepticism, delighted my funny bone to the marrow, and sunk deep into my heart.
Tooling down Manhattan Boulevard or Westbank Expressway en route to Gretna from New Orleans on the other side of the Mississippi River, it feels like any other big-city suburbia. Then you take that turn, the turn that leaves behind the traffic, the rat race, the present tense.
Rumor has it that former and notoriously loved Louisiana governor Huey P. Long bribed the town to rename its main drag after him. Locals refer to it as "Huey P." It and parallel Lafayette Street cross the heart of Gretna's Historic District, past majestic oaks, puffy-blossomed crepe myrtles, frill-trimmed historic homes, restaurants that attract metro day-trippers, grand churches, and other majestic vestiges of a multi-cultural past that's segueing into a bright future.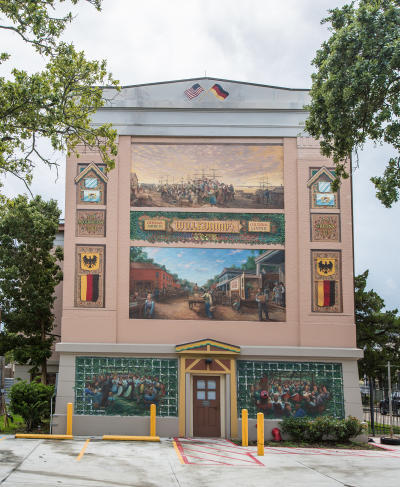 The two streets run down to the river that, along with the railroad, threw Gretna its early lifeline.
Gretna was built on the back of laborers, and that's where its heritage rests. Two major plantations drove the direction that eventually defined Gretna. John McDonough, upon freeing his slaves, created McDonoughville with its eponymous cemetery, a state historically registered community on course to become a national site. One of his equal-opportunity schools, McDonough School 46, still survives in the neighborhood that adjoins Gretna's historic parts.
In Gretna itself, once known as Mechanickham, plantation owner Jean Noel Destrehan, was looking for laborers to build a canal on his property. Enter the German immigrants. There was a Creole saying at the time for hard-labor tasks: "It takes German people to do that."
"They were the second wave of Germans that came into New Orleans, which was a port of entry back in those days," said Carol J. Schlueter, director of the city's German-American Cultural Center. They, like other immigrants from Italy, Ireland, and other faraway lands, were lured with false hopes of gold mines and rich farm lands. They stayed to coax a living out of the land and open commercial enterprises in the city eventually formed by the joining of McDonoughville, Mechanickham, and Gretna.
Gretna was the proverbial melting pot back then. Fast-forward to modern times, and the faces of Gretna residents still reflect its early history. So do the faces of the buildings that hold the descendants of the laborers who built the town to last and to tell their stories.
The David Crockett Firehouse, part of the Gretna Historical Society's cluster of structures on Lafayette Street dating back to the 1880s, commemorates the oldest continuously active volunteer fire company in the state. An old horse-drawn fire pumper and other period memorabilia comprise its modern-day Louisiana Fire Museum. Besides the unearthed booze bottles in Miss Kitty's Creole Cottage next door, tour guides point out floors made of wood from river barges, wartime artifacts, his and her outhouses, and other pieces of the city's fascinating backstory.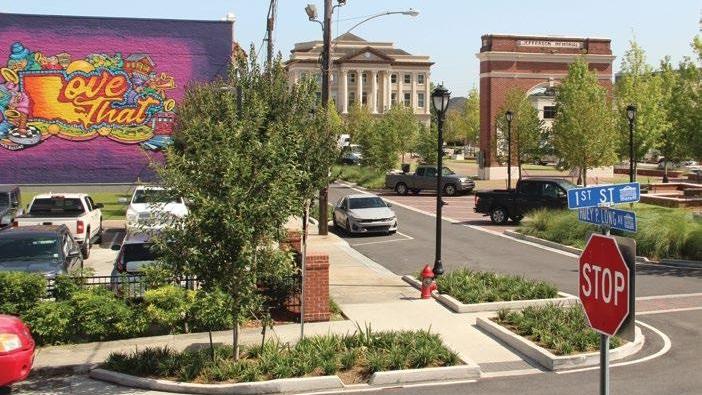 But perhaps the highlight of the tour, offered free-of-charge or by-donation by one of the dedicated volunteer "Golden Girls," is the blacksmith shop. Here you can arrange a lesson in German American Cultural Center, Gretna blacksmithing or a quickie wedding, your choice. Its long tradition of on-the-fly weddings, in fact, tells the story of how Gretna got its name. It seems the good judges of Mechanickham were more lenient about red tape than in New Orleans when it came to performing weddings. The same was true, the residents discovered, of a Scottish town named Gretna Green, to where young couples from England would run away to tie the knot. To this day on Valentine's Day, couples come to Gretna's historic shop, where the blacksmith and a "marrying judge" perform weddings and vow renewals. "Weddings Done Here Guaranteed! Only 'Til The Fire Is Out," reads the sign hanging above the door.
While you're in the Lafayette Street neighborhood, take in the exquisite architecture of shotgun-style homes and Victorian restorations, interspersed with vintage shops such as Neeb's Hardware. Plan on dinner at the Red Maple, another stop along the Oyster Trail that occupies a brickwalled building with its handsome bar, raftered dining room, event spaces, and kitchen issuing fine steaks with Louisiana flair.
The Oyster Trail, incidentally, strings together 21 restaurants in Jefferson Parish that serve oysters sourced from the area's local fishermen. Three in Gretna also include the local favorite Café 615, Home of da Wabbit, which started out in the 1940s as a drive-through restaurant that fronted an illegal gambling operation. Along with oysters, Salisbury steak and fried pork chops are specialty entrees portioned to serve major appetites. The name? Well, that's another story.
You should start your meanderings on Huey P. Long Avenue at the Welcome Center, which lives in circa-1840 home moved to its current site for renovation in 2011. Be sure to pick up a historic walking tour brochure. Check out the above-ground Hook & Ladder Cemetery behind it – originally created for dearly departed firemen, today a who's who of Gretna bygones.
Stroll down the park-divided boulevard, lined with ancient hunched-back oaks and ginger bread trimmed homes as pretty as a Southern belle getting ready for a Mardi Gras gala. Stop in at the German-American Cultural Center, once a primary school, for a little education about early immigrant influence.
Huey P leads to an old railroad caboose and depot, which today holds Saturday farmers markets and art walks (second Saturdays September through May). The baroque-style city hall, originally a circa1907 courthouse, framed in the Jefferson Memorial Arch honoring local war vets, is an Instagram post you can't pass up.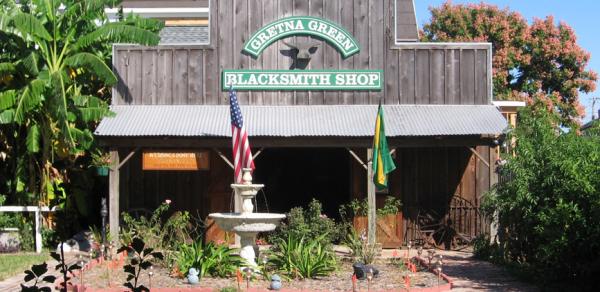 Then you've arrived: To the river, still an artery that feeds the town's lifeblood. Residents and visitors gravitate toward it. On weekends, runners, strollers, and cyclists admire the view from the multi-use path atop the grassy levee. People from the entire parish and New Orleans area are starting to gravitate to Gretna's riverfront for the history and social scene.
"While we're small-town America, we're also a progressive city because of the art influence – the art walk, the cultural center for the arts," says Mayor Belinda Constant, whose family has lived in Gretna for generations. "This will be a walking community on the weekends. It's the vibrancy of the river's West Bank community – it pulls people from everywhere."
The riverfront is also the site of Gretna's biggest (of many) events each year. The Gretna Heritage Festival in October stages at the Riverfront Amphitheater, followed by a fall concert series. Other festivals throughout the year honor Mardi Gras, Mayfest, Oktoberfest, and the grand holiday Christmas Tree Lighting.
Any day of the week, the view of the majestic Mighty Miss and New Orleans on the opposite shore puts Gretna into sharp perspective. It's a reckoning of contrasts – New Orleans shiny and sky-lined with buildings reaching the clouds faces the low-profile, small-town Gretna that big-city folk are discovering for a day away from metro tempos.
In these times, when travelers seek meaningful experiences away from the crowds and sustainable visits that mitigate over-tourism to popular destinations, Gretna smiles a warm welcome. It invites you in with its one-of-a-kind restaurants and festival attitude. It holds you with its charming architecture and yesteryear intrigue. It spellbinds you with its stories, and they just never end.