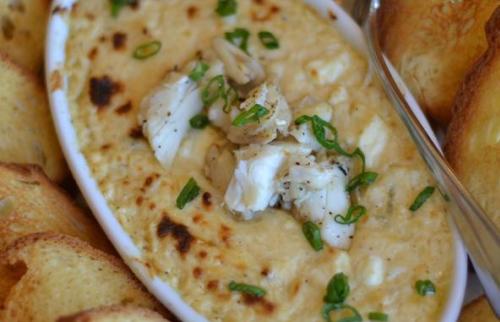 INGREDIENTS:
Crab Dip Base:
3 oz minced green onions
5 oz minced shallots
3 oz unsalted butter
1 cup heavy whipping cream
5 oz cream cheese
3 oz mascarpone cheese
1 lb Creole cream cheese
2 lbs of lump crabmeat, picked clean
DIRECTIONS: 
1. In a skillet sauté the shallots in butter, on medium heat, until soft.
2. Add the cream and reduce by 2/3.
3. Reduce the heat to low.
4. Fold in the cream cheese and mascarpone. Slowly add the Creole cream cheese. The sauce will be thin.
5. Continuing cooking on low until it thickens, about 15 minutes.
6. Remove from heat, add the green onions and cool.
Individual Ramekins:

1 oz goat cheese
6 slices brioche baguettes
1. Brush each baguette slice with butter and season lightly with salt and pepper. Toast in a 350 degree oven.
2. Heat the crab dip base and gently fold in the crabmeat.
3. Scoop into the individual ramekins and top with goat cheese.
4. Broil in the oven until the goat cheese is hot and slightly melted.
Makes 12 individual, 7oz ramekins
Courtesy of Executive Chef Chris Montero at Café b.

 
BACK TO MAP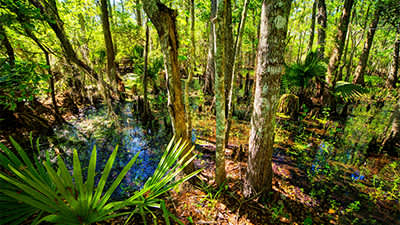 The Beautiful Bayou
Location: Jean Lafitte
Discover the natural wonders of the Jean Lafitte National Historical Park and Preserve. With a unique ecosystem the preserve is a representative example of the delta's environment, containing natural... See More
BACK TO MAP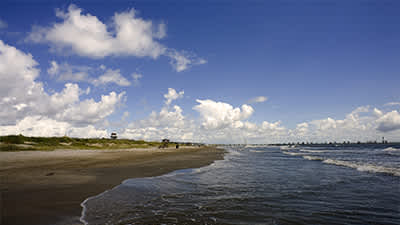 Louisiana's Only Inhabited Barrier Island
Location: Grand Isle
The State of Louisiana maintains a mile of beach front at Grand Isle State Park on the easternmost staying e park looks out toward nearby Grand Terre island, once the lair of the legendary pirate (or... See More
BACK TO MAP