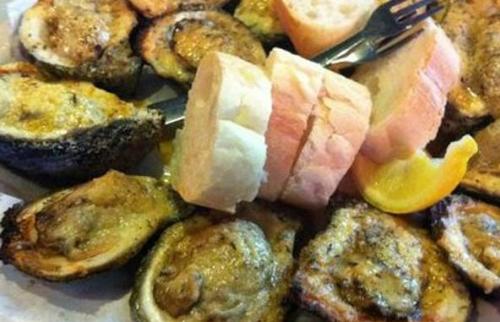 INGREDIENTS: 
24 Oysters, Freshly Shucked (on the half shell)
1lb Salted Butter
2 bunches Green Onions, chopped fine
20 toes Fresh Garlic puree
1 tsp Crushed Red Pepper
3 tbsp Fresh Thyme, chopped fine
3 tbsp Fresh Oregano, chopped fine
2 tbsp Fresh Lemon Juice
1 tbsp Worcestershire Sauce
2 tbsp Creole Seasoning
2 oz White Wine
8 oz Romano Cheese, grated
1 loaf French bread
DIRECTIONS: 
1. Sauce: Butter garlic sauce should be prepared just prior to grilling the oysters. In a large sautée pan, add 2 sticks of butter and place over a medium heat. Add green onions, garlic, red pepper, thyme, oregano, lemon juice, Worcestershire sauce and Creole seasoning. Cook for 2 minutes and add white wine. Stir ingredients continuously and cook until green onions are soft. Remove from heat and allow to cool for 3 minutes.
2. In a large mixing bowl (before mixture is completely cool). Add remaining butter and sauce. Blend until butter is folded into the sauce. Final product should be creamy consistency.
3. Grilling Oysters: Pre-heat grill to 350°. Once at 350°, place freshly shucked oyster on the half shell on the center of the grill. Once the water around the oyster begins to bubble and the oyster begins to rise. Ladle ½ an ounce of the butter garlic sauce on top of each oyster.
4. Note: Make sure that the sauce is well blended. This insures the proper blend of butter and seasoning. Top with a ¼ ounce of grated Romano cheese. Allow cheese to melt.
5. Oysters should brown slightly around the edges. Remove oysters and place on a heat-resistant plate or platter. While still hot, add ½ ounce of butter sauce to the top of each oyster. Serve immediately with warm French bread for dipping.
Serves 4/ Makes 24 oysters.
Courtesy of Acme Oyster House.
 
BACK TO MAP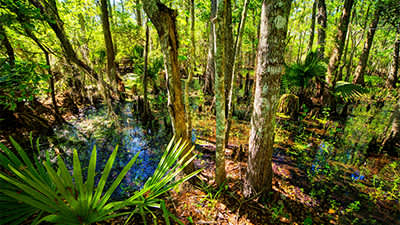 The Beautiful Bayou
Location: Jean Lafitte
Discover the natural wonders of the Jean Lafitte National Historical Park and Preserve. With a unique ecosystem the preserve is a representative example of the delta's environment, containing natural... See More
BACK TO MAP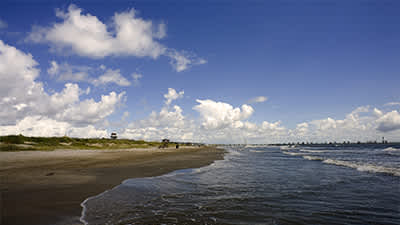 Louisiana's Only Inhabited Barrier Island
Location: Grand Isle
The State of Louisiana maintains a mile of beach front at Grand Isle State Park on the easternmost staying e park looks out toward nearby Grand Terre island, once the lair of the legendary pirate (or... See More
BACK TO MAP