Gretna Historic District

Stroll through one of Louisiana's largest national historic register districts, Gretna's downtown historic district, and discover the unique architecture and landmarks. Settled by German immigrants in 1836, Gretna is steeped in history and intrigue.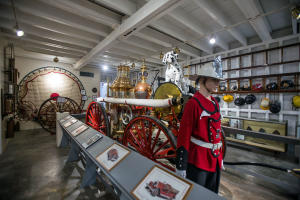 See the oldest volunteer fire company in the US, the David Crockett Firehouse which is home to the Louisiana Fire Museum. And do not miss the Gretna Blacksmith Shop where you can see live demonstrations. Go back in time and tour the "Red Caboose," the Southern Pacific Freight Depot & the Illinois Central Caboose museum. See the German influence on the area at The German-American Cultural Center.
The Gretna Green Blacksmith Shop commemorates all blacksmith shops that were active during the 1800s. A unique attribute is the annual Valentine's Day weddings, named after Scotland's Gretna Green, famous for its runaway marriages. The story posted on the door of the Blacksmith Shop tells of the young couples who would escape England to be married in Gretna Green, Scotland where the marriage laws weren't as strict. Across the river from New Orleans, the German settlement of Mechanickham (now Gretna) also became known for its quick marriages, with more accommodating justices of the peace. Hence, the village became known as Gretna after the romantic Scotland tradition. After the ceremony, a blacksmith seals the couple's promise on the anvil in the shop!
Visit the Kittie Strehle Home, circa 1845. It is part of the Gretna Historical Society Complex. Miss Kittie came to America in 1832 and was the last of the original family to live in the home.
Make sure to stop by the new Heritage House Welcome Center. This historic house was formerly located at 111 Lavoisier Street; it was then relocated to its present location at 1035 Huey P. Long Avenue. Dating back to 1840, the house was a donation from current owner, to clear the site for new development; and Gretna is proud and honored to own this historic structure previously referred to as the "Linden House." The Heritage House Welcome Center will act as a "gateway'' to the city and teach visitors about Gretna's history.
Looking for things to do near New Orleans? Add Gretna to your list! It's just ten minutes away, right across the Mississippi River! Check out our Gretna day trip itinerary here!