The vision for Bucktown Harbor Park and Marina is one rich with tradition and local flavor. Located just over the levee from your favorite Bucktown eateries, sits 40 acres of land and water at the intersection of the 17th Street Canal and Lake Pontchartrain. Whether you savor a sunrise or sunset on the Wetland Birdwalk, rest under the shade of a pavilion or watch the historic fishing fleet load crab traps… it is a place to enjoy life at the water's edge.
The master plan for the future of the site is all about recreation and education! By creating thoughtfully designed public spaces and areas of environmental preservation, Bucktown Harbor will become an extended back yard for locals, and a welcoming eco-tourism destination for all.
Councilwoman Jennifer Van Vrancken spearheaded the effort to bring this site to life by capturing public input and channeling it into tangible plans. Project Construction in 2022 and 2023 will include: transforming a mile-long section of lake into a living shoreline to help boost fish populations and add a layer of resilience, a kayak/canoe canal to launch small boat enthusiasts safely into the lake, a blue-way to paddle between Bucktown Harbor and Bonnabel boat launch, an immersive educational and recreational play experience for kids, plus a birds' eye view of it all from the Birds' Nest Overlook Pavilion.
This list will grow as new grants are secured and/or enlightened partners embrace the opportunity to name their favorite project.
Project Master Plan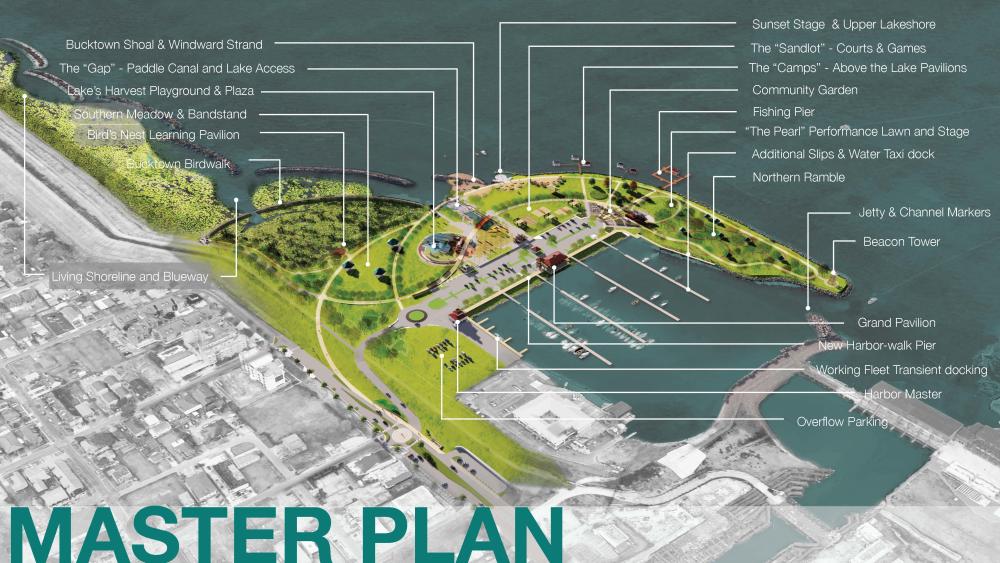 ---
---
Phase 1 Projects - Open For Enjoyment NOW
Bucktown Wetland Birdwalk
Bucktown Harbor educational boardwalk & marsh overlook will provide a scenic pedestrian promenade over Lake Pontchartrain and its adjacent 3.5 acre-man-made Bucktown Marsh. The one thousand foot (1,000 ft.) boardwalk allows visitors to experience our coastal environment in a safe, immersive setting, complete with resting spots, bird blind, and informational signage by the Pontchartrain Conservancy to teach the public about local plants, wildlife, fisheries, and our coast. This project was completed in 2020.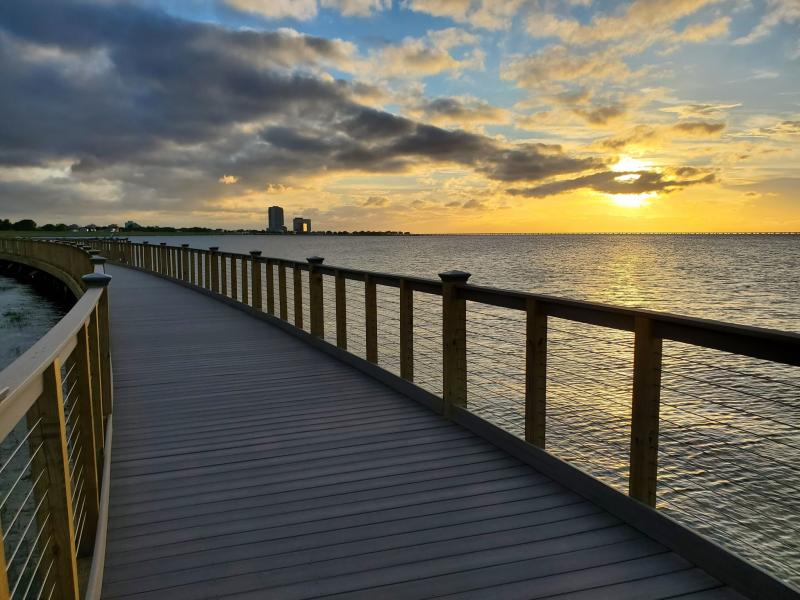 CLICK for more images of the Bucktown Wetland Birdwalk
Bucktown Boat Slips
Your boat can call Bucktown Harbor home by leasing one of the available slips.  The southernmost pier houses the Bucktown Historic Fishing Fleet. Displaced by Hurricane Katrina, you can watch the hard working folks on these vessels haul in the shrimp, fish, and crabs Louisiana is famous for. The other pier is available for lease to recreational vessels. 35 and 40-foot slips include a dock box and running water, as well as access to water and electrical service, paved parking, and secure gate-coded entry.
For more information contact Chris Villarrubia at 504-736-6999 or JPRecreation@jeffparish.net
---
---
Phase 2 Projects - Breaking Ground in 2022 & Completed in 2023
Paddler's Cove Kayak Launch 
An accessible launch will allow paddlers of all skills and abilities to ease into the water in a protected space. The Paddler's Cove will allow beginners time to master the basic strokes prior to paddling out further into the lake. The canal will jut out just north of the Wetland Birdwalk into waters protected by the breakwaters of the living shoreline. Those up for adventure will want to paddle all the way to Bonnabel and back!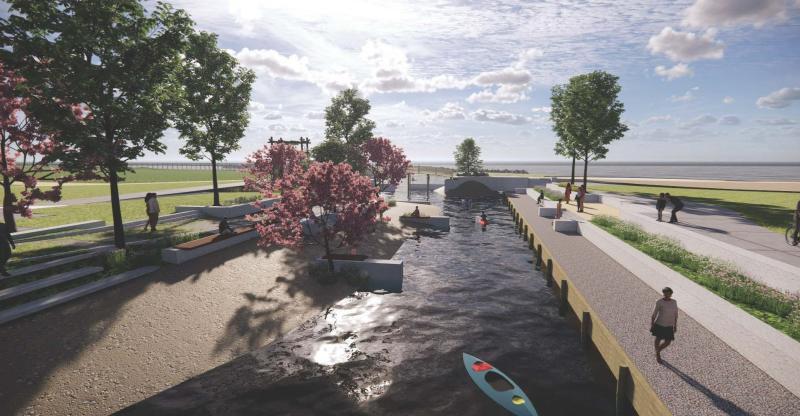 CLICK for more images of Paddler's Cove
---
Bucktown Harbor Living Shoreline & Blueway 
A series of curvilinear breakwaters will form the backbone of the living shoreline. The idea of a living shoreline is one that uses plants and other natural elements to stabilize estuarine coasts, bays, and tributaries. Adding native plants and submerged habitats will support juvenile fish and nurture the health and water quality of the lake.
The living shoreline is also one that will protect people. The breakwaters will serve as another layer of protection for the Hurricane Storm Damage Risk Reduction System (HSDRRS) of federal levees and floodwalls that protect our community from storms.  As the marsh is constructed between the breakwaters and the shore, a blueway will be created to provide an enjoyable aquatic adventure for paddlers stretching between Bucktown and Bonnabel.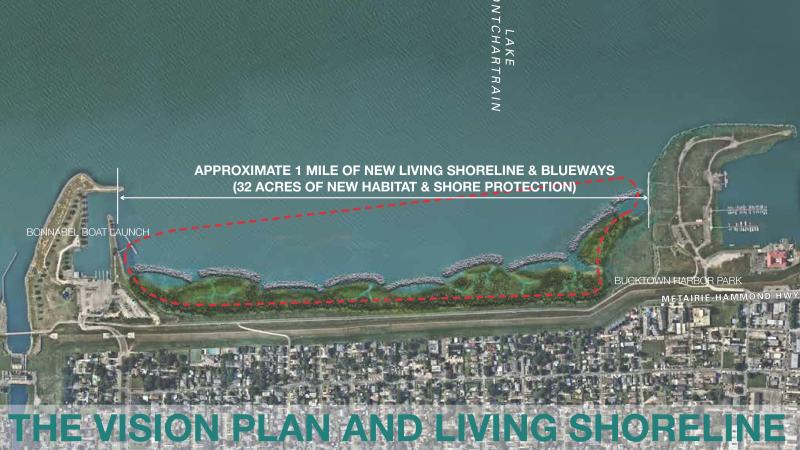 ---
The Birdsnest Learning Pavilion
This feature will take Bucktown Harbor to new heights.  The Birdsnest will offer a spiral staircase (and accessible lift) for those interested in getting a bird's eye view of Bucktown Harbor and the lake.  Whimsically designed to look like a tree, it will serve as a creative outdoor space for small groups to gather and learn about the environment around us. Ever wonder how big an eagle or osprey nest is?  The Birdsnest Learning Pavilion will show you.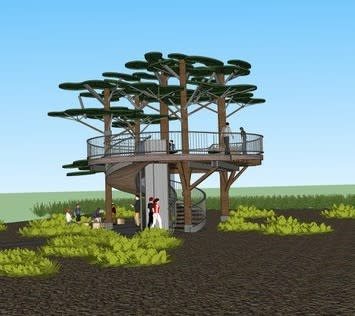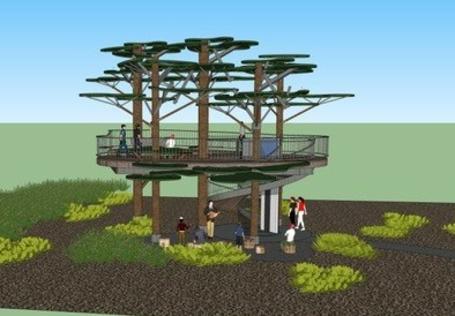 ---
Lake's Harvest Playground
Lake's Harvest Playground will be double the learning adventure. Climb up to Shrimp Boat Hill and learn about life as a commercial fisherman and how their work feeds the nation. Then slide down Two Fathoms Below to learn about life for all the creatures who call Lake Pontchartrain home. This engaging and educational recreation project will be completed by 2023.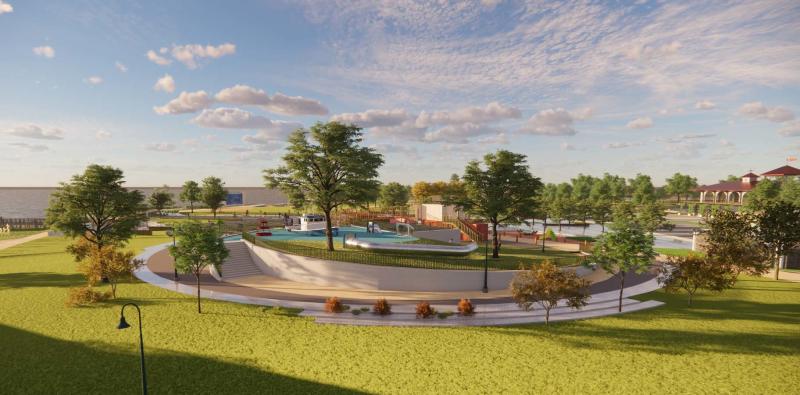 CLICK for more images of Lake's Harvest Playground
---
---
Phase 3 Projects - Breaking Ground in 2023 & Completed in 2024
Community Garden
Jefferson Beautification, Inc. is raising the funds needed to sprout a Community Garden (JBI). JBI's mission to provide beautification, education, and environmental projects throughout Jefferson Parish made it the perfect partner for this effort.  JBI hosts "Sunset on the Boardwalk" annually to raise funds for the future community garden. Members will also lend their vision to how the garden takes shape.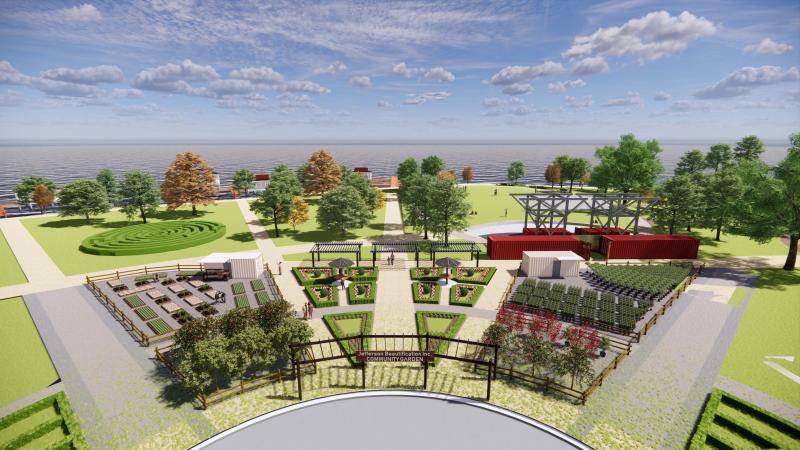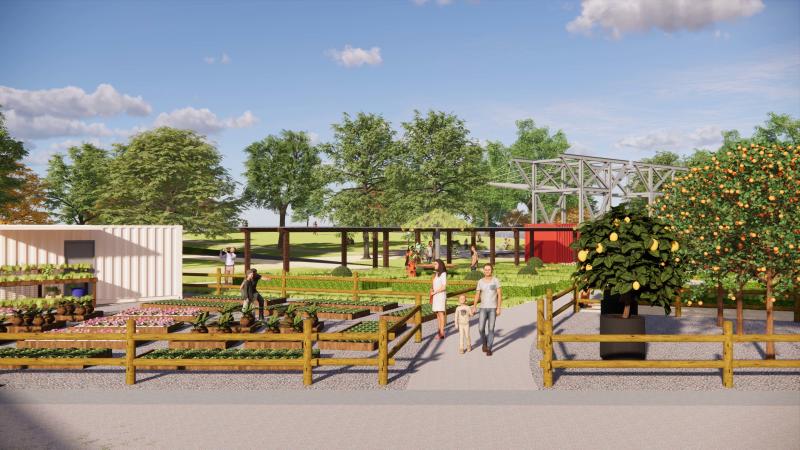 ---
The Grand Pavilion 

The multi-purpose pavilion will be the architectural and social anchor of Bucktown Harbor Park and Marina, with a nod to the history and heritage of the lakefront.  Offering cover from the elements with an open design, the ground level will be the perfect place for a farmer's and fisheries market and other community gatherings. With an air-conditioned space planned for the second level, the Grand Pavilion will also be able to host business meetings and other small gatherings wishing to be indoors, but with an exceptional view of the lake. The Grand Pavilion is currently in design.
Transient Slips & Offloading Dock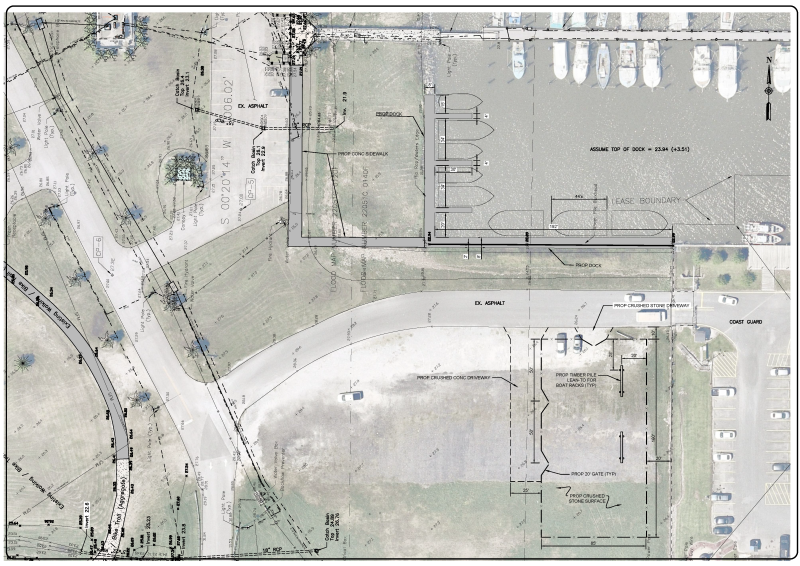 In design now, the future transient slips will offer a place to tie up your boat for a few hours while you walk across the levee to grab a bite to eat at one of Bucktown's famous restaurants. An offloading dock will provide the commercial fishing fleet ample room to load and unload, to the delight of those interested in watching Louisiana culture in action.
If your organization has an interest in exploring naming rights to any of the fabulous features of Bucktown Harbor Park & Marina, send an email to say ahoy to District5@jeffparish.net
BACK TO MAP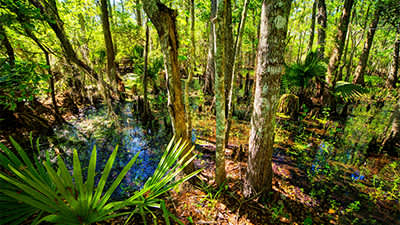 The Beautiful Bayou
Location: Jean Lafitte
Discover the natural wonders of the Jean Lafitte National Historical Park and Preserve. With a unique ecosystem the preserve is a representative example of the delta's environment, containing natural... See More
BACK TO MAP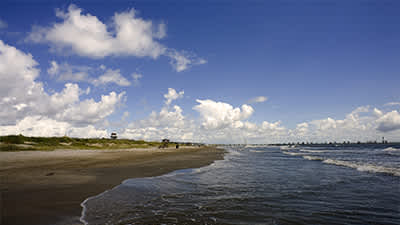 Louisiana's Only Inhabited Barrier Island
Location: Grand Isle
The State of Louisiana maintains a mile of beach front at Grand Isle State Park on the easternmost staying e park looks out toward nearby Grand Terre island, once the lair of the legendary pirate (or... See More
BACK TO MAP