Meetings & Groups

Next door to New Orleans, Jefferson Parish is the perfect location to hold your meeting or event. With over 8,000 hotel rooms, an international airport, two convention centers, and various venues from quaint and comfortable to big and bold, Jefferson Parish is ready to be the epicenter of your event.
Why Jefferson Parish?

Complementing our meeting venues and overnight accommodations is the culture; your attendees will have the time of their lives as they learn the Cajun two-step at a Fais Do Do (Cajun dance party) and see alligators up close as they glide through the swamp. We work hard and play hard here in Jefferson Parish. We are the shopping destination for the region from charming boutiques to major malls. Did someone mention food? Food is an art form here, from the Jefferson Parish Louisiana Oyster Trail, where you can sample the delicacy a number ways from on the half shell, fried, or charbroiled to red beans and rice, BBQ shrimp, and of course, po'boys...no one goes home hungry!
Jefferson plays host to conventions, meetings, reunions, and tournaments in a definite southern hospitality style. Let the Jefferson Convention & Visitors Bureau, Inc. be a resource and make your planning easy! Click here for our quick and easy online RFP submission.
JCVB SERVICES: The Jefferson Convention &Visitors Bureau, Inc. wants to make sure your group tour is a huge success, easy to plan, and affordable. Our complimentary services include:
Group Rates
Visitor Guides
Fam Tours
Photos & Videos
Assist with Step-on Guides
Hotel Lead Requests for Proposals
Assistance Securing Meeting Space
Assistance Planning Tours & Day Trips
Assistance Planning Special Events Press Releases & Publicity
Assist with Receptive Operators
Goodie Bags
Itinerary Suggestions
Discount Coupons
Marketing Materials
Site Visits
Dedicated Staff
Want to meet virtually? Let us help you create a unique virtual experience with our JUMP program. JUMP (Jefferson Uniting Meeting Participants) is a virtual experience offering a taste of Jefferson Parish through images & videos that are meant to be incorporated into YOUR virtual meeting or event! Giveaways and fun trivia are also part of this fun meeting experience. Contact our Sales Team for details on how you can offer an extraordinary virtual meeting with JUMP!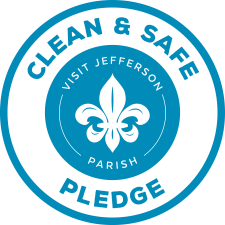 Visit Jefferson Parish is committed to advocating for the safety and well-being of our community and visitors to our destination. We are inviting Jefferson Parish hotels, attractions, restaurants, retailers, and all businesses throughout Jefferson Parish to join us in taking the Clean & Safe Jefferson Parish Pledge. 
Developed by Visit Jefferson Parish, the Clean & Safe Jefferson Parish Pledge is a commitment to partnering with our local and state government, businesses, and community organizations to work together to help ensure the health and safety of Jefferson Parish's residents, workforce, and visitors. Learn more HERE.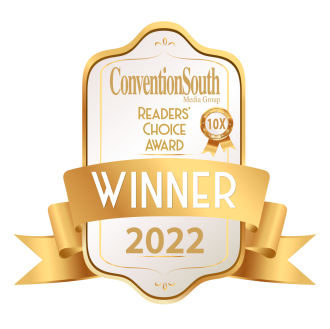 ConventionSouth readers and fans have voted to decide the best meeting sites in the South, and it is no surprise to us that Jefferson Convention & Visitors Bureau has been selected to receive our annual Readers' Choice Award," said ConventionSouth Associate Publisher Ashleigh Osborne. "The value in receiving this prestigious recognition is that it comes from the United States' top meeting professionals who hold events in the South. These planners demand the highest level of customer service and quality facilities, and they have contributed in determining that Jefferson Convention & Visitors Bureau indeed displays the commitment to professionalism, creativity, and service that they require." Jefferson Convention & Visitors Bureau is among 380 convention and visitor bureaus (CVBs), meeting facilities, and hotels located across the South to receive this year's Readers' Choice Award.

"We are honored for Jefferson CVB to be awarded the Readers Choice Award from ConventionSouth," Violet Peters, President & CEO said. "Jefferson Parish offers attendees unmatched hospitality and services consistently exceeding expectations." 
In 2022, the Jefferson CVB won the Readers' Choice Award – for the 10th time! With over 4,000 CVBs and venues nominated this year, only 416 total were chosen winners after over 8,000 readers and fans voted. CLICK to learn more about this amazing honor.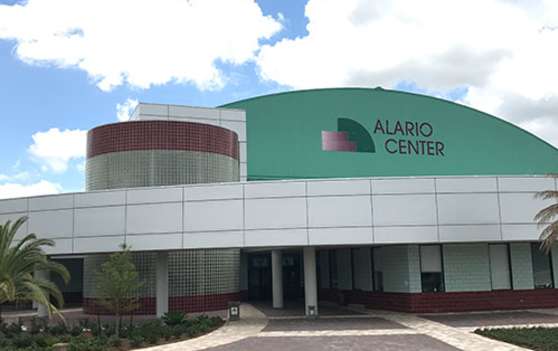 Jefferson boasts two convention centers with over 70,000 square feet of meeting...
See More
BACK TO MAP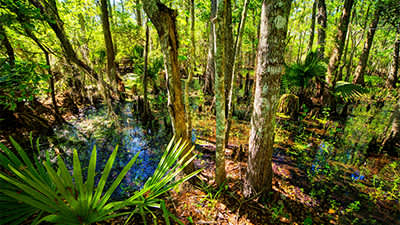 The Beautiful Bayou
Location: Jean Lafitte
Discover the natural wonders of the Jean Lafitte National Historical Park and Preserve. With a unique ecosystem the preserve is a representative example of the delta's environment, containing natural... See More
BACK TO MAP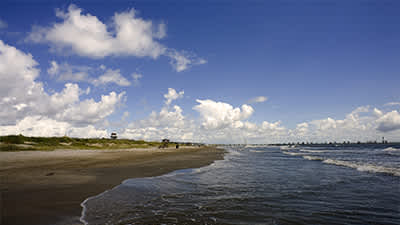 Louisiana's Only Inhabited Barrier Island
Location: Grand Isle
The State of Louisiana maintains a mile of beach front at Grand Isle State Park on the easternmost staying e park looks out toward nearby Grand Terre island, once the lair of the legendary pirate (or... See More
BACK TO MAP