Birdwatching in Jefferson Parish

Hundreds of different species of birds visit Jefferson Parish each year making it one of the nation's top destinations for bird enthusiasts. With birding trails across the area, there are plenty of opportunities to view the abundant wildlife throughout the region. Experience why our productive natural environment offers ready access to some of the best birding in the country.
Grand Isle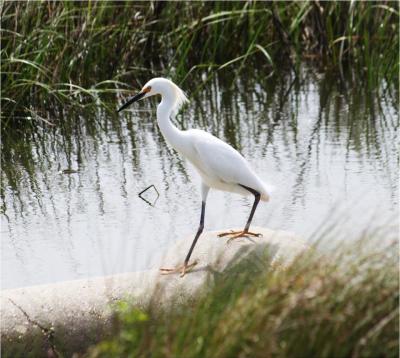 Grand Isle Beach
Any time of year, the beach at Grand Isle is a perfect place to watch some of the many species of shorebirds. You will also be able to view gulls, terns, skimmers and, of course, the Louisiana State Bird – the brown pelican.
Back of the Island
The marshes that line the back of Grand Isle provide a perfect habitat for wading birds, including the great blue heron, little blue heron and other herons; ibis and snowy egrets; and occasionally the pink roseate spoonbills.
The Oak-Hackberry Forest
A compact tract of live oak/hackberry forest, mostly preserved by the Nature Conservancy and private landowners, offers a welcome resting spot for migrating birds. Twice a year, nearly 100 species of birds make a 500-mile trek across the Gulf of Mexico and land in Grand Isle's forest–the first land they see after their long journey. When the forces of nature align with the migration, a strong thunderstorm will cause a phenomenon known as "fall out," where hundreds or thousands of exhausted birds will fall out of the sky into the safety of the trees. The list of potential birds to see is quite long and includes flycatchers, vireos, thrushes and mimic thrushes, tanagers, grosbeaks, buntings, orioles and warblers.
Find more info on the Grand Isle Birding Loop HERE.
Queen Bess Island
In the 1960s, Louisiana's state bird–the brown pelican–was on the brink of extinction. The state launched an ambitious plan to bring them back on Queen Bess Island. Today the island hosts a thriving population of thousands of brown pelicans as well as roseate spoonbills. Located only four miles north of Barataria Pass, the island can be seen via charter or personal boats.
Migratory Bird Festival
Every spring enjoy the Migratory Bird Celebration on Louisiana's only inhabited barrier island, Grand Isle. See songbirds in oak-hackberry woods, shorebirds and waders on beaches and in marshes. Join birdwatching tours and enjoy local seafood, displays and crafts. There are free videos and birding trail maps. Fun for families as well as new and experienced birders. This annual event was created in 1998 to support the purchase and management of the Grand Isle Sanctuary to protect some of the last remaining, undeveloped Chenier habitats (live oak ridges). Only 10% of these forest habitats that once existed on much of Grand Isle still exist today.
Holiday Birding
Grand Isle is a participant in the Annual Audubon Christmas Bird Count. From mid-December through the first week of January, tens of thousands of volunteers throughout the Americas take part in an adventure that has become a family tradition among generations. Families and students, birders and scientists, armed with binoculars, bird guides and checklists go out on an annual mission. Christmas Bird Count makes an enormous contribution to conservation. Audubon and other organizations use data collected in this long-running wildlife census to assess the health of bird populations and to help guide conservation action.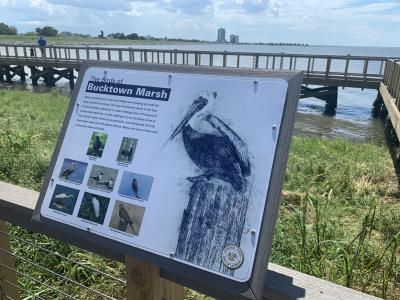 Hiking Trails
The Bucktown Marsh Boardwalk on Lake Pontchartrain features bird blinds as well as informational signs about plants, wildlife, fisheries and the coast. Head deep into our wetlands and hike the nature trails of the Barataria Preserve and the Wetland Trace Boardwalk. Both feature numerous opportunities for birders to spot many of our local birds, like Great Egrets, Brown Pelicans and Bald Eagles.