Bobby Hebert's Bread Pudding

INGREDIENTS: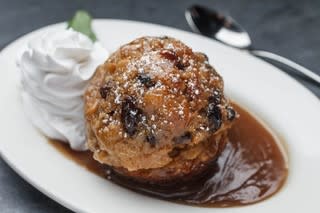 Bread Pudding
4 cups whole milk
2 cups heavy cream
1 ½ cups sugar
1 ½ teaspoons ground cinnamon
1 teaspoon vanilla extract
Grated zest of 1 orange
11 eggs, beaten
4 cups stale French bread, in small cubes
1 tablespoon unsalted butter
Sauce
8 tablespoons unsalted butter
½ cup light corn syrup
1 cup sugar
1 cup dark rum
1 cup heavy cream
1 pinch salt
1 teaspoon vanilla extract
DIRECTIONS:
1. For the bread pudding, preheat the oven to 350. Whisk together the milk, cream, sugar, cinnamon, vanilla, orange zest, and eggs in a large bowl. Stir in the bread cubes and soak them for 30 minutes. Butter a 9-by-13-inch baking dish and pour the mixture into it. Bake until golden, about 45 minutes.
2. For the sauce, melt the butter in a medium saucepan over moderate heat, until it turns a light brown color, with a rich, hazelnut aroma, about 5 minutes. Add the corn syrup, sugar, rum, cream, salt, and vanilla. Reduce the sauce until it thickens enough to coat the back of a spoon, about 15 minutes. Remove from the heat.
3. To serve, scoop a large spoonful of warm bread pudding on a plate. Pour the buttered rum sauce over the puddings.

Courtesy of Bobby Hebert's Cajun Cannon.
BACK TO MAP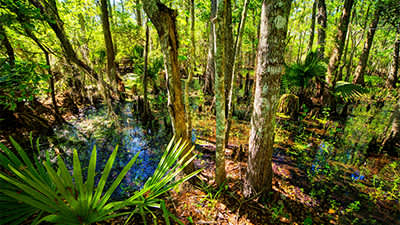 The Beautiful Bayou
Location: Jean Lafitte
Discover the natural wonders of the Jean Lafitte National Historical Park and Preserve. With a unique ecosystem the preserve is a representative example of the delta's environment, containing natural... See More
BACK TO MAP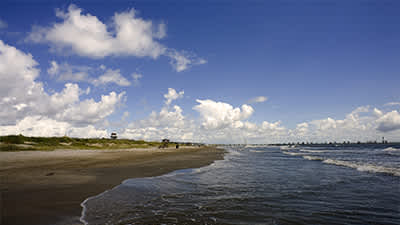 Louisiana's Only Inhabited Barrier Island
Location: Grand Isle
The State of Louisiana maintains a mile of beach front at Grand Isle State Park on the easternmost staying e park looks out toward nearby Grand Terre island, once the lair of the legendary pirate (or... See More
BACK TO MAP