If you're like us, you've made a list (and checked it twice) and discovered that there's a lot to do during the holidays.
From planning get-togethers to shopping for Santa, your days are most likely filled with plenty of "to-do" lists. It's always a good idea to keep a shortcut (or two) in your back pocket - simple recipes that come together quickly, giving you more time for what's really important this holiday season. 
This is where we come in. We've put together a crowd-pleasing menu from some of your favorite Jefferson Parish restaurants to help you save time in the kitchen while planning your big holiday family meal!
Zea's Spinach Salad with Pepper Jelly Vinaigrette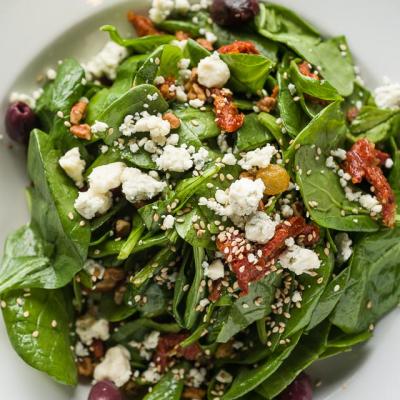 INGREDIENTS: 
3 cups baby spinach
2 tbsp sun-dried tomatoes
2 tbsp golden raisins
2 tbsp pecan pieces 
¼ cup Zea Pepper Jelly Vinaigrette
¼ Cup Blue Cheese Crumbles
1 tsp sesame seeds
Kalamata olives to taste (4 to 8)
DIRECTIONS: 
1. Combine Spinach, sun-dried tomatoes, raisins and pecans in a large bowl and toss with Zea Pepper Jelly Vinaigrette.
2. Place salad in a serving bowl and evenly sprinkle remaining ingredients on top of salad.
3. Add grilled Chicken if desired.
---
Ruth's Chris Sweet Potato Casserole

Ingredients:
Sweet Potatoes
2 lb. sweet potatoes (about 2 large)
Neutral oil, for drizzling
Kosher salt
1/2 c. unsalted butter, room temperature, plus more for pan
1 c. granulated sugar
2 large eggs, beaten to blend
1 tsp. pure vanilla extract
Brown Sugar Crust
1/2 c. chopped raw pecans
1/2 c. packed light brown sugar
1/4 c. all-purpose flour
1/2 tsp. kosher salt
2 tbsp. unsalted butter, melted
Directions:
Sweet Potatoes
Preheat oven to 425° and line a 11"-by-7" (or 2-quart) baking dish with foil. Rinse and scrub potatoes to dislodge any dirt, then pat dry. Using a fork, poke holes all over potatoes. Drizzle with oil; season all over with salt.
Transfer potatoes to prepared pan and roast, uncovered, until cooked through and flesh is easily pierced with a fork or paring knife, 60 to 65 minutes.
Transfer potatoes to a large heatproof bowl. Discard foil and grease pan with butter. Reduce oven temperature to 375°. When potatoes are cool enough to handle, remove skins. 
In the large bowl of a stand mixer fitted with the whisk attachment (or in a large bowl, using an electric mixer), beat potatoes and granulated sugar on medium speed until sugar is incorporated and potatoes are mashed. Add butter and beat until incorporated and fluffy, about 2 minutes. Add eggs, vanilla, and 3/4 teaspoon salt and beat until mixture is almost doubled in volume, about 5 minutes. Pour mixture into prepared pan and spread with a spatula.
Bake casserole until the center is set but slightly jiggly and edges are beginning to brown, about 35 minutes. Let cool slightly.
Brown Sugar Crust & Assembly
Meanwhile, in a medium bowl, combine pecans, brown sugar, flour, and salt, breaking up any clumps of sugar with your fingers. Drizzle in butter and toss with a fork until combined.
Sprinkle brown sugar mixture over potatoes. Continue to bake casserole until crust is firm and starts to brown, about 10 minutes more. Let cool 10 minutes before serving.
---
Chef Ron's Turkey & Sausage Gumbo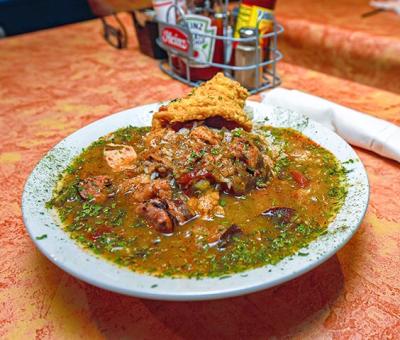 INGREDIENTS:
8 oz celery, diced
8 oz bell pepper, diced
8 oz onion, diced
2 teaspoons garlic, minced
½ cup blackening seasoning
2 cups canola oil
2 cups flour
1 pound cut okra
1 can diced tomatoes
3 bay leaves
1 tsp oregano
1 tsp basil
1 tsp thyme
1 gallon turkey stock
3 lbs turkey meat
1 lb smoked sausage
½ tsp cayenne pepper
1 tsp salt
1 lb cooked rice
DIRECTIONS:
Roast turkey. Remove meat from bones and reserve. Use the turkey bone to make broth, drain and reserve. This process could be done the day before and stored in refrigerator until use.
In your favorite gumbo pot, heat the oil until hot and add the flour over medium heat. Keep stirring until you reach the color of dark chocolate. Remember to take your time and keep stirring.
When you reach the desired color, add onions, peppers and celery to the roux and mix well. Cook for a few minutes, adding the turkey stock and stirring at the same time, mixing well.
Add okra, bay leaves, oregano, basil, diced tomatoes and mix well.
Add smoked sausage and turkey meat and simmer until okra has softened.
Serve hot over cooked rice.
---
Mosca's Chicken a la Grande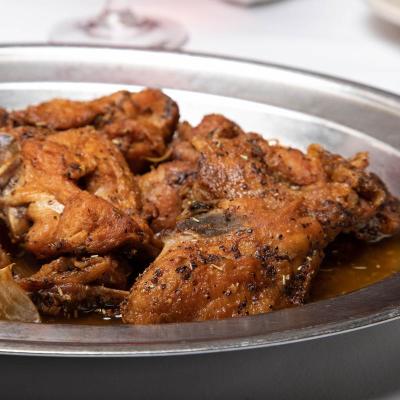 INGREDIENTS: 
One 3-pound chicken, cut into eight pieces
1/2 cup dry white wine, such as chardonnay
3/4 cup olive oil
1 tablespoon salt
1 tablespoon freshly ground black pepper
6 to 10 cloves unpeeled garlic, pounded
1 tablespoon dried rosemary
1 tablespoon oregano
DIRECTIONS:
Place the chicken in a bowl containing the white wine, turning to moisten the chicken completely. Transfer the chicken pieces to a plate, reserving the wine, and season all over with the salt and pepper.
Add the olive oil to a large skillet over medium high heat. Add the chicken pieces and brown them, turning the pieces as needed, for about 25 minutes.
Add the garlic, rosemary, and oregano, and stir to make sure the chicken pieces are coated evenly.
Remove the skillet from the heat and add the reserved white wine. Return to low heat and cook about 10 to 15 minutes, or until the liquid is reduced by half. Serve immediately with the pan juices.
---
Bobby Hebert's Cajun Canon Bread Pudding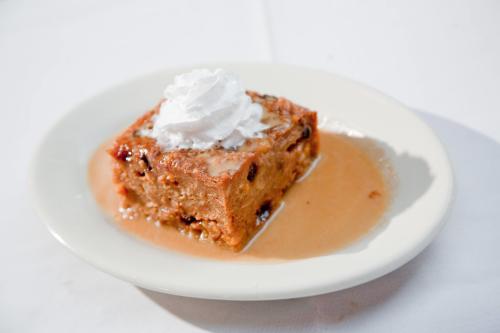 INGREDIENTS:
Bread Pudding
4 cups whole milk
2 cups heavy cream
1 ½ cups sugar
1 ½ teaspoons ground cinnamon
1 teaspoon vanilla extract
Grated zest of 1 orange
11 eggs, beaten
4 cups stale French bread, in small cubes
1 tablespoon unsalted butter
Sauce
8 tablespoons unsalted butter
½ cup light corn syrup
1 cup sugar
1 cup dark rum
1 cup heavy cream
1 pinch salt
1 teaspoon vanilla extract
DIRECTIONS:
For the bread pudding, preheat the oven to 350. Whisk together the milk, cream, sugar, cinnamon, vanilla, orange zest, and eggs in a large bowl. Stir in the bread cubes and soak them for 30 minutes. Butter a 9-by-13-inch baking dish and pour the mixture into it. Bake until golden, about 45 minutes.
 For the sauce, melt the butter in a medium saucepan over moderate heat, until it turns a light brown color, with a rich, hazelnut aroma, about 5 minutes. Add the corn syrup, sugar, rum, cream, salt, and vanilla. Reduce the sauce until it thickens enough to coat the back of a spoon, about 15 minutes. Remove from the heat.
 To serve, scoop a large spoonful of warm bread pudding on a plate. Pour the buttered rum sauce over the puddings.
---
Don's Seafood Old Fashioned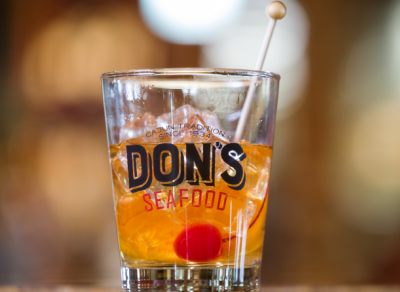 INGREDIENTS:
1 orange slice
1 maraschino cherries
2.5 oz Bourbon of your choice
1 oz sugar water (equal parts sugar to water)
3 dashes of Angostura bitters
1 rock candy sugar stick
DIRECTIONS:
Muddle orange and cherries in a rocks or cocktail glass. Fill to the top with ice. Add Bourbon, sugar water and bitters. Garnish and blend with rock candy sugar stick.
Sit back, sip and enjoy!