Fishing, just like in many Louisiana coastal communities, is a 365-day adventure in Jefferson Parish! Each season brings about new challenges for anglers. Whether saltwater or fresh, we have the perfect "fishing hole" for you. It's time to grab your pole and make your way to Jefferson Parish! See our top 5 reasons to #FishJefferson!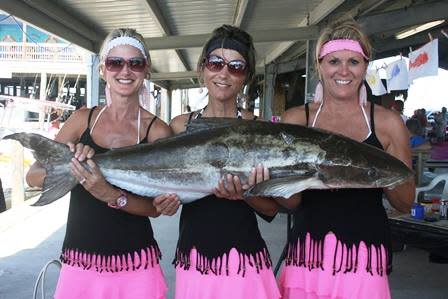 1. Jefferson Parish offers both freshwater and saltwater fishing.

You are not limited to what you can catch in Jefferson Parish. You can have it all. Catch Red Drum, Speckled Trout, or Red Snapper in the Gulf and then head to Barataria Bay for some Catfish and Bass. Don't know what to do with your fish after you've caught them? Bring it to one of our Louisiana Catch & Cook participating restaurants, Acme Oyster House or Restaurant des Familles, and let the professionals handle it! Your fresh catch will be prepared by a professional chef just hours after coming off the water!
2. You can be part of a real rodeo.
There's no horses in our rodeos! A rodeo involves competitive fishing at its best and a good time is had by all with live music, arts & crafts, delicious local cuisine, kids activities & more! Jefferson Parish hosts most of these in the spring and summer. Ever heard of the Grand Isle International Tarpon Rodeo? It's the oldest fishing rodeo in the United States and is right here in Jefferson Parish!
3. You don't need a boat.
Of course you can always fish on land or from a pier but have you considered getting a charter? Lafitte, Grand Isle, Barataria, Marrero, and Metairie all offer them. Let an experienced captain take the wheel while you enjoy a scenic and rewarding day!
4. You can bring the whole family.
Okay so maybe you were hoping to get away but just in case you can't, Jefferson Parish has tons of activities targeted for families. Don't hesitate to invite them.They are sure to find something fun to do while you fish.
5. You will get the full Louisiana experience.
Where else will you really be able to enjoy swamps, marshes, authentic creole food, canoeing, airboating, rodeos, and the beach?  Face it, Jefferson Parish has it all!
How do you #FishJefferson? Tell us in the comments!
---
For more info on fun things to do in Jefferson Parish, check out our calendar of events.
Get inspired! Follow us on Instagram and like us on Facebook. Make sure to use our official hashtag #VisitJeffersonParish and #FishJefferson in your photos to be featured on our website and social media!
Want to learn more about Jefferson Parish, order a FREE visitor guide here.