Lake Pontchartrain

Lake Pontchartrain, named for Louis Phélypeaux, the comte de Pontchartrain, is the largest inland body of water in Louisiana. It covers an area of 630 square miles! And what many people do not know is that it is not actually a true lake, but an estuary connected to the Gulf of Mexico. It was created 2,600-4,000 years ago by the constantly evolving Mississippi River Delta and is home to a number of wildlife, fish and birds. The wetlands that surround Lake Pontchartrain are famous for beautiful scenery, fishing and recreational activities.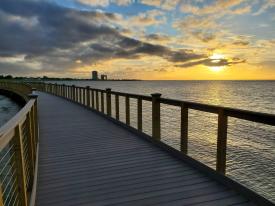 The Causeway, which runs across Lake Pontchartrain, is the longest bridge over water at 23 miles and connects New Orleans to the North Shore communities. It opened in 1956 and cut travel time by 50 minutes.
Enjoy a leisurely stroll on the Bucktown Marsh Boardwalk. Along its 1,000 feet, you will be able to stop to learn about coastal issues. The boardwalk features bird blinds as well as informational signs about plants, wildlife, fisheries and the coast.
Bike on the beautiful bike paths and picnic under the covered pavilions along the lakefront.
BACK TO MAP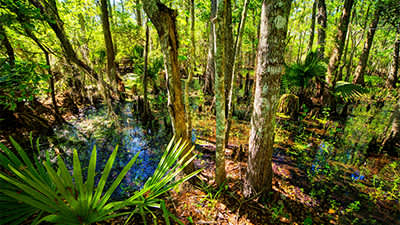 The Beautiful Bayou
Location: Jean Lafitte
Discover the natural wonders of the Jean Lafitte National Historical Park and Preserve. With a unique ecosystem the preserve is a representative example of the delta's environment, containing natural... See More
BACK TO MAP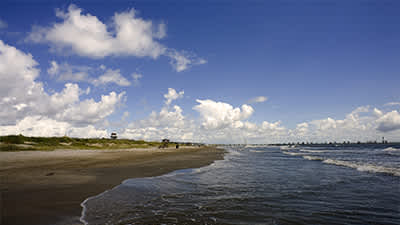 Louisiana's Only Inhabited Barrier Island
Location: Grand Isle
The State of Louisiana maintains a mile of beach front at Grand Isle State Park on the easternmost staying e park looks out toward nearby Grand Terre island, once the lair of the legendary pirate (or... See More
BACK TO MAP