Jefferson Parish, the historic and playful next-door neighbor to New Orleans, features fun for the whole family year-round. From swamp tours to mouthwatering stacks of seafood, we've got something for everyone. Maybe you are taking a road trip or spending a few days next door in New Orleans and you only have a limited time to see Jefferson Parish. Well, don't worry, we've got you covered! We've pulled some of our favorite things to do, so you don't waste a minute of your trip!
Morning
Head across the Mississippi River from New Orleans to the historic town of Gretna. Go straight to Amore Bakery & Cafe in Old Town and grab one of their delicious pastries and coffees. You have a little bit of time, stroll through Gretna's downtown historic district and discover the unique architecture and landmarks. Wander along the mighty Mississippi River and enjoy dreamy views of the New Orleans Skyline.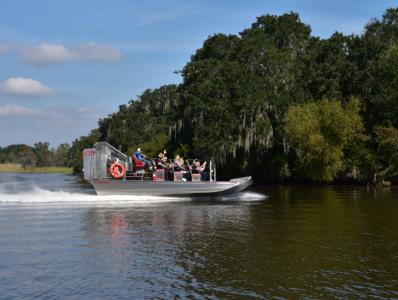 But don't dawdle too long. You are heading deep into the hidden wetlands of Jefferson Parish on a swamp tour!
Get up close and personal with an alligator. Glide through beautiful moss-covered cypress trees. Learn about the hidden wetlands from knowledgeable boat captains. Travel at high speeds through the swamps on an airboat tour. Or, take a more leisurely tour on a boat. You can even rent kayaks and see the swamps at your own pace. Enjoy a Total Cajun Experience at Jean Lafitte Harbor. Tour the bayous of Lafitte and experience an educational, interactive, hands-on approach to what it's like to be a Cajun. Pull up a crab trap, bait and set trout lines, throw a cast net, use a jug line, and possibly spy a gator. Click HERE to book a swamp tour!
Afternoon
I'll bet you've worked up quite the appetite! Head over to Restaurant des Familles for lunch where classic Creole and Cajun fare are served in a unique setting along Bayou des Familles in Crown Point. Featuring picturesque bayou views, you may just see gators enjoying their lunch too!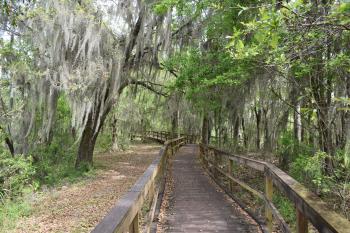 Now head over to the Wetland Trace Nature Boardwalk for a relaxing hike through the swamp. Stroll boardwalks that cover 41 acres of beautiful moss-covered wetlands. The many trails include covered pavilions, scenic overlooks and benches. It is a popular place to see various wetland wildlife like alligators, turtles and herons as well as marsh plants like lilies and orchids. Dogs are allowed, just be sure and keep them on leashes. You can see a virtual photo tour HERE.
Night
Head back over the Mississippi River to Jefferson Parish's East Bank and spend the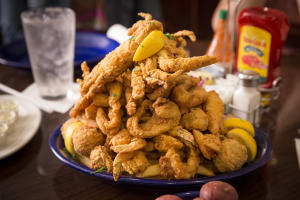 evening in beautiful Bucktown! Known for its seafood, Bucktown lies on Lake Pontchartrain and features scenic views and a variety of incredible seafood restaurants. Try out Deanie's Seafood Restaurant. It was the first market in Bucktown and one of the first to sell boiled seafood for retail sale in New Orleans. Today Deanie's is more than a seafood market, it is a popular restaurant and a living symbol of the old, beloved fishing community called Bucktown.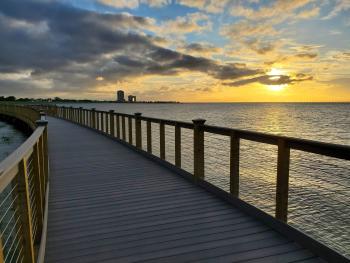 Now cross over the levee to the Bucktown Marina and catch a killer sunset at the Bucktown Marsh Boardwalk. Along its 1,000 feet, you will be able to stop to learn about coastal issues. The boardwalk also features bird blinds as well as informational signs about plants, wildlife, fisheries and the coast. And did we mention the incredible sunsets because they are worth mentioning again! Walk along the levee and revel in the beauty of Lake Pontchartrain.
I bet you're tired (and stuffed) after your fun-filled day in Jefferson Parish, LA! There are so many more things to do here. These are just a few of our favorites. Be sure and check out our website for more activities, restaurants and attractions.
Find more inspiration in our Insider Blog!