I was hesitant to write this. It doesn't seem to do my heart any good to discover something enchanting in my new hometown, only to find out I will lose it at the end of this season. That WE as a community will lose it. But there are still games to be played and better to have loved & lost, then never love at all right?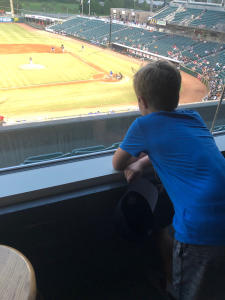 So let me introduce you to New Orleans Baby Cakes Baseball. But before I begin, you have to understand the kind of family I grew up in. There are some families that are "football families". Some families that are "basketball families". I grew up in a "baseball family". Hardcore Atlanta Braves fans through & through (I'm from GA so it's allowed). I remember many days with the sounds of baseball games screaming from the living room, right along with my grandfather yelling at the TV when things weren't necessarily going our home team's way. My brothers all played baseball growing up and I spent the majority of spring weekends out on the fields, playing, cheering, eating hotdogs from the concession stand and sitting in dugouts messily trying to figure out how in the world to eat/spit sunflower seeds. Turns out I'm still figuring that one out. So the moment I learned we had our own New Orleans hometown baseball team, I couldn't wait to take my son, Max. Especially since he was in the middle of his first Metairie baseball season at Cleary Playground. I needed to remind him of all the things that make baseball so great.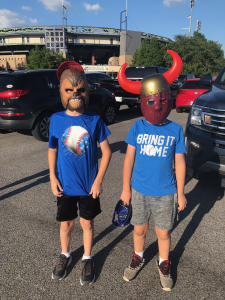 The moment we parked at the "Shrine on Airline" (AKA:  the old Zephyrs stadium) that humid late May afternoon – Max and his friend were ready to run in, all masked up to participate in the "Halfway to Halloween" dress-up day that the Baby Cakes were promoting and holding their own baseball gloves in the hopes of catching a real ball from the game. But to me, those first few moments walking into the stadium were like going back to some older, sweet summer days: seeing the big lights sheltering the baseball field as night started to sneak up on us, smelling peanuts & hotdogs, hearing the crisp sound of the bat hitting a ball. . . We had to chase the boys as they sprinted to their seats to catch the game.

The whole experience. . . from the "behind the scenes" tour we were welcomed into that took us into the underground world of what it must be like to be a "real baseball player" to the way the players kept interacting with the kids. The boys were mesmerized seeing the work out rooms, walking thru the tunnels the players use to get to the fields and even getting some waves from the announcers calling the game for all those listening thru the airwaves.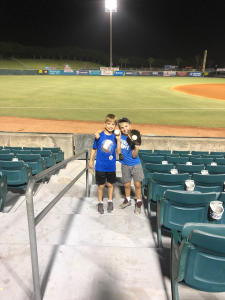 Toward the end of the game, the boys were on the side just hoping for a ball, along with all the other gaggle of children that were praying for a foul. By the end of the game, they all got one - and the huge smiles that stayed on their faces afterward said it all. We left the stadium with bellies full, grins on our faces and two very sweaty exhausted boys, but is there any better way to go?

There are only about two more months of games for our beloved New Orleans Baby Cakes before they leave this city, so you must check a game out while you still can! Even if you didn't grow up in a "baseball family" like me, don't worry, you'll be fine once you get there. My family is coming in town for the 4th of July and guess where I'll be taking them Friday Night?

Baby Cakes we can't get enough of you! So steal away a few of your favorite people, do something new, or just do it again. It's worth it. And what better time to keep attempting sunflower seeds with your kids?

You can check out the Baby Cakes full schedule here!
xo-Ashlea
---
For more info on fun things to do in Jefferson Parish, check out our calendar of events. Make sure to use our official hashtag #VisitJeffersonParish in your photos to be featured on our website and social media!
Get inspired! Follow us on Instagram and like us on Facebook. Make sure to use our official hashtag #VisitJeffersonParish in your photos to be featured on our website and social media!
Want to learn more about Jefferson Parish, order a FREE visitor guide here.