As I was driving home from work a few days ago, I received a Facebook message from our Louisiana Oyster Trail page, one of the pages Visit Jefferson Parish manages. Now this in itself was unusual because I never get messages from that page. Needless to say I was intrigued. So as soon as I parked at my home, I checked it. Within seconds I was laughing and crying and feeling so happy for a family that I'd never even met!
The very first thing I saw in the message was a shared Facebook post from Jess with pictures of an adorable baby girl, each with a different Louisiana Oyster Trail sculpture. Then a message thanking us for the trail and how it made the perfect backdrop to track the growth of her miracle baby! Scroll down to see a video of all 12 pics!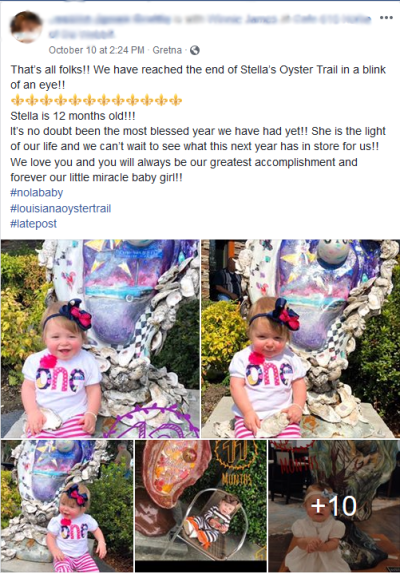 Obviously I had to know more! I reached out to Jess to get a little background and here is what she had to say.
"I grew up in a very small town in Alabama but fell for a New Orleans boy! Thanks, Match.com (You know those New Orleans boys never leave home.) So I moved to NOLA in 2007 after our wedding. I have absolutely loved everything about the city since day one. My husband and I are both nurses and after being married 8 years, we decided we were ready to have a baby. Should be easy, right? Boy, were we wrong. After 7 years of trying to conceive and 5 IVF cycles at the Fertility Institute of New Orleans, we finally were blessed with our miracle baby girl, Stella! I really wanted something different that incorporated the New Orleans culture into her monthly growth pics. After seeing the oyster statue at Shortstop Poboys, I began to research them. I never knew there were so many. And that's how Stella's Oyster Trail began!"
I was so in love with this heartwarming story and baby Stella's beautiful smiles that I had to write a blog and share it with the world!
When the Jefferson CVB created the Louisiana Oyster Trail in 2012, it was to showcase our restaurants, let everyone know that Louisiana oysters were safe to eat after the BP Oil Spill and feature local artists. We truly wanted to capture the unique culture and spirit of Jefferson Parish and our famous neighbor, New Orleans. We love that Jess and Stella have found new and imaginative ways to use our oyster sculptures and create lasting memories of their own!
Follow Stella on her journey along the Louisiana Oyster Trail!
---
Don't miss Taste of Louisiana Oyster Trail November 13th & 14th! Enjoy delicious dining deals featuring special discounted menus from our restaurants along the Louisiana Oyster Trail!
Want to learn more about our mouthwatering oyster trail? Click here!
Get inspired! Follow us on Instagram & Facebook! And, don't forget to tag #VisitJeffersonParish & #LouisianaOysterTrail in your pics! We could share your posts and even feature them on our website!
Want to learn more about Jefferson Parish, order a FREE visitor guide here.