Did you know that rugby is the fastest growing sport in the US? And we are extremely lucky to have one of only 13 Major League Rugby teams right here in Jefferson Parish! NOLA Gold Rugby will kick off its 4th season in March of 2021. All home games will be played at the newly remodeled "Gold Mine on Airline" (aka the Shrine on Airline.) It has been completely transformed from a baseball field to a state-of-the-art rugby pitch.
Don't know a lot about rugby? That's ok! Like American Football, rugby ticks all the boxes that adrenaline sports fans love; power, pace and evasive skills. Rugby was founded in 1823 in England, and American football actually derive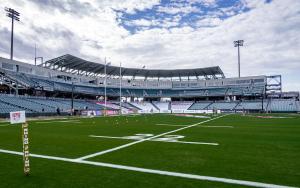 d from Rugby with the introduction of the line of scrimmage, touchdown and down and distance rules. If you like American Football, definitely come check out a Nola Gold Rugby game. You won't be disappointed!
The gameday experience is amazing, featuring second-line parades, costumes, a party shack, live music and so much more! Check out this short video to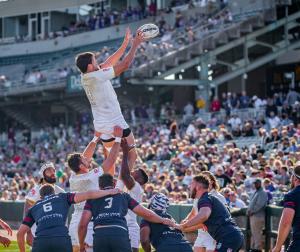 see all the fun of a NOLA Gold gameday. Gates will open 2 hours early for tailgate activities in the Fan Zone.
NOLA Gold Rugby's 40 man roster consists of local and international players from 13 countries, including Fiji, Australia, Tonga, South Africa, England, Uruguay, Chile, Argentina, Namibia, Samoa, Canada and the USA. The team includes six Rugby World Cup Players! The Gold will play its 2021 season with 8 home games beginning in March. Come witness the toughness and resilience of professional rugby! You can see NOLA Gold's schedule HERE and purchase tickets HERE.
Join the Greater New Orleans vs City of Seattle challenge! The Seattle Seawolves team is #1 in ticket sales and NOLA Gold Rugby is #2. The first organization to sell 100 season or flex tickets wins a post-season party with NOLA Gold Rugby players! Purchase your tickets below.
Season Tickets: https://bit.ly/3sU4GJD
Flex Tickets: https://bit.ly/2PsefB1
If you would like to team up with NOLA Gold Rugby to grow your brand awareness, please contact colton@nolagoldrugby.com and 504-507-8429.