The Jefferson Convention & Visitors Bureau (Visit Jefferson Parish) will use the 37th NTTW (May 3-9) to look ahead to recovery.
National Travel and Tourism Week (NTTW), the annual celebration of the contributions and accomplishments of the U.S. travel industry, will spotlight resilience and hope in the face of the coronavirus pandemic with this year's theme: the Spirit of Travel.
Celebrated annually the first full week in May, NTTW was created by Congress in 1983 to underscore the economic power of travel in the U.S. The 37th NTTW (May 3-9) arrives at an opportune moment to unite the industry, celebrate its indomitable spirit and elevate the role it will play in America's economic recovery.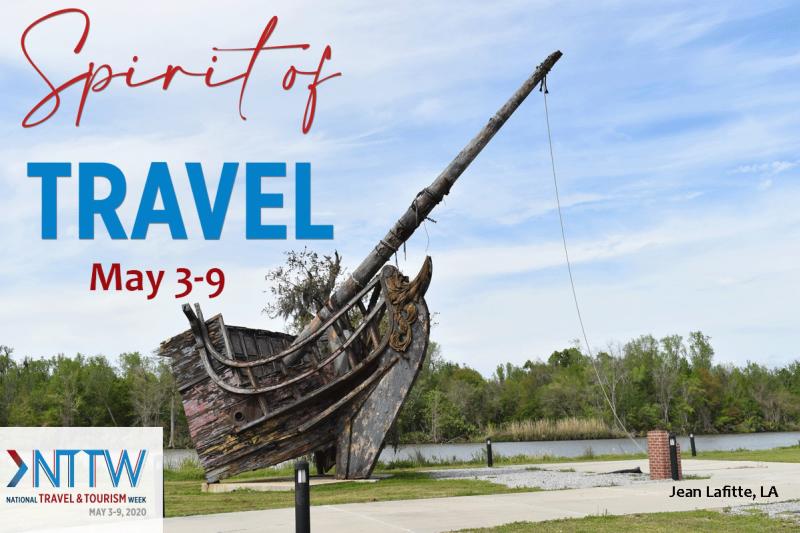 "Through every hardship, I find myself in awe of the travel industry's ability to join together, adapt, and emerge stronger than before," said U.S. Travel Association President and CEO Roger Dow. "This is our toughest challenge yet, but what I've seen is that the spirit of travel has not been shattered."
Since in-person rallies and events that have been hallmarks of NTTW in years past are not an option this year, Visit Jefferson Parish is engaging by providing inspirational videos, images and blogs along with virtual tours and interactive games.
Said Violet Peters, President & CEO: "There's no doubt this has been an incredibly challenging time for Jefferson Parish, but we see National Travel and Tourism Week as an opportunity to remind our visitors and our residents of the incredible spirit and resiliency of the travel industry and our workforce. It's only a matter of time before we all get moving again, and Jefferson Parish will be more ready than ever to welcome travelers with open arms.
During National Travel and Tourism Week, we hope you will join us in honoring the #SPIRITOFTRAVEL in the below activities!
- Our industry is taking to Twitter for the first-ever #VirtualRoadTrip across the U.S on Tuesday, May 5th. Join the conversation using #VirtualRoadTrip. The road trip should make it to Louisiana at 2PM.
- Go live and travel deep into the swamps on a virtual swamp tour on Thursday, May 7th at 12:30PM!
- Pass the time with our Jefferson Parish jigsaw puzzles.
- Test your skills by taking our Jefferson Parish Trivia.
- See what the Spirit of Travel means to the team at Visit Jefferson Parish HERE.
- We also asked our partners and friends what the Spirit of Travel means to them. See what they had to say HERE.
- Take a virtual photo video tour of the Barataria Preserve of Jean Lafitte National Park and the Wetland Trace.
- Can't make it down to Grand Isle? Check out a virtual video tour HERE.
- Missing the great outdoors of Louisiana? Add some beautiful scenes of our wetlands and beaches to your next Zoom meeting with one of our custom photo backgrounds.
Find out what the Spirit of Travel means to the team at Visit Jefferson Parish HERE & our partners HERE.