A shrimp trawler with massive wing nets motors by in the distance. A local fisherman eases his skiff down a ramp, en route to the Barataria Bay Waterway. And our burly, ginger-haired host holds court from behind a long fish cleaning station, the ground at his feet littered with scales.
This isn't the Disney version of a harbor. This is the real deal.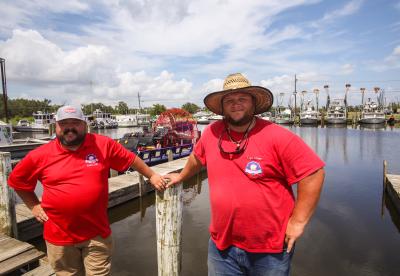 And it's just what we've trekked to this little fishing town on Louisiana's idyllic coast to find: An authentic look at the Cajun lifestyle.
"We're about to go on an adventure," promises Captain Shaw Couevas just before ushering the five of us onto a boat for what he calls the Cajun Experience, a half day exploring the waters that shape life here. Shaw's family, which owns the harbor, has lived here for generations. "We want to show you what it's like to be us."
Jean Lafitte, named for the state's most infamous pirate, sits where the road ends and the waterways leading to the Gulf of Mexico begin. Just 30 minutes outside of New Orleans, it somehow feels a world away.
Its boutique museums tell the stories of the fishermen, trappers and smugglers who have called this medley of land and bayou – and everything in between – home for more than 200 years. Nearby, a 26,000-acre national park offers miles of iconic, moss-draped hiking paths and canoe trails for fresh air-lovers to wander. Plentiful alligators, the stars of the swamp, wow tourists on guided tours.
And seafood? Whether visitors want to hook their own, buy fresh at a bustling open air market or have it served perfectly seasoned on a plate, this town has it covered.
"Lafitte is uniquely Louisianan," Mayor Timothy Kerner will later tell me by phone. "You're right here on the coast. And we have such a rich culture that's been passed down to us. It's a piece of paradise."
There are world championship pirogue races, seasonal seafood festivals and sip-and-strolls through the swamp.
But today on Shaw's boat, we're getting to the heart of the region: The water.
Shallow and inky, it reflects a bright blue sky and piles of clouds as we zip toward our first fishing stop. The terrain is flat as far as the eye can see, a checkerboard of channel and reeds entangled with vibrant purple morning glories sitting just at the waterline.
We're moments out of the marina, but I'm already turned around. Then, Shaw cuts the engine and the rest of us look at each other with excitement.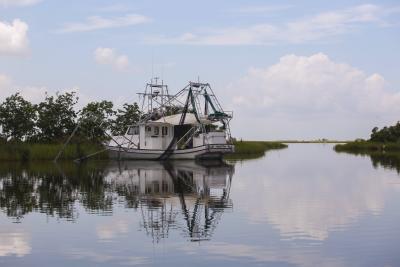 There are plenty of standard fishing charter options in Jean Lafitte. The town, after all, offers the easiest access to world-class offshore fishing beyond nearby Grand Isle. But today's lessons are going to focus on the industrious inland techniques Cajuns have used for centuries, none of which involve the rods and reels I'm familiar with.
"Everything you're about to do, somebody does for a living," Shaw explains. "It's sustainable; it's commercially viable; and it's how people survive and feed their family."
I'm up first, and the catfish pieces are ice cold and slippery in my hand as I drop them into a small compartment in a boxy wire cage. Firstmate Kyle Rome double checks that the latch is secure before I toss the contraption into the water with a splash. With any luck, some tasty blue crabs will find their way into the trap by tomorrow, though everything we catch today will be released. This is an educational tour.
Over the next few hours, we take turns retrieving crab traps and squealing when their bounty skitters across the deck at our feet. We pull up lines to find gaping puncture marks in bobbers, telltale signs of gator activity. Shaw and Kyle show us how to set up trotlines, a series of hooks dangling from a main line strung between two bamboo poles.
They demo fisherman's knots and quick connects. We learn the best hooks and bait to use in order to bag the biggies like redfish and drum.
Shaw and Kyle had set up several lines the day before, and at one of our many stops, a white jug zigzags furiously at the surface of the water, a clear sign something exciting is happening on the hook below. Then, fellow sightseer Charlene Hale spots trouble.
"He's going for our fish!" she shouts, excitedly pointing out an adolescent alligator gliding purposefully toward the action on the jug line.
The good news: The gator doesn't get the fish. The bad: Neither do we.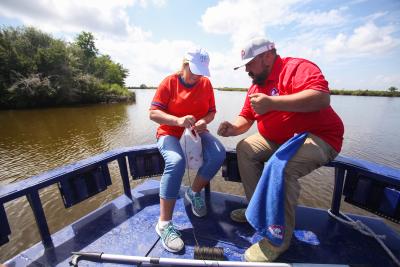 As Kyle pulls up a 30-pound drum, we catch a glimpse of its giant black maw before it slips the hook and dives back into the murk. A collective groan goes up from the crew.
"That's why they call it fishing and not catching," Kyle offers ruefully. "Anything can happen."
These days, the Barataria Bay Waterway we're exploring spreads about 1,000 feet across. But at one point – before coastal erosion from damming and channel clearing set in – it was just wide enough for two fishing boats to pass each other, says Kyle.
"You can imagine pirate ships hidden back around these bends," he adds. He's not joking. In fact, "Barataria" comes from the Spanish word for dishonesty at sea. 
In the early 1800s, Jean Lafitte and his brother Pierre ran a smuggling empire out of this place, floating stolen goods and enslaved people up from the bay via schooners before secreting them to nearby New Orleans through the swamp.
Just up the road from the harbor, the Jean Lafitte National Historic Park and Preserve gives visitors an up close look at the landscape and stunning biodiversity that Lafitte and other non-Indigenous settlers likely encountered here when they arrived. Giant live oaks, freshwater marshes and cypress stands greet hikers on nearly 5 miles of trails. Paddlers who canoe through the swamp get an even more intimate experience.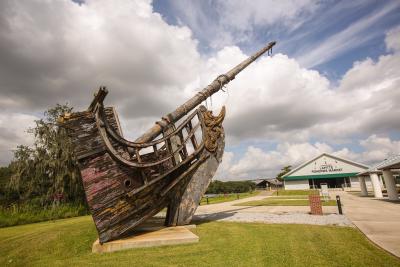 At the nearby Barataria Museum and Wetland Trace, exhibits include a rusted cannonball and wooden shard of schooner that may have been part of the pirate fleet. The massive stern of another ship – much larger, though much less historic – rests at the entrance to the museum's picturesque swamp boardwalk. It's the bridge of the Black Pearl from the Pirates of the Caribbean: The Curse of the Black Pearl. (The bow of the life-sized prop ship greets visitors upon arrival at the Lafitte Seafood Market.)
French, Spanish, Croatians, Germans, Filipinos and more have all made homes here, linked by an independent streak that still runs through the town today.
"It was just in them to give it their all. It's made us a very self-sustaining, resilient and family oriented community," as the mayor tells me later. "And you still see that. It's really something special down here"
On tour, our day is punctuated with other little insights into the culture.
A local captain pulls alongside us with a deck full of belly-up alligators and camouflage-clad hunters from a town near Baton Rouge. "We're going to sink this boat with alligators," the captain jokes.
The largest measures 10 feet nose to tail, and I cannot take my eyes off the pile. But the local Louisianans on both vessels have more important things to consider. Chatter erupts about last names, family lineages and hometowns as they try to work out who they might know in common.
Around here, that's how you shake hands. 
At another stop, Shaw points to the trees growing on a square mile of land, an unusual sight in the waterway nowadays. He explains some of the fascinating ways engineers are fighting the rapid coastal erosion threatening areas like Jean Lafitte, such as building islands like this one and breeding new types of cypress trees that can survive saltier water.
"Without trees, there aren't roots to hold the land together," Shaw explains.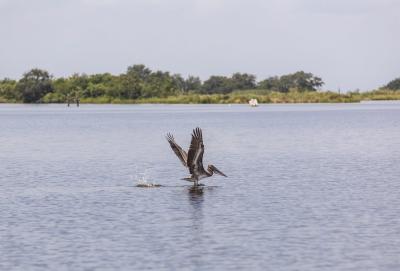 Then, just before heading back for a fried seafood lunch at the harbor, we pull up to a row of so-called "camps" along Bayou Norman. These simple cabins – some stilted, some with docks, some new and others tumbledown – are used by local fishers, hunters and trappers every season.
For hundreds of years, all of Jean Lafitte would have looked like this – minus the air conditioning units.
Then Shaw hushes us and cuts the engine.
It is so still and peaceful out here that I can hear my pen scratching away on my notebook. Somewhere out there, a mullet jumps three… four… five times across the water. A single cricket chirp seems to echo through the air.
On a clear night, Kyle says, the Milky Way feels impossibly close and bright.
"This is another reason people fall in love with this place," he says.
Photo Credit: Kerry Maloney
---
Are you interested in being a Cajun for a day? Learn more at Jean Lafitte Harbor!