Since 2013, The Great Huey P. Long Bridge Run has been offering runners great exercise, majestic views of the Mississippi River and a chance to enjoy local food and music! Part of the Bridge Run Series, the race is a 5K run/walk always held the weekend of Mother's Day. Runners start on the East Bank in Jefferson Business Park and finish on the West Bank in Bridge City at the Gumbo Festival Park, all the while enjoying spectacular views!
Stephanie O'Brien has been running the Huey P. Long run since its inception in 2013. Her favorite part is dressing up like a unicorn and running with her sister. I asked her what sets the Huey P apart from other runs, "The views, you rarely get views like that in any of the other runs. Also, it's nice to dominate that bridge considering how scary it used to be to drive!" She is referring to how frightening crossing the bridge used to be before it was widened in 2013.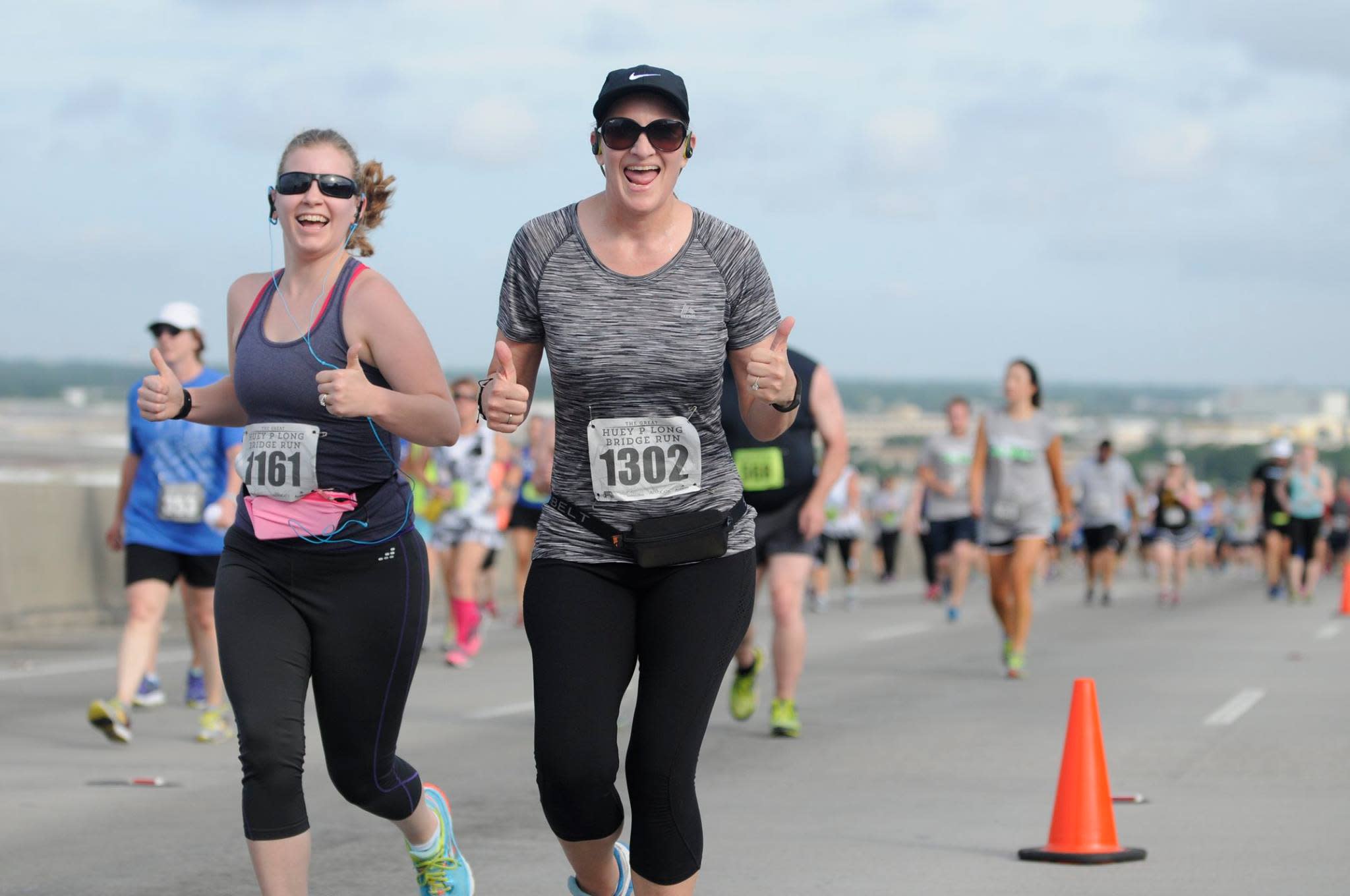 Larry Hand participates in all of the Bridge Run Series races and says, "The HPL Bridge run stands apart from the others, at least for me. By definition, it's a race over a bridge, but the race incorporates and embraces Huey P Long's personality which makes it fun. It's also a very accommodating race for runners, walkers and families. My advice to friends who are considering the HPL bridge run is to not be intimidated by the bridge - half of it is downhill and there is a great music, food and drink at the end...the incline of the bridge is very manageable for all runners and walkers...and those brave souls (or soles) who push a jogging stroller up hill!"
J Roger Brown, one of Louisiana's top runners over 70 years of age, says "I enjoy the difference of the course and the competition since in this area we do not have hills to run on. It is especially nice now that it is part of the three bridge series."
Mike Wattigny, the event director, enjoys putting on this race each year. "The Huey P Long Bridge Run is a unique opportunity for walker & runners of all abilities to this great city in a way like no other. Seeing as we are pancake flat, this race along with the other 2 races in the Louisiana Bridge Run Series provide participants the challenge of conquering a 'hill'. Ending at Gumbo Festival park with live music, delicious food, and Abita Beer (for participants over 21), makes for a great family kick-off for Mother's Day weekend."
On completion, runners receive a t-shirt, finisher's medal, personalized bib, and stocking stuffers for Mom! After the run, everyone heads to the Abita After Party at the Bridge City Gumbo Festival Park for beer, delicious local cuisine and live music!
Interested in participating? The race will be held Saturday, May 11th. You can learn more here!
---
Looking for more events in Jefferson Parish? Be sure and check out our Events Calendar!
Get inspired! Follow us on Instagram and like us on Facebook. Make sure to use our official hashtag #VisitJeffersonParish in your photos to be featured on our website and social media!
Want to learn more about Jefferson Parish, order a FREE visitor guide here.