It's RARE that the hubby and I actually get a night alone, but after the chaos of Christmas traveling, the kids stayed with my family in Georgia for a few days, leaving us with the strange & wonderful freedom to splurge on a date night!  When left with the choice of where to eat, especially when you don't have to worry about any picky pallets, it actually took a while to fathom what our ideal destination would be. 
I mean let's be honest, how often are we asked what we're craving? But for once, I was asked. And I knew exactly what I wanted:  Charbroiled Oysters.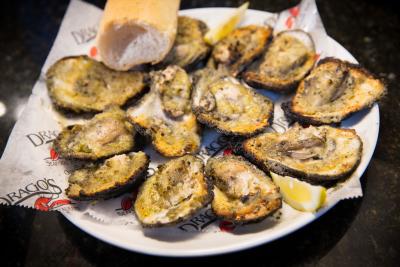 And then I was reminded that we didn't have to drive into the city to get them done up just right. So we headed right up the street to Drago's Seafood Restaurant off N. Arnoult Rd. in Metairie. Yes, it was ridiculously busy. . .but that's exactly the kind of place that calls to me because you KNOW it's going to be good. And although the wait was supposed to be about 30-45 minutes for a table, we do what we always do when we don't have the kids in tow. . . we decided to wait in the bar.  It took no longer than a couple minutes to find a place two other people were leaving, so we slid right into a comfortable spot at the end of the bar, and were greeted immediately by one of the friendly girls behind the busy counter. When I asked if we could eat there instead of waiting for a table, she sweetly said yes, handed us a couple menus and the true fun began. Not only did I find my new favorite drink:  a Blueberry Lemon Drop (a glorious drink I truly enjoyed drinking, especially since it had a sugary rim. . .my weakness ;-), but also got a full tray of their sizzling Drago's Original Charbroiled Oysters delivered in perfect time.
We asked for extra bread to dip into the buttery sauce after we'd eaten thru the heavenly oysters too. . . .we couldn't stand to waste a drop of that dipping potential. Then more came. We decided to split the Drago's Mixed Grill next. . . I'd never actually tried lobster up to this point (don't judge me! I'm born and raised a Georgia girl. . . so I haven't been surrounded by the glorious seafood most New Orleans have) – and let me tell you. . . every bite of lobster, every bite of that perfectly done filet & blackened shrimp made me just stop, and taste. . . which is something we don't get to do very often either, usually racing thru meals & life. . . but I did that night.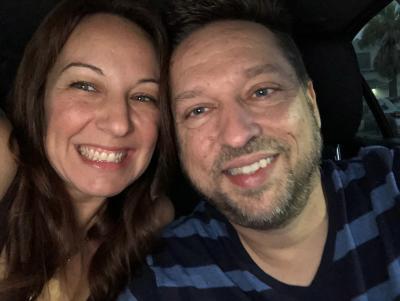 Drago's made me want to chew slower, so it would last longer. Then when we couldn't eat anymore, we did what most people do when faced with a dessert menu on date night. . . .We said YES.  

And the Bread Pudding was fresh and steaming. . . and was the perfect end to the perfect night out. AND we didn't even have to drive into the city to get it. Drago's:  We will be back. . . thank you for spoiling us up just right.
Can't wait until our next date night. . . . xo

Drago's Seafood Restaurant
3232 North Arnoult Road
Metairie, LA 70002
 
What is your favorite dish at Drago's? Tell us in the comments!