Jefferson Parish, LA- The Jefferson Convention & Visitors Bureau, Inc. (JCVB) is saddened by the loss of   Jefferson Parish tourism industry leader, former Gretna Tourism Coordinator, and friend, Virgie Ott. Ms. Virgie was instrumental in growing tourism within Jefferson Parish, as she worked tirelessly to promote not only Gretna, but Jefferson Parish as a unique and historic destination. Ms. Virgie retired in September 2011, ending 21 years as the Gretna Tourism Coordinator.   
Among her innovative achievements are the opening of Gretna's first visitor center, introducing the Gretna Historic Society Tour of Homes, originating the Gretna Blacksmith Shop Valentine's Day weddings, and the dedication of the life-sized bronze statue of Gretna's native son Mel Ott, the baseball Hall-of-Famer who was a relative of her late husband, Edmund B. Ott Jr. 
Ms. Virgie served on the JCVB Board of Directors from 2012-2015. "Jefferson Parish has lost a true visionary and tourism ambassador.  Ms. Virgie, as she was affectionately known, always inspired me and all those whom she worked alongside to serve our community" said Violet Peters, JCVB President & CEO.   
In 2011 the JCVB recognized Ms. Virgie's contributions to the advancement of Jefferson Parish tourism awarding her the inaugural Virgie Ott Tourism Award. The award is presented annually at the JCVB Membership Luncheon to an individual who exemplifies outstanding leadership in Jefferson Parish tourism.
Services for Ms. Virgie are open to the public Friday, June 8, 2018 from 5:00 p.m. through 9:00 p.m., Mothe's Funeral Home, 2100 Westbank Expressway, Harvey, LA. Saturday, June 9, 2018, 10:30 a.m. public eulogy followed by a catholic mass at 11:00 a.m., St. Joseph Church, 301 sixth Street, Gretna, LA.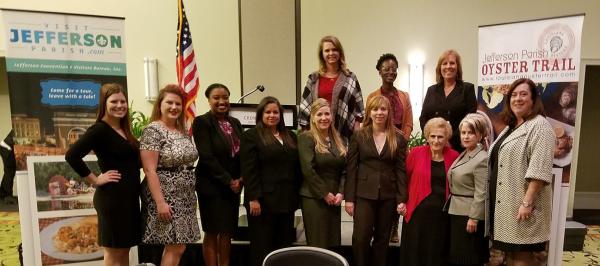 Pictured: Ms. Virgie joins JCVB staff at the 2017 JCVB Annual Luncheon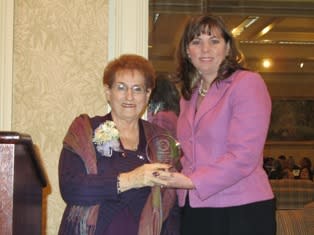 Pictured: Ms. Virgie Accepting Award in 2011 from Violet Peters, JCVB President & CEO