Not feeling like cooking a big dinner for Thanksgiving? Well, luckily in Jefferson Parish, a few restaurants are open for pre-ordered meals and Thanksgiving Day meals. Enjoy!
- Deanie's Seafood Restaurant & Market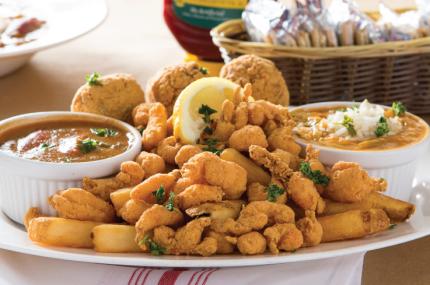 Deanie's serves up all the fixings for a classic Thanksgiving meal with a Holiday Take Home Menu.
The menu features traditional holiday dishes ready to go using Deanie's secret recipes, with a selection of pre-cooked, fully prepared holiday meats, homemade side dishes, soups, dressings and desserts. Orders must be placed in advance.
You can get anything from Smoked Beef Brisket to Pumpkin Cheesecake with Praline Sauce to a traditional Fried or Smoked turkey with dressing to seafood specialties. Deanie's Holiday Take Home Menu features Fried and Smoked Turkey, Smoked Boston Butt and Boneless Beef Brisket; seafood specialties, including Oyster, Crawfish and Crabmeat Dressing, Oyster Patties, Stuffed Crawfish, Stuffed Mirlitons, Seafood Gumbo, Crawfish Étouffée and Shrimp & Crab Bisque; Sweet Potato Casserole, Corn Maque Choux and more. * Fried Turkeys and most side dishes are available Thanksgiving through Christmas. (Call for availability.)
Information and full menu are available at Deanies.com. Call Deanie's Seafood Market at 504-835-4638 to place your order.
Pre-Order & Pickup Schedule
Thanksgiving orders can be placed now through Tues., Nov. 21 at noon.  Orders must be picked up by 8 p.m., Wed., Nov. 22.
Boulevard American Bistro will be open Thanksgiving Day from 11AM-8PM and offering a delicious Prix Fixe menu for $26! Check out their menu below.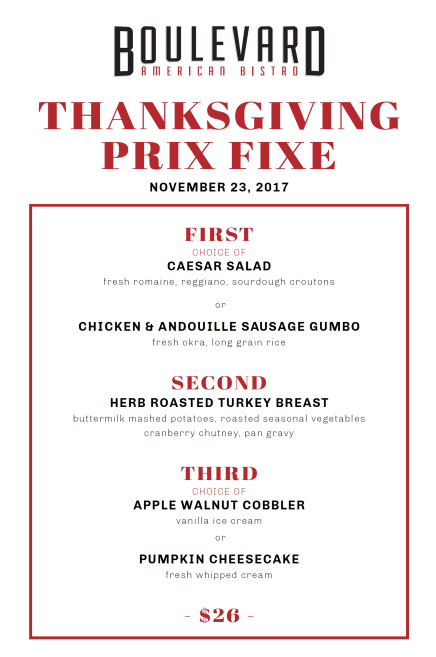 - Heritage Grill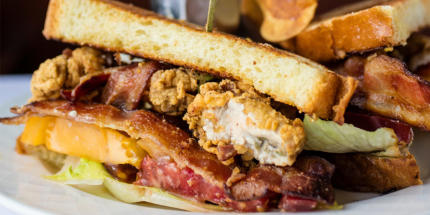 Heritage Grill is open on Thanksgiving Day from 10AM-4PM and will be offering a yummy buffet! They will also be offering Endless Champagne for $12 and Endless Mimosas for $15. 
Cost:
$45 for adults
$16 for kids between 6-12
Free for children under 6
Please call 504-934-4900 to book.
- Café b
Café b is open on Thanksgiving Day from 10AM-4PM and offering a special Thanksgiving menu. Call 504-934-4700 for reservations.
What are your plans for Thanksgiving? Tell me in the comments!