Our beloved New Orleans Saints are back at training camp in Jefferson Parish, July 26-Aug 22, and I am already hollering WHO DAT! Are you planning on attending? The fan experience has gotten some serious upgrades, y'all. This year will feature covered bleacher seating and a mister! Considering this summer's heat, these upgrades are amazing. Thank you, Saints management! There will also be upgraded concessions and merchandise, which is great...but MISTERS, Y'ALL!!!
Here is some basic info you should know if you are planning on attending the 2019 Saints training camp.
The event is FREE. However, fans of all ages must have a ticket to attend. Tickets are on a first come, first serve basis (and going fast). You can claim your tickets here.
Parking is FREE at the Shrine on Airline but based on availability. Complimentary shuttles will be provided from the parking lot to the practice facility. So you do NOT have to walk in this heat!
Training camp practices are subject to short notice changes based on weather and other factors. So check their official website or social media channels before you head out each day.
Select player autographs will be available following each practice if weather, time and other factors permit.
Fans are allowed to take photos but video recording is NOT allowed.
Fans can see the Lombardi Trophy in the Saints museum inside the lobby of the administrative offices. (OMG!!)
Restrooms are available.
All fans will be checked with a hand-wand and all bags will be checked.
Smoking is NOT allowed on the grounds.
Check out their website for full details.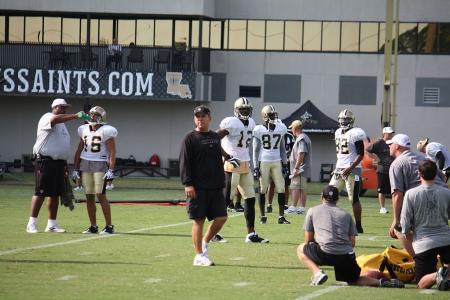 While you are in town attending training camp, make sure and check out Jefferson Parish! We pride ourselves on being a family-friendly destination, so there is lots to do with the kiddos!
It will be hot outside, so head inside to Kenner Planetarium, Megadome Cinema & Space Science Complex. Visitors can see educational movies, laser light shows and experience scientific discovery with hands-on exhibits about weather, optical illusions, insects, even a real-life space shuttle! Or try out one of our laser tag parks.
Want to stay outside? Keep cool at Lafreniere Park's Spray Pad or Bayou Segnette State Park's Wave Pool! Experience swamp life up close and personal on a swamp tour!
Eat like a local and try out one of our many delicious and award-winning restaurants! Or, take a trip on the Louisiana Oyster Trail.
Looking for hotels near the Saints practice facility in Jefferson Parish? We've got accommodations ranging from value-priced to deluxe and just 10 minutes from downtown New Orleans!
Will you be in town in September? Come out and help us kick off the Saints 2019 season at the Who Dat Nation Rally & Music Festival, September 7 & 8! Featuring top national and local acts like The Guess Who, Family Stone, Blood Sweat and Tears, Big Sam's Funky Nation, Cowboy Mouth and more, this is a can't miss event for Saints fans! WHO DAT!
---
For more info on fun things to do in Jefferson Parish, check out our calendar of events.
Get inspired! Follow us on Instagram and like us on Facebook. Make sure to use our official hashtag #VisitJeffersonParish and #FishJefferson in your photos to be featured on our website and social media!
Want to learn more about Jefferson Parish, order a FREE visitor guide here.