The holidays are upon us! And I feel like pumpkin spice gets all the attention during this season. So I'm here to show apple cider some love. It's so easy to cook with and delicious! Here are some of my favorite apple cider recipes! Try these out during the chilly fall/winter seasons for guaranteed coziness!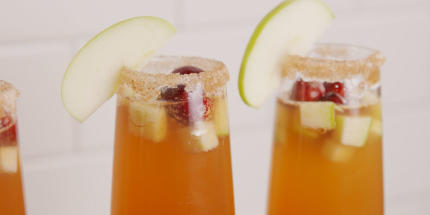 Ingredients
2 tbsp. sugar
1 tsp. cinnamon
1 (32-oz) container cranberry juice
1/2 gal. apple cider
1 bottle prosecco
1 apple, 1/2 diced and 1/2 sliced into half moons, for garnish
Directions
Combine sugar and cinnamon on a shallow plate. Dip the rim of each glass in water, then dip into the cinnamon-brown sugar mixture, coating the edge of each glass.
Fill each Champagne flute 1/4 of the way up with cranberry juice. Fill halfway up with apple cider. Top with Prosecco and a few cranberries and diced apple pieces.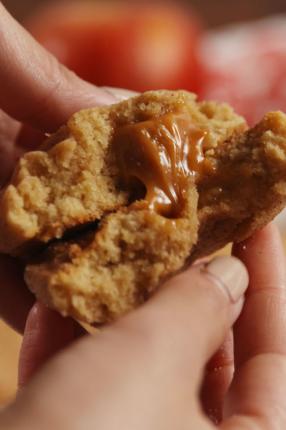 Ingredients
3/4 c. apple cider
1 1/2 c. flour
1/2 tsp. cinnamon
1/2 tsp. baking soda
1/4 tsp. baking powder
Pinch salt
1/2 c. butter, softened
2/3 c. packed brown sugar
1 egg
1 tsp. vanilla
Cinnamon sugar, for rolling
1 bag caramel candies, unwrapped
Directions
Preheat oven to 350° and line two baking sheets with parchment paper.
In a small saucepan over medium-high heat, bring the apple cider to a simmer. Cook until reduced to about 2 tablespoons. Let cool.
In a medium bowl, whisk together flour, cinnamon, baking soda, baking powder and salt. In a large bowl using a hand mixer, beat together butter and brown sugar. Add egg, vanilla and reduced apple cider and beat until combined. Add flour and mix until just combined.
Scoop about 2 tablespoons of cookie dough into a ball then flatten it slightly with your hand. Press the unwrapped caramel into the center of the dough, covering and sealing the caramel entirely with dough. Reshape it into a ball and roll in cinnamon-sugar. Place on cookie sheet and repeat with remaining dough and caramels. Freeze for 20 minutes.
Bake until the cookies are golden around the edges and set in the middle, 10-14 minutes.
Let cool for on pan for 5 to 10 minutes before transferring to a wire rack to cool completely.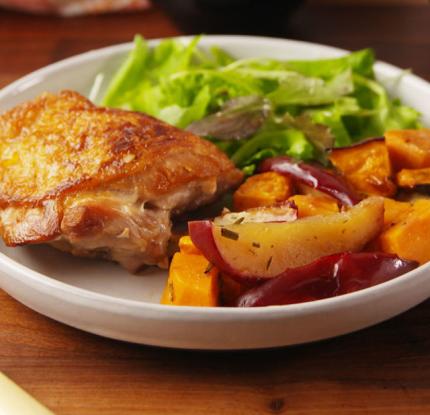 Ingredients
1 large sweet potato, peeled and cubed
2 apples, sliced
2 tbsp. olive oil, divided
1 tbsp. chopped fresh rosemary
kosher salt
Freshly ground black pepper
6 bone-in, skin-on chicken thighs, trimmed
2/3 c. apple cider
2 tbsp. honey
1 tbsp. Grainy mustard
1 tbsp. butter
3 rosemary sprigs, for skillet
Directions
Preheat oven to 425°. In a medium bowl, add potatoes, apples and chopped rosemary and season with salt and pepper. Drizzle with 1 tablespoon olive oil and toss until combined.
In a large ovenproof skillet over medium-high heat, heat remaining olive oil. Add chicken and sear, skin side down, until golden, about 2 minutes. Remove chicken from heat while you make the glaze.
To the same skillet, add apple cider, honey and grainy mustard. Bring mixture to a rapid simmer and cook until mixture has reduced slightly then whisk in the butter. Return the chicken to the skillet, skin side up, and scatter the sweet potato mixture and rosemary sprigs around the chicken. Turn off the heat and transfer the entire skillet to the oven.
Bake until the sweet potatoes are tender and the chicken is cooked through, about 20 minutes. (If potatoes need longer to cook, transfer chicken to a cutting board to rest and continue cooking until tender.)
Serve chicken and potatoes with pan drippings.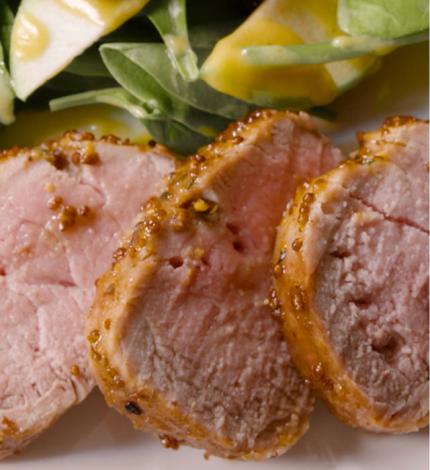 Ingredients
1/2 c. apple cider
2 tbsp. apple cider vinegar
1 tbsp. whole-grain Dijon mustard
1–1 1/2 lb. pork tenderloin
kosher salt
Freshly ground black pepper
2 tsp. chopped fresh rosemary
3 tbsp. butter, divided
1 tbsp. extra-virgin olive oil
Directions
Preheat oven to 400°.
Whisk together cider, cider vinegar, and mustard in a small bowl and set aside.
Trim any excess fat or silver skin from the tenderloin. Pat the pork dry with paper towels and season with salt, pepper and rosemary.
In a large ovenproof skillet, heat 1 tablespoon butter and oil together over medium-high heat. Add the pork and sear until the bottom develops a golden-brown crust. Turn with tongs and continue to brown all sides, about 4 minutes more. Transfer pan to the oven. Roast until an instant-read thermometer registers 140°; 12 to 15 minutes, depending on the thickness of the meat. (The pork will continue to cook when it's basted in the cider sauce.) Remove the skillet from the oven and transfer the pork to a clean plate to rest.
Place the skillet over medium-high heat. Add the cider-mustard mixture and scrape up the browned bits on the bottom of the pan with a wooden spoon, then add remaining 2 tablespoons butter. Bring to a simmer then return the pork to the skillet. Spoon the cider mixture onto the pork by carefully tilting the skillet so that the liquid pools in the bottom of the pan. Continue to spoon the sauce onto the pork until the liquid reduces and thickens, about 2 minutes more.
Let rest for 5 to 10 minutes before slicing. Cut the pork into slices and drizzle with more sauce. Serve warm.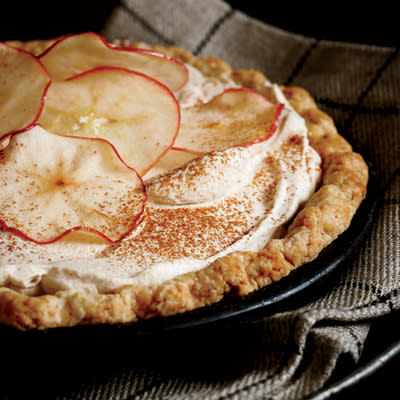 Ingredients

Crust:
1 c. all-purpose flour
1 tbsp. cornstarch
1 tbsp. sugar
1 tsp. kosher salt
1 stick unsalted butter
3 tbsp. cold milk
1 tsp. apple cider vinegar
Filling and Topping:
2 c. apple cider
1 c. sugar
½ c. sour cream
¼ tsp. salt
4 large eggs
1 c. heavy cream
½ tsp. cinnamon
Directions
Make the crust: In a food processor, combine the flour, cornstarch, sugar, and salt. Add the butter and pulse in 1-second bursts until the mixture resembles coarse meal. Combine the milk and vinegar and drizzle it on top. Pulse in 1-second bursts until the dough just comes together. Turn the dough out onto a work surface, gather up any crumbs, and pat into a disk. Wrap in plastic and refrigerate until chilled, about 30 minutes.
On a floured work surface, roll out the dough to an 11-inch round, a scant 1/4 inch thick; ease it into a 9-inch glass or ceramic pie plate. Trim the overhanging dough to 1 inch and fold it under itself. Crimp decoratively and chill the crust until firm, about 15 minutes.
Preheat the oven to 425 degrees F. Line the crust with parchment paper and fill with pie weights or dried beans. Bake in the lower third of the oven for about 15 minutes, until the crust is barely set. Remove the parchment and pie weights. Cover the edge of the crust with strips of foil and bake for about 15 minutes longer, until the crust is just set but not browned. Press the bottom of the crust lightly to deflate it as it puffs; let cool. Lower the oven temperature to 350 degrees F.
Meanwhile, make the filling and topping: In a medium saucepan, boil the cider until it's reduced to 1/2 cup, about 10 minutes. Transfer to a bowl and let cool. Whisk in 3/4 cup of the sugar, the sour cream and salt, then whisk in the eggs.
Pour the custard into the pie shell without removing the foil strips. Bake the pie in the lower third of the oven for 35 to 40 minutes, until the custard is set around the edge but the center is slightly jiggly. Let the pie cool completely.
In a medium bowl, using an electric mixer, beat the heavy cream with the remaining 1/4 cup of sugar and the cinnamon until firmly whipped. Mound the cream on the pie, cut into wedges, and serve.
Bon Appétit! If you try out any of these recipes, let me know how they taste!
* All recipes from Delish.