I know a lot of us love getting our fresh fruit and veggie fix each week at a local farmers market, however, COVID-19 has made that very difficult if not almost impossible in some parts of the country, but not in Gretna, LA. The Gretna Farmers Market has remained open each Saturday throughout the pandemic, taking extra precautions to ensure a safe space for vendors as well as shoppers.
Monica Naquin, Market Coordinator, says they have followed the Best Practices for Farmers Markets that were distributed by the LSU Ag Center. They have added sanitizing stations along with a mandate to vendors and a strong recommendation for shoppers to "mask up." The Market is supervised each week by volunteers who monitor for social distancing. They are asking that you enter on the Fourth Street side of the pavilion and use the sanitizing station before entering the Market.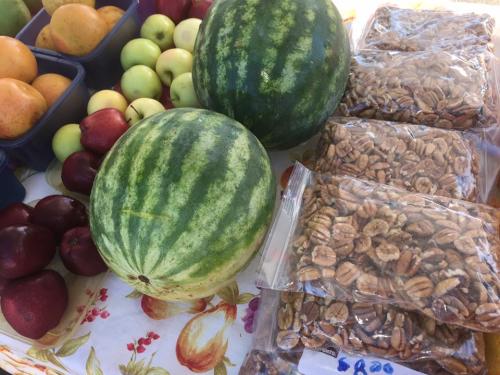 "The weeks during the lockdown have been challenging, but the consensus among our vendors and customers was to keep the Market open. It gave our regular vendors an outlet for their products and our customers an alternative to large supermarkets. The first month, we averaged 10 vendors each week (down from our usual 20 to 25), but their sales were good and we had a steady stream of customers, without the challenges of crowds...I have to say, vendors and customers have been extremely cooperative and it appears to have been a win-win. Last week we were up to 20 vendors, and it looks like the same for this Saturday, with more returning in June." Naquin said.
In 'normal' times, the market holds an Art Walk featuring local crafters and artists on the second Saturday of the month during spring and fall. It has been suspended until September 2020
In order to set up and remain open each week, Gretna Farmers Market and Art Walk depends on volunteers and West Jefferson ROTC Cadets earning service hours. Since several of their regular volunteers were in the 'at risk' group for the virus, and the Cadets were not allowed to participate, they relied heavily on our younger friends to step up. Volunteers are always welcome. If you are interested please contact them here.
Here's a 'taste' of a few of the regular vendors you can check out every Saturday from 8:30am-12:30pm under the covered pavilion in downtown Gretna.
Joe Fekete Family Farm: Sweet Potatoes, Turnips, Mustard Greens, DinoKale, Curly Kale, Lettuce, Broccoli, Cabbage, Bok Choi, Green Onions
 
Tailgators Smoked Meats: Slow-smoked brisket, turkey legs, chicken, andouille, boudin, and pickled eggs.
Fleur de Bees Honey: Orange Blossom Honey, Queen's Jelly, Pollen, Balms, Soaps, Gifts, all natural from Harvey and Myrtle Grove hives

Cajun Corral Goat Milk Products: Goat milk skin care products

Fleur Dough Lis Fresh Breads: Artisan breads

Jamison's Boudin: Award-winning, authentic boudin

Thai Djing Food Truck: Beignets, Pad Thai and Spring rolls, rice flowers and fresh Thai Tea and fried chicken sticks and Curry Puffs, Mango Sticky Rice Dessert and Sesame Jerk Chicken. Thai homemade Ice Cream. Fried Rice Balls, Thai Street Food
What: Gretna Farmers Market
Where: 739 Third Street, Gretna, LA 70053
When: Saturdays, 8:30 AM to 12:30 PM
---
Like this blog? Check out a few similar blogs below!
Social Distancing Ideas in Jefferson Parish
Shop Local: 6 Jefferson Parish Farmers Markets