As a still "new kid" to Metairie, I'm so excited when we stumble on a fun find for the kids.  My little boy, recently turned 9, and so, to celebrate his birthday week (since he didn't have a crew of new kids just yet) we were on the hunt for a place we could take him to "play" and maybe even find new friends.  What I didn't know was that I'd end up having such a good time "playing" right along side him.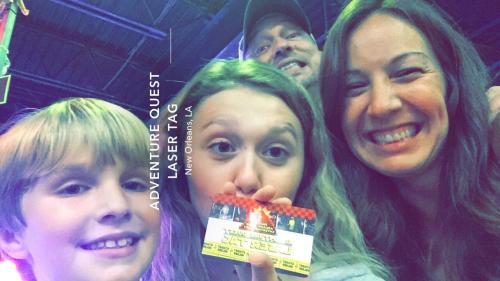 Someone suggested Adventure Quest Laser Tag, my kid loves him some laser tag and normally the issue is:  he wants to just play over and over (which can add up) so when I found out they do unlimited laser tag for $20/each on Fridays, I jumped all over that.  So what started out as a trip to go play some laser tag, turned into an entire night out – we ended up closing the place down (literally the last people there to the chagrin of the sweet teenagers trying to close up the place) – For the first hour it was non-stop laser tag (my hubby, my little boy, my 16 year old step-daughter & I) running thru laser tag games – and there were multiple games.  Girls vs. boys, parents vs. kids, etc. – we even joined up with other families there to wage war against each other.  And I had a blast.  You'd be surprised to find out, (if you've never actually gotten into a funny yet competitive game of laser tag with your kids), that once your suited up and armed to shoot those light up laser guns as you run around a neon but dark huge room trying to find targets, it's seriously, ridiculously fun.  We had to stop eventually, after what seemed like 6-7 games back to back, but my little man continued, now that he'd found some other friends, and since it was, after all, unlimited.  And to top it off, we didn't just have to sit around at that point (if we didn't want to).  We got food, rehydrated, then bought some game cards since we can't help ourselves when we see ski ball or basketball games to play.
 
It was truly fun, and a perfect way to start his birthday celebrations. I appreciated so much the fact that we, all of us (ages 9-43) laughed too hard, played too long, and left exhausted, full and happy to have spent time together as a family. I know there's a bunch more there we can do, but didn't have the time (or energy for) that first time. But we'll be back.

Happy to have a local place, ready to have all of us, whenever we need a good laugh and a family friendly environment.
Learn more about Adventure Quest Laser Tag here!