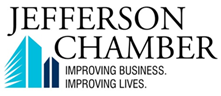 Contact:
Mary Robin Foster
Jefferson Chamber of Commerce
(504) 835-3880
Who: The Jefferson Chamber of Commerce
What: The Jefferson Chamber of Commerce will host their 10th Annual Tour de Jefferson Bike Ride this Sunday, October 23, 2016, in West Jefferson, Louisiana.  The ride kicks off at the JEDCO Conference Center, and ends with the annual Fin du Tour After-Party. Riders will enjoy great food, beverages, music, and other amenities, such as sport massages and more.
This year's event offers three different biking routes, allowing bikers to choose from 15, 38, or 50 miles. All routes offer riders a scenic bike tour through two parks, Bayou Segnette State Park and Jean Lafitte National Park. Riders will bike on paths through southern Jefferson along the Mississippi River Trail, and past bayous and moss covered oaks. There will be scenic rest stops along the way equipped with plenty of energizing snacks and drinks. Click here to view the 2016 Tour de Jefferson bike route map.
Additionally, to celebrate the 10th Year Anniversary of Tour de Jefferson, the Chamber has incorporated a Wear Your Flair theme, encouraging riders to get creative and decorate their helmets, bikes, gear, and more. Examples and guidelines for how to participate in this celebration can be found online at http://www.tourdejefferson.org.
Since its inception in 2006, Tour de Jefferson has become one of the region's premier cycling events, bringing riders from around the country to the West Bank of Jefferson Parish each year. Organizers are preparing for more than 700 participants. The goal of this ride is to continually enhance the awareness of quality-of-life amenities, recreational venues, and the Bicycle Master Plan in Jefferson Parish.
The 10th Annual Tour de Jefferson is presented by Peake BMW.
When: Sunday, October 23, 2016
Check-In begins at 7:30 AM, Ride begins at 8:30 AM
Where: Ride begins and ends at the JEDCO Conference Center located at 700 Churchill Pkwy., Avondale, LA 70094
How: Individual rider and team registrations are available for adults and youth.
Registration for each rider includes: Food, drinks, safety, rest stops, SAG support, after-party access and a t-shirt (extra t-shirts will be available for day-of registrants, however they will only be guaranteed for pre-registered attendees)
Registration will be open through the day of the event (October 23, 2016). Day-of-event registrants must register by 8 AM on the day of the event in order to ride. 
Adult Registration Rates

Adult Solo Rider: $45
Adult Four Rider Team: $165
Adult Eight Rider Team: $320
Youth Registration Rates - Available for riders 17 and under

Youth Solo Rider: $20
Youth Four Rider Team: $75
Youth Eight Rider Team: $140
More Info: For more information, please contact Christy Marino at (504) 835-3880 or christy@jeffersonchamber.org
Media are welcome to attend.
Thank you to the Jefferson Chamber's growing list of Tour de Jefferson event sponsors:
Presenting Sponsor: Peake BMW
Host Sponsors: Jefferson Parish Economic Development Commission (JEDCO)
Leader in Cyclist Safety Sponsor: Atmos Energy, LCMC Health, Laitram, IBERIABANK, Biz New Orleans
Trailblazer Sponsor: Jefferson Financial Credit Union, Jefferson Convention and Visitors Bureau
Path Finder Sponsor: Daul Insurance, NOLA Motorsports Park, Ideal Health, Whole Foods, Postlethwaite & Netterville
Fin Du Tour Sponsor: bhoomi, Taste Buds Management, Massage Therapy Works, LLC, First Bank & Trust, Mellow Mushroom, Panera Bread, 12 Seasons - Mr. Mudbug, MMI Culinary, Swegs Kitchen, Adams Bicycle World, Crescent Sterling LTD, Raising Cane's , River Parish Disposal, Crescent Cown
Media Partners: Renaissance Publishing,  Buisson Creative Strategies, FineGrit Development
###
About the Jefferson Chamber:
The Jefferson Chamber is a leading voice for Jefferson Parish's business community. As a non-profit, membership-driven organization, the Chamber is an effective advocate for small and large businesses at the local, state and federal levels. The Chamber's mission is to work for the advancement of the business community; to enhance the economic, civic and cultural environment; and to improve the quality of life in Jefferson Parish. The Jefferson Chamber is Four-Star Accredited by the U.S. Chamber of Commerce and was awarded the 2013 and 2015 Chamber of the Year by the Louisiana Association of Chamber of Commerce Executives in the Large Chamber Category.
For more information about the Jefferson Chamber, visit www.jeffersonchamber.org, and follow on Facebook, Twitter @jeffersoncoc, Instagram @jefferson_chamber, LinkedIn, and YouTube.