Louisiana Cooking Terminology

We do things a little differently in Louisiana, even cooking! Check out some of our cooking lingo below!
Amandine: Butter sauce with almonds, served over fish
BBQ Shrimp: Head-On Shrimp baked in butter, Worcestershire, garlic and black pepper.
Blackened: Searing seasoned fish or meat in a smoking hot skillet. The food gets blackened from the burnt butter and paprika.
Court-bouillon: a spicy roux-based tomato sauce or broth for cooking or saucing fish.
Crawfish Bisque: Stuffed crawfish heads in a bisque containing the crawfish tails. Usually served over rice.
File': Powered sassafras leaves used to thicken gumbo
Gumbo: Classic New Orleans! Roux based soup usually made with various seafood, okra, tomatoes and file'. Also made with chicken and andouille sausage. Served over rice
Jambalaya: Cajun creole dish usually made with seafood and sausage, mixed with spices and rice
Oysters Bienville: Created in New Orleans, Oyster cooked in half shell and topped with sauce of shrimp, cream & cheese
Oysters en Brochette: Oysters skewered then wrapped in bacon, battered and deep fried.
Oysters Rockefeller: Oysters on the half shelf, covered in absinthe-flavored greens.
Oyster Stuffing: Oysters, French bread crumbs, and seasoning. A Thanksgiving staple.
Panee: breaded and pan-fried
Peacemaker Po-Boy: Oysters and Shrimp dressed
Pompano en Papillote: Fish cooked in folded parchment paper
Remoulade: Spicy sauce usually served as an appetizer with boiled shrimp. Made with Mustards, horseradish, oil, ketchup, chopped veggies and various seasonings.
Roux: Flour browned in fat, used to thicken and flavor many Southern recipes.
Shrimp Creole: Stew of tomatoes and shrimp served over rice.
BACK TO MAP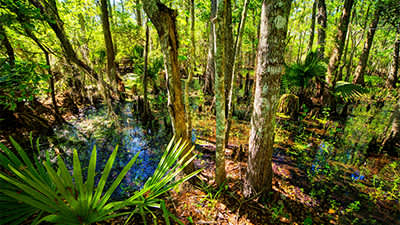 The Beautiful Bayou
Location: Jean Lafitte
Discover the natural wonders of the Jean Lafitte National Historical Park and Preserve. With a unique ecosystem the preserve is a representative example of the delta's environment, containing natural... See More
BACK TO MAP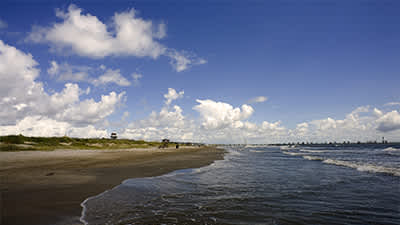 Louisiana's Only Inhabited Barrier Island
Location: Grand Isle
The State of Louisiana maintains a mile of beach front at Grand Isle State Park on the easternmost staying e park looks out toward nearby Grand Terre island, once the lair of the legendary pirate (or... See More
BACK TO MAP