Fishing Definitions & Information

Bass: Most specifically largemouth bass- aka black bass. Olive green with horizontal stripes of darker green. Maximum length of 29 inches. Hot Spots: spawning beds (March & April), shallow waters. Bait: scented bait of soft plastic. Tip: Bass have excellent hearing, so keep quiet!
Cobia: aka Lemonfish or Black Bonita. Usually range in browns to coppery tones. Largest cobia weighed in over 100 pounds, most typically about 50 pounds. Hot Spots: Cobia like the warmer waters but hide in shady spots. Bait: Heavy tackle, blue, white or yellow jigs. Tip: Prepare yourself for a fight. Cobia are fierce fighters, taking runs and jumps.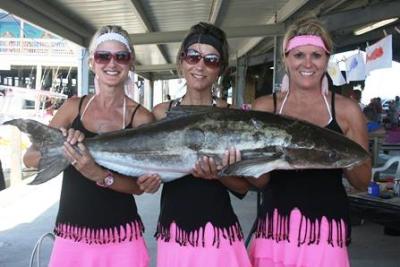 Drum: aka Red Drum, Redfish and Bull Reds. Best known for their red hues, characteristic eyespot near tail. Maximum length over 27 inches and have been known to weigh over 90 pounds. Hot spot: Drum prefer grass marsh and estuaries. Peak fishing: October & November. Bait: Heavy line & live bait. Tip: Don't be quick to reel in, let Drum swallow the bait.
Blue Catfish: most common catfish in Jefferson, scaleless skin, sharp defensive spines in shoulder, usually dull colored grey. Can weigh up to 150 pounds. Hot spots: muddy waters, like holes along banks. Bait: scented, soft baits. Tips: Be aware of the spines and barbs!
Finfish: any of numerous cold-blooded aquatic vertebrates that characteristically swim with fins, breathe with gills and are covered with skin or scales.
Fish: all finfish, shellfish and crustaceans and all other species of aquatic life.
Flounder: 18 species are found in the Gulf of Mexico. Most common to Louisiana is the "Southern Flounder", a member of the left eyed variety. Blending in with their surroundings, Flounder are brown and sometimes spotted. Males grow up to 14 inches, and females 28. Hot Spots: Offshore to spawn (Beginning mid-October), and peak December. Bait: live bait. Tip: Use a long line for these bottom dwellers.
Freshwater recreational fish: any species of freshwater fish taken for recreational purposes.
Game fish: all of the following species of freshwater and saltwater fish:
Freshwater game fish: largemouth bass, spotted bass, shadow bass, black or white crappie, white bass, yellow bass, striped bass and hybrids, and any species of bream.
Saltwater game fish: any sailfish, blue marlin, black marlin, white marlin, striped marlin, hatchet marlin, and red drum.
Recreational purposes: a purpose other than deriving or attempting to derive an income from the harvest of fish. Income does not include a prize or award in a fishing tournament or rodeo.
Saltwater fish: all species of finfish which normally inhabit the saline waters of the marine or estuarine environment for most of their life cycle.
Saltwater recreational fish: any species of saltwater fish taken for recreational purposes.
Shellfish: an aquatic invertebrate species having a shell. These species include, but are not limited to, oysters, clams, crawfish, shrimp, crabs, and other mollusks and crustaceans.
Slot limit: protective size limits denoting that fish within the range, inclusive of stated measurements, must be returned to the water immediately.
Tarpon: aka Silver Kings, silverfish. Best known for their silver, heavy scales. Tarpon can grow into very large fish- over 8 feet and 200 pounds. Only fish with air bladder allowing the tarpon to live in poorly oxygenated water. Hot Spots: Tarpon live in a variety of habitats, mostly offshore in deep waters. Bait: Troll with plugs, and flies. Live bait of crab and shrimp. Tip: Patience and a SHARP hook.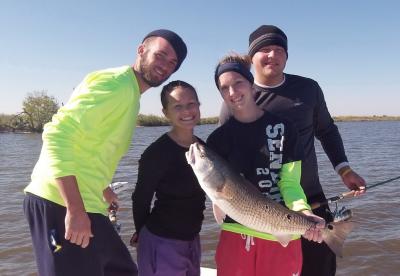 Trout: Most specifically Speckled Trout in Jefferson, aka Specks. Trout vary in colors of blue, black & grayish silver, spotted or "speckled" with black dots. Trout can grow up to 36 inches and weigh 16 pounds. Hot Spots: saltwater and brackish water, estuaries. Peak season May through November but a year long catch. Bait: jigs, crank and shrimp. Tip: Watch those teeth. Trout have two upper canine teeth.
Red Snapper: best known for their red coloring, Redfish have medium scales, and small teeth on upper and lower jaws. Adult redfish can weigh up to 50 pounds, and measure 20 inches. Hot spots: Offshore, near reefs, rigs and rocky bottoms. Spawn near oyster beds. Bait: small fish, shrimp & squid on a multiple hook. Tip: have a soft touch casting & tugging.
BACK TO MAP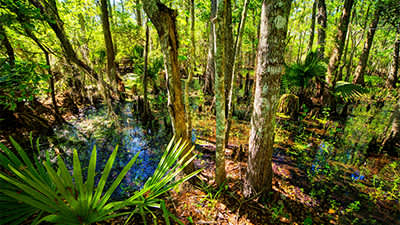 The Beautiful Bayou
Location: Jean Lafitte
Discover the natural wonders of the Jean Lafitte National Historical Park and Preserve. With a unique ecosystem the preserve is a representative example of the delta's environment, containing natural... See More
BACK TO MAP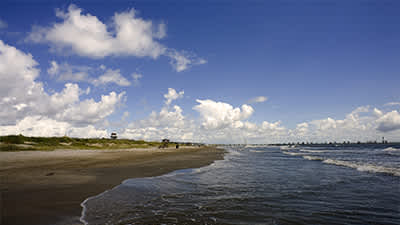 Louisiana's Only Inhabited Barrier Island
Location: Grand Isle
The State of Louisiana maintains a mile of beach front at Grand Isle State Park on the easternmost staying e park looks out toward nearby Grand Terre island, once the lair of the legendary pirate (or... See More
BACK TO MAP