I go to a lot of festivals all over the state of Louisiana and the Gretna Heritage Festival is one of my favorites! You truly couldn't ask for a better setting than beautiful Old Gretna right on the banks of the Mississippi River. Literally, a few of the stages are right on the banks! With the New Orleans skyline, the river and the bridge in the background, talk about a stunning photo-op!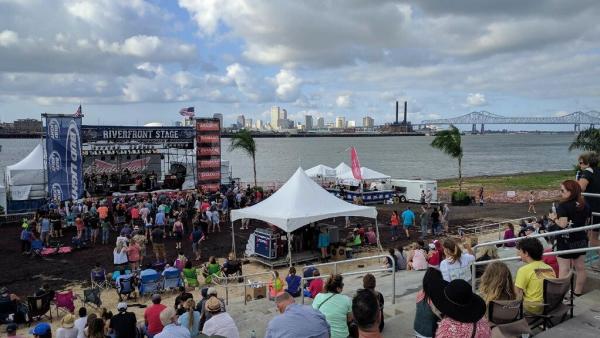 It's not just the amazing views though, the festival features fun for all ages, from food vendors and art markets galore to carnival rides and tons of kids activities. Gretna Fest is celebrating their 25th anniversary this year and are debuting a few new attractions. We can't wait! Check them out below!
Latino Village
The brand new Latino Village will be located on the riverfront and feature two stages with live music, dancing demonstrations and culturally inspired craft and food vendors, along with Latin infused cocktails and beer...hello margaritas! You can even enter to win a trip to South America!
Parades
Don't miss parading acts featuring Mardi Gras Indians and the 610 Stompers!
Butterfly Garden
Bring the kids and enjoy a butterfly garden!
Art Bus
I only have a little bit of intel about this...but I heard there was going to be an art bus (van) at Gretna Fest this year. Not exactly sure what it entails, but I'm excited to find out!
I'm super excited for all of the new additions! See y'all there!